FNB checkmated in securitisation case
---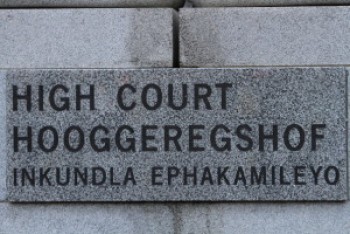 Here's a bit of Christmas cheer: in a year when there were some notable victories (here and here) for the small guy standing up to bullying banks, Cape Town couple Ahdill Abrahams and his wife Zulfa delivered the coup de gras against FNB in their long-running securitisation case, closing out the year with some more good news. The couple have been fighting a 10 year war to prove that FNB had securitised their loan. They took a completely different approach to others who have been fighting the same battle - they approached the Master of the High Court and had the bank's claim against them expunged on the grounds that it had no right to be in court. Here's how they did it.
It seems our courts are wising up to the banks and their devious ways. Cape Town couple Ahdill Abrahams and his wife Zulfa have been locked in a 10 year battle with FNB over the bank's attempt to repossess their house. Two months ago the bank got booted to touch in the Cape magistrate's court for misrepresenting itself as a claimant against Abrahams and his wife.
Abrahams is an avid student of securitisation (where banks package and sell loans to investors, thereby removing their legal claim to bring legal action). Unlike most cases where defendants are expected to prove allegations of securitisation (which banks usually hide from their customers), Abrahams had the proof.
The application for repossession of their house in 2008 was made in the name of Firstrand's securitisation vehicle, IKhaya RMBS 2 Ltd.
Hang on, said Abrahams, I have never heard of Ikhaya. His loan was with FNB, not Ikhaya which, in any event, was not a registered credit provider.
The couple successfully defended their home against repossession in 2008. In a ground-breaking
decision
for home owners, Judge Moosa in the Cape High Court in 2008 refused IKhaya RMBS 2 Ltd's application for summary judgment on the basis that the bank could not show it had any legal standing in the matter.
After Judge Moosa threw out Ikhaya's attempted repossession of the couple's home in 2008, they were granted a court order to go under debt review. In January 2013, Zulfa was sequestrated, even though she was fully compliant with the debt review order. The National Credit Act has since been amended to stop credit providers sequestrating clients while they are under debt review, but banks have never been particularly observant of this legal nuisance. Thousands of South Africans have been sequestrated while under debt review – which is why we have argued that debt review, for all its supposed benevolence, is a trap from which you will never escape. Better to dump it now.
FNB now had a serious problem on its hands. Having originally attempted to sue in the name of Ikhaya and lost, it now decided to change tack and bring an application in the name of FNB. Hey, if you don't like this mask, I have plenty others. In any event, this tactic didn't work for the bank, and the Master of the court threw out the claim. This meant FNB no longer had locus standi (legal standing) due to the fact that it had ceded their rights to IKhaya. Some bright spark in the bank decided that problem was easily solved: simply cede (transfer the rights, but not the ownership) of the mortgage bond from FNB back to Ikhaya RMBS 2 LTD. Abrahams discovered this when he paid a visit to the Deeds office in Cape Town. FNB had ceded the loan not once, but three times, back and forth between itself and Ikhaya RMBS 2 Ltd.
It was at this point that FNB asked for a special meeting at the Magistrate's court in Cape Town to prove a "late claim" by IKhaya. Having previously ceded Abraham's mortgage loan back and forth between itself and Ikhaya, this time the bank turned up in court with an entirely new claimant – Ikhaya RMBS 2.
Having expunged FNB's claim, the Master consented to FNB's request for a special meeting giving Ikhaya RMBS 2 Ltd the opportunity to prove a "late claim". Ahdill and Zulfa again lodged an objection with the Master against Ikhaya's late claim, arguing that it had no locus standi and was not a registered credit provider.
At the special meeting, the bank switched identities yet again. This time it presented itself to the court as Ikhaya RMBS 2 (Pty) Ltd. The company that sequestrated Ahdill was Ikhaya RMBS 2 Ltd, a public company, not as Ikhaya RMBS 2 (Pty) Ltd, which is a private company.
Very subtle but very important to understand what is going on here.
"The court was completely fooled until we exposed their dirty trick by proving that an imposter by the same company name had fraudulently tried to lodge a claim," says Ahdill. "They tried to recover after being caught out by saying this was a typographical error."
The magistrate had heard enough, and booted the bank (or whoever was pretending to be the claimant) out of court. Game, set and checkmate to Abrahams. This is an entirely new approach to arguing securitisation: approach the Master of the Court and challenge the claimant's right to enter a claim. In Abraham's case, where the claimant was a different entity than the bank. In other cases, where the claimant is the bank itself, there are still options.
Abrahams will now lay a charge of fraud against FNB (he did this once before but was laughed out of the police station). He has also referred the matter to a special investigating unit within the Hawks.
Says Abrahams: "The banks routinely deny securitisation when in front of judges, and they are routinely lying about it. We need a special commission of inquiry into this massive fraud on the part of the banks. The government can no longer turn a blind eye to this. Our case is over as far as I am concerned. The bank cannot now change its identity and come for another shot at us. They are making fools of themselves. Now I want to see jail time for the fraudsters in the bank who tried and failed to make our lives a misery over these last 10 years.
"My advice to people receiving summons is to defend the matter. Never surrender to these crooks."
Defend yourself against the banks
Debt slayer Armand Rinier says banks are finding it harder to get away with abusive court tactics, as some judges and court officials are wising up to their ways. "My advice is awlays to defend any summons issued by the banks. The banks rely on our fear of courts to enforce agreements which are often one-sided and in violation of several statutes. Unless people defend these matters, they agree to waive their rights. Just after Christmas is when we see the banks issue their seasonal blitz of summonses as people run into financial difficulties. People need to be ready for this. It is not difficult to defend oneself - you don't need expensive lawyers for this."
Debt Admin has prepared a standard DIY template for anyone seeking to defend themselves against the banks.
Click
here
to access the DIY Defence template.