How one church is taking on the Coronavirus
---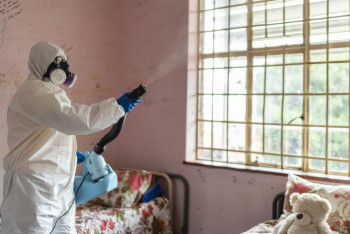 Here's a case where prayer alone won't cut it. Church of Scientology Volunteer Ministers are using the world's highest grade decontamination technology to wage war against the deadly virus.
The Church of Scientology in South Africa is taking the Covid-19 virus seriously. So seriously that it has imported the most sophisticated decontamination technology in the world, known as Decon, which is short for Decontamination 7, a military-grade anti-germ warfare solution originally developed in the US.
On 14 March the Scientology volunteers launched their programme to halt the spread of Covid-19 in the Gauteng province, which is worst affected by the spread of the virus. With 205 full-time volunteers formed into 20 teams, working 80 hours per week for the duration of the lockdown, the Scientology volunteers are in high demand to bring the Decon 7 technology to where it is most needed – including police stations, government offices and youth centres.
Fortunately, SA is less blighted by the Covid-19 virus than many other countries, such as Italy and Spain. With less than 2,000 reported cases and only two deaths (at the time of reporting), SA appears to have escaped the eye of the tornado, at least for now. We now know that the reasonably warm weather across the country has probably curtailed the rapid spread of the virus.
But the Scientology volunteer ministers aren't taking any chances. First, they decontaminated their own facilities including their headquarters in Kyalami, north of Johannesburg, and then moved on to other church premises in Kensington, Randburg and Pretoria. From there they moved out into nearby communities, sanitising homes, guest lodges and other facilities at particular risk of viral contamination.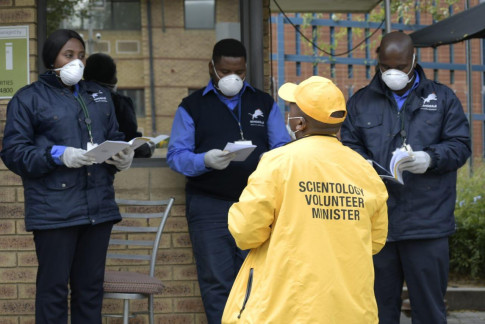 On request of the Midrand Police Station Commander, Brigadier Tsotsotso, the volunteers took their equipment to the Midrand police station and put the Decon 7 system to work throughout the police headquarters.
Church members have also been distributing thousands of information booklets explaining vital sanitation and hygiene guidelines for the general public.
People most at risk from the virus include those with pre-existing conditions and immune disorders. With this in mind, the volunteers moved on to Johannesburg's centres for Youth and Displaced Persons, where unsanitary conditions threatened the lives of its already disadvantaged residents.
According to a spokesperson for the Volunteer Ministers, administrators at the centres had been in severe distress due to the threat of Covid-19, and were extremely grateful for the assistance they received from the Scientology volunteers in decontaminating their shelters.
The Scientology Volunteer Ministers form one of the largest civilian relief organisations in the world, with over 200,000 volunteer members. They have been first responders in almost every major disaster in over two decades.