Jacques Pauw doubles down on accusations against Malema
---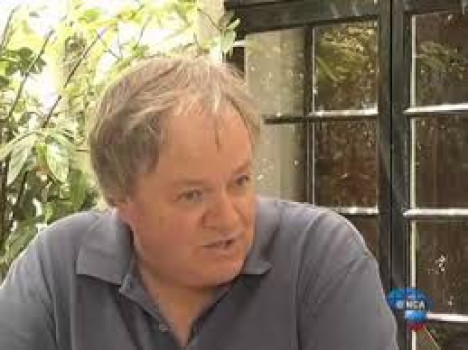 EFF leader Julius Malema wants an apology from author and journalist Jacques Pauw for his alleged ties to people in the criminal underworld. No I won't apologise, says Pauw. In fact, he has doubled down on his accusations, as this posting on his Facebook page shows.
Jacques Pauw's open letter to Juilius Malema, published verbatim.
Dear Mr Malema,
I refer to your letter to me, dated 4 July 2018, in which you demand an apology from me for having tweeted the following: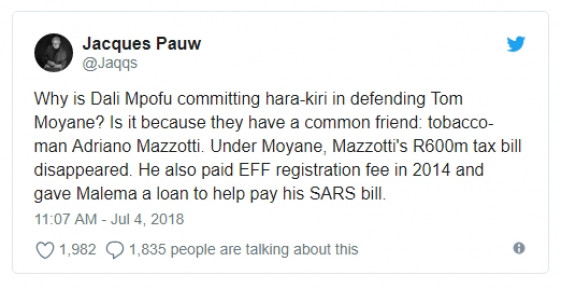 You said in your letter — and at a subsequent press conference — that you have never received a loan from Adriano Mazzotti to pay your SARS bill.
You call on me to set the record straight.
You are right. I was wrong in saying that you received a loan from Mazzotti to pay your tax bill.
You in fact received a R1-million loan from Kyle Phillips, a business partner of Mazzotti and his co-director in Carnilinx, an independent tobacco company.
This was reported in the Sunday Times and other newspapers in 2015. The Sunday Times quoted your lawyer as saying that you took the loan from Phillips after another benefactor failed to make a payment to you.
The newspaper said that you had admitted to SARS that you had received the R1-million loan from Phillips.
You never denied any of these reports. I therefore assume that it is safe to say that it was true that you had received a R1-million loan from Phillips.
Would I apologise to you?
No, because I believe it is irrelevant whether you took a loan from Mazzotti or Phillips because — as I will show you — they are partners-in-crime in Carnilinx.
Phillips is the director handling general operations and Mazzotti is in charge of corporate sales and marketing at Carnilinx. They both hold a 16.6 percent share of the company.
I will provide you with information that that in accepting a loan from Phillips, you might unwittingly have accepted the proceeds of crime.
This also goes for the R200,000 that Carnilinx paid in 2014 for the registration of the EFF as a political party.
When you and I had a conversation around the time that my book, "The President's Keepers", was published at the end of October last year, you described Mazzotti as a "brother".
I want to refer you to a 52-page affidavit that Mazzotti signed and sworn to on 6 May 2014.
Adriano Sauro Lorenzo Mazzotti made the affidavit to SARS in an attempt to settle Carnilinx's tax bill, which amounted to hundreds of millions of rands. An amount of R600-million is often mentioned.
It is important to mention that Mazzotti says in his affidavit that he made the statement as a "duly authorised representative of Carnilinx". In other words, he speaks on behalf of the other directors, among them Phillips.
I have a copy of this affidavit and I describe it in my book. I will quote further passages that are not in The President's Keepers.
On page 30: "In its drive to promote its business, Carnilinx entered into a host of transactions, some of which were lawful and others corrupt and unlawful."
Mazzotti for example describes how Carnilinx "accepts that it acquired tobacco unlawfully and wrongfully of two tons per week over a period of some 40 weeks".
He talks about the smuggling of tobacco and says: "I accept, and so does Carnilinx and all its directors, that this was unlawful and morally wrong...No records were kept of the manufacturing process. This was deliberate as to avoid any detection."
He says on page 24: "The cash received was utilised to pay the people referred to and the balance was retained by the three of us in equal proportions. I point out, however, that a substantial amount of this money was used by the three of us as company expenses, engaging in expensive dinners, entertaining business people, politicians and other people."
When Mazzotti refers to "the three of us", he speaks about himself, Kyle Phillips and fellow-director Mohammadh Sayed.
I am sure, Mr Malema, that you might not be fully aware of what had transpired at Carnilinx, but it does beg the question whether Mazzotti, Phillips and Sayed entertained you with their proceeds of crime?
It is also possible that it was from these proceeds that Mazzotti paid R200,000 to the EFF to register for the 2014 elections.
In his affidavit, Mazzotti does not just admit to fraud, money laundering, tobacco smuggling and tax evasion, but describes in detail that both he and his fellow directors had absolutely no qualms to bribe SARS officials.
He describes how in 2013 they bribed a lowly SARS official to hand them official documents. Later that year or early in 2014, they attempted to bribe then acting SARS commissioner Ivan Pillay and investigations head Johann van Loggerenberg with R800,000.
He tells how they paid this money to a Johannesburg attorney who was supposed to bribe Pillay and Van Loggerenberg. Instead, the attorney pocketed the money.
Mazzotti says on page 35 of his affidavit: "We apologize to Van Loggerenberg and Pillay for doubting their integrity and casting aspersions on their honesty and integrity."
He also tells how a senior advocate and acting judge "was wrong to accept a gift" of R500,000, paid to him in cash in a bag.
On page 52 of his affidavit, Mazzotti says that Carnilinx "has made a donation in an amount of R200,000 towards a political party". He of course refers to the EFF.
Mazzotti further says on page 49 of his affidavit that Carnilinx "proposes a plea of guilty" to offences of Section 112 of the Criminal Procedure Act.
Nothing ever happened to either Mazzotti, Phillips or any of the other directors. Not long after Mazzotti had made his affidavit, Johann van Loggerenberg was suspended after been wrongly accused of running a "rogue unit". Ivan Pillay departed SARS in early 2015.
One would have thought that after the affidavit Carnilinx, Mazzotti, Phillips and other directors were dead in the water. The company would probably have been sequestrated and the taxes collected by no later than 2015.
After Tom Moyane became SARS commissioner in October 2014, the Carnilinx tax bill simply disappeared.
When I wrote my book, I found a document dated March 2016, written by a SARS executive and addressed to none other than Moyane's henchman, Jonas Makwakwa.
The letter summarised a meeting with Carnilinx. The executive recommended that since Carnilinx was investigated by the "rogue unit', the entire case should be "re-audited". He recommends that the Letters of Finding against Carnilinx be withdrawn.
Carnilinx, Mazzotti, Phillips and the others were off the hook. Years of painstaking examination and probing went down the drain.
Just prior to the publication of my book, I asked Mazzotti if he was tax compliant. He confirmed, in writing, that both he and Carnilinx were compliant.
It begs the question: how did it happen?
And what was the role of Mkwakwa and Moyane in making them compliant?
We know that Mazzotti and Carnilinx would not hesitate to bribe top SARS officials.
As such a vocal proponent of anti-corruption, shouldn't you been asking of SARS, the Hawks and the NPA why the above-mentioned crimes have not been fully investigated and prosecuted?
Mazzotti and the other directors were prepared to plead guilty to offences of Section 112 of the Criminal Procedure Act. Why was it never done?
Who is protecting Mazzotti, Phillips and the other directors?
I do not believe that Mazzotti is who he makes out to be.
I want to urge you to look at some of Mazzotti's other business enterprises, most notably his recent venture into mining.
In 2017, Mazzotti became a founder member and director of Dithabeng Mining, an opencast mine in Mphahlele, 45 kilometres south­east of Polokwane in the Limpopo Province. The area is rich in chrome, iron and vanadium.
Mazzotti announced himself as a proponent of radical economic transformation (rich coming from a businessman that doesn't pay his taxes) and as a great supporter of then mining minister and Gupta acolyte Mosebenzi Zwane's calamitous mining charter.
Dithabeng's website said that "now, more than ever before, a shift through radical economic transformation is required".
It seems the mine has run into trouble. Its website has disappeared and according to newspaper reports, mining halted when the local community filed an interdict at the Polokwane High Court.
The reports mention among others that a local EFF leader told the protesting miners to resume duty because "Malema won't tolerate production delays".
I don't know if this is true or not and I am simply quoting newspapers.
Mazzotti and Phillips are no choir boys and you must be aware of it. You must know that Mazzotti mingles with unsavoury characters. Do you know that apartheid assassin Craig Williamson was one of his business partners? And that you have been photographed with Mazzotti in the presence of self-confessed killer and gangster Mikey Schultz?
Regards,
Jacques Pauw
** This letter was published on Pauw's Facebook page on Friday.