Heist suspect Velile Present worked on Ramaphosa's ANC presidential campaign
---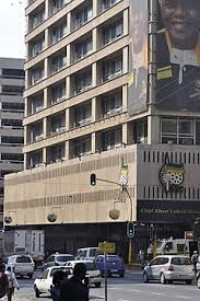 The cash heist suspect who worked at the ANC headquarters was involved behind the scenes in President Cyril Ramaphosa's ANC presidential campaign' says Business Day.

Errol Velile Present was arrested with three alleged accomplices earlier in July after a cash heist in Dobsonville' Soweto. It has since emerged that he worked at Luthuli House — until he was served with a letter of summary dismissal on Wednesday.
Present played an integral role in the run-up to the ANC's national elective conference in Johannesburg at the end of 2017' the Mail and Guardian reported on Friday' citing three Luthuli House insiders.
Present was part of an advance team that assessed security at stops along the way' during Ramaphosa's ANC presidential campaign. He was described as an ANC branch secretary in Johannesburg's ward 40 in Dobsonville, Soweto.
ANC spokesperson Pule Mabe told the Mail and Guardian that Ramaphosa would not have known about his involvement in the campaign.
Mpho Sesedinyane, a childhood friend' said he had worked with Present while he was an ANC secretary in one of the Soweto branches.
"He was the organiser who would organise activities of the ANC in different provinces' doing audits for ANC membership' ensuring that where there [was infighting] within structures of the ANC' he would be deployed to stabilise the branches." Police Minister Bheki Cele said on Thursday that Present had been linked to at least three heists. But his wife is sceptical about his alleged involvement.
"I doubt he did it. It would have shown. He would have brought money at home. We would have spent it. Our lounge is so big. It does not have a dining room suite. I am sure I would have done a lot of changes around the house'" Zanele Present told eNCA.
"I was so shocked. I'm not even coping. I have lost weight because I can't even eat. I can't talk to him and ask him to explain what is going on'" she said.
In 2017' the Sunday Times linked Present to a controversial farm deal in Limpopo. The newspaper reported that former minister of land reform Gugile Nkwinti had introduced Present' who was "shopping" for a thriving Limpopo farm' to one of his top officials at a land summit.
Present's wife confirmed to eNCA that she had "little" knowledge about the farm.
"I know a little bit about the farm story. I know that they were busy with the farm. The business partner started mismanaging the farm. Veli could not be hands-on' on the farm. Most of the time he was this side [Johannesburg] … Only later he found out that the farm is collapsing."