Duduzane Zuma gets his day in court
---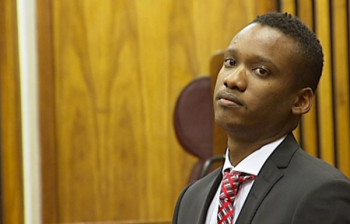 Duduzane Zuma appeared in the Randburg magistrates court this week to answer for charges related to a 2014 car accident that resulted in the death of a young woman. Phumzile Dube died instantly after Zuma's Porsche crashed into a minibus taxi on M1 in Johannesburg in February 2014. But Duduzane, the son of former president Jacob Zuma, has other legal problems on his plate, as Organisation Undoing Tax Abuse (OUTA) reports.
The Organisation Undoing Tax Abuse (OUTA) says it is pleased that the first accused emanating from its
No Room To Hide
report has appeared in court on charges relating to his involvement with the Gupta family's plot to bribe former Deputy Finance Minister Mcebisi Jonas.
Duduzane Zuma who is mentioned 103 times in the report (excluding annexures) has appeared in Johannesburg Specialised Commercial Crimes Court. This is in addition to his appearance in the Randburg court over the car accident that killed Phumzile Dube.
"It is about time that we begin to see our charges and allegations on state interference by the Gupta family taken seriously. Duduzane was the first person OUTA laid charges against for State Capture. He is a central figure in our report which outlines the links between the Gupta and Zuma families," said Ben Theron, OUTA's COO.
In April 2017, OUTA started investigating and documenting the reality and extent of former President Jacob Zuma's conduct and connection to state capture.
In June 2017 OUTA submitted its report to Parliament requesting them to investigate these matters and in August that year, OUTA laid charges of treason, racketeering, extortion, fraud and forgery against Duduzane Zuma and the Gupta brothers in connection with allegations of state capture. These allegations were directly linked to Zuma's role in attempting to influence Jonas to take up the position of Finance Minister along and a wad of cash (R600 million according to Jonas).
Name and shame
Individuals mentioned in the
No Room to Hide
report include:
Duduzane Zuma
: He has ownership in Gupta businesses, such as Mabengela Investments. He was appointed to the board of the Guptas' Sahara company when he was only 26 in August 2008 and had no obvious qualifications apart from being the son of the man clearly about to become President. Other Gupta companies he is involved in are: Afripalm Technology, Infinity Media Networks, Localiga, Islandsite Investments, Idwala Coal, Goldridge Trading, Gemini Mood Trading, Oakbay Metals, Elgasolve and Dixie Investments. Duduzane arranged a meeting between the President and Russian businessman Vladimir Evtushenkov; he facilitated the meeting between the Guptas and Mcebisi Jonas where the Guptas attempted to bribe Jonas into taking the Finance Minister job; he was involved in the appointment of Jacinto Rocha as advisor to Ben Martins before he was appointed as Transport Minister in June 2012.
Jacinto Rocha
: Rocha was appointed in 2009 as deputy director general in Mineral Resources. He awarded mineral prospecting rights for Sishen mine worth more than R1 billion to the Guptas' Imperial Crown Trading 231; ICT is half owned by JIC Mining which is owned by the Guptas and Duduzane.
Lakela Kaunda
: Kaunda is one of the President's advisors. She was employed by the Guptas while working for Zuma before he became President and before she joined the Presidency as Chief Operations Officer.
Gloria Bongi Ngema-Zuma
: She married the President in 2012. Before the marriage she worked for the Guptas. In 2010 the Guptas helped her buy a house for R5.4m in Waterkloof Ridge with a bond of R3.8m through the Sinqumo Trust. The Guptas' and Duduzane's company Mabengela pays the bond of R65 000 a month on this, calling it a "monthly investment"; this is guaranteed by the Guptas' company JIC Mining. The Guptas previously tried to hide this involvement.
Duduzile Zuma
: She is Duduzane's twin sister. Despite having no relevant qualifications apart from her relationship to Zuma, she was from August 2008 to September 2009 on the board of the Guptas' businesses Sahara Computers and Sahara Consumables.
Plundering state-owned enterprises (SOEs)
These departments were particularly targeted by the Guptas as lucrative: Public Enterprises (which controls SOEs which spend billions of rand on contracts); Mineral Resources (which controls mining authorisations); Communications (which controls broadcasting rights, important because the Guptas own a TV station); and Finance (which tried to stop state capture by the Guptas).
This is how the SOEs were captured: the minister changes the SOE board; the SOE starts a major new project; the new board includes people closely linked to the bidders; questionable contracts are awarded. Appointments include people who have been publicly exposed as corrupt or tainted and linked to the Guptas.
Ministers of Public Enterprises who oversaw plundering by the Guptas are Malusi Gigaba and Lynne Brown. Their appointments included: Brian Molefe (CEO of Transnet then Eskom), Anoj Singh (CFO of Transnet then Eskom), Iqbal Sharma (on Transnet's acquisitions committee), Ben Ngubane (Eskom board chair), Collin Matjila (Eskom board member), Matshela Koko (Eskom executive), Richard Seleke (appointed in December 2015 as Public Enterprises DG), Daniel Mantsha (CEO of Denel), Nkopane "Sparks" Motseki (Denel board member).
Ministers Brown and Gigaba abused their positions by appointing and retaining such tainted people, and Zuma abused his position by retaining those ministers.
SOE contracts from which the Guptas and/or Duduzane benefitted include:
• March 2014: Transnet's unlawful award of a R50 billion tender for freight locomotives. The Gupta-linked company Tequesta (sole director, Gupta business partner Salim Essa) got a 21% "service fee" from this deal, worth R5 billion. Richard Seleke acted unlawfully as a conduit between the Guptas and China South Railways (which got a substantial locomotives contract).
VR Laser Services (a steel company owned by the Guptas and Duduzane) stood to earn lucrative sub-contracts in this; they bought this business in February 2014 before the locomotives tender was awarded, indicating foreknowledge.
Regiments Capital (director and 32% shareholder Eric Wood is a Gupta business associate) got hundreds of millions of rand in services fees from Transnet. Trillian Capital Partners (Salim Essa and Eric Wood) got more than R400 million in service fees from Transnet.
• 2014/15: Transnet's R300 million contract to Neotel for network equipment and five-year service agreement worth R1.8 billion. This resulted in kickbacks of R66 million to the Gupta front company Homix (Homix CEO Ashok Narayan was ex MD of the Guptas' Sahara Systems). Neotel auditors found payments of R34.5 million and R41 million to Homix for no apparent work; Neotel's board reported this to the police as possible bribe payments. Transnet's Anoj Singh and Brian Molefe were believed to have approved the Neotel awards. Neotel also got contracts for R835 million for CCTV without tenders.
• 2015/16: Eskom award of coal contracts worth about R11.7 billion to the Guptas' Tegeta Exploration and Resources, including for Optimum coal mine (the Guptas were able to buy Optimum because Eskom levied a R2 billion fine on Glencore to bully it into selling Optimum, and Matshela Koko approved Eskom's pre-payment to Tegeta of R586 million). The Guptas' Oakbay, Duduzane's Mabengela Investments and Essa's Elgasolve own Tegeta. Richard Seleke unlawfully colluded with Matshela Koko (Eskom executive) to share Eskom documents with the Guptas to help Tegeta buy Optimum coal mine and in other transactions. Koko referred to Tony Gupta as "the Boss" in these collusions.
• October 2014: Eskom's R43 million contract with The New Age, the Guptas' newspaper. Transnet and Denel have similar contracts with The New Age.
• January 2016: Denel's deal with VR Laser Asia (not approved by the Treasury as legally required) which would have given it Denel's intellectual property and a stake in the Asian market. Denel chair Daniel Mantsha sent confidential email from Minister Brown to the Guptas.
Key officials were linked to the Guptas: Brian Molefe admitted to visiting the Saxonwold area (after the Public Protector report noted his calls to and from Ajay Gupta and his frequent visits to the area); Anoj Singh was treated to Gupta-funded trips to Dubai while he was Transnet CFO; Collin Matjila is in business with the Guptas; Ben Ngubane is in business with the Guptas; Matshela Koko got Gupta-funded trips to Dubai; Daniel Mantsha got Gupta-funded trips to Dubai and Mumbai and begged the Guptas to pay his municipal account; Nkopane "Sparks" Motseki is in business with the Guptas and he got Gupta-funded trips to Mumbai and Delhi.