BEE partners bring application for liquidation of Tubular Technical Construction
---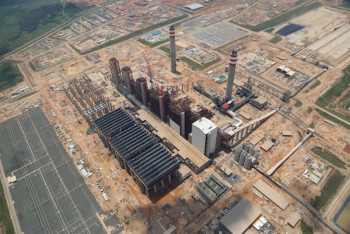 Tubular Technical Construction (TTC) - part of the Tubular Group of companies - is a prominent construction and engineering company that hauled in massive contracts at Kusile (pictured left), Exxaro and others. But behind the smiling facade, things are not looking that rosy. The company has been accused of bribery and corruption, and now the BEE partners in a subsidiary company say they are owed more than R24m, and TTC has stopped paying it. This prompted the BEE partners to bring an application for the liquidation of TTC.
Application was made last week for the provisional liquidation of Tubular Technical Construction (TTC) after it defaulted on an agreement to pay R35m in dividends to the BEE shareholders in TTC subsidiary Katenge Tubular Construction.
The application in the North Gauteng High Court was brought by Revenue Management and Protection Solutions (RMPS), which owns 30% of Katenge Tubular Construction. The other 70% is owned by TTC.
Outlining the reasons for the application for TTC's liquidation, RMPS director Sam Tungande deposes in an affidavit that Katenge was formed in 2009 as a BEE company to secure construction contracts for the Tubular group of companies. Since its formation nine years ago, Katenge secured contracts worth roughly R1,6bn from Murray & Roberts, Thyssen Krupp and Exxaro. The estimated profits on these contracts were worth between R125m and R150m, though the BEE shareholders were informed by TTC directors that there was no profit for distribution to shareholders.
The main reason given by TTC for the lack of profits was a labour cost overrun of R293m on the Exxaro contract. This was later found to be untrue, says Tungande's affidavit, as it was Exxaro – and not TTC – which picked up the tab for the labour cost overruns. This "made nonsense of the explanation that the labour overrun had caused the contract to yield zero profit," according to Tungande's affidavit.
Mr Tungande's affidavit further alleges that TTC diverted a R500m contract from Kalagadi Manganese away from Katenge, and so deprived RMPS of its 30% share in a R100m profit. TTC claimed that Katenge did not have a contract with Kalagadi, nor did it earn any revenue from this contract. This is refuted by Tungande's affidavit, which says it was Katenge, and not TTC, that was awarded the Kalagadi contract.
The affidavit further states that TTC de-scoped Alstom and its subcontractor SPX Technology out of a contract for the supply and installation of air-cooled condensers at Eskom's Kusile power station. Tubular won the contract for the supply of air-cooled condensers at Kusile for R708m, but then the contract value escalated to R1,2bn.
In 2017 RMPS approached Edward de la Pierre of South African Litigation Funding Company (SALFCO) to assist in investigating irregularities at Katenga, and to determine why no profits were reported by the company.
To avoid the need for drawn-out litigation, RMPS and SALFCO decided to enter settlement negotiations with TTC, which agreed in October 2017 to pay RMPS R35m in outstanding dividends as a full and final arrangement. TTC had paid R11m out of an agreed R35m, but had fallen into arrears to the tune of R8,45m.
The reason given by TTC for stopping payment was that the aforementioned agreement was illegal and unenforceable, being a product of extortion on the part of RMPS and others. TTC also claims the agreement to pay RMPS had been entered into as a result of threats to undermine the viability of TTC, and that RMPS had allegedly disclosed the terms of the agreement "contrary to the undertakings given therein." These bald allegations are denied by Tungande and RMPS.
"The alleged extortion by RMPS is untrue. The settlement agreement was concluded to pay RMPS its share of the profit which had been concealed from RMPS through TTC's fraud," says Tungande's affidavit.
TTC has proposed arbitration as a means to settle the question as the enforceability of the settlement agreement reached last year. Tungande says this is a delaying tactic by TTC. Either it pays RMPS the amount of R35m as determined in the settlement agreement or, if the agreement is unenforceable, it pays the true profit.
Tungande says any attempt to recover monies owed through the normal debt recovery process could take years. Hence the only valid remedy available to it is to apply to the court for provisional liquidation of TTC.
* Issued by SA Litigation Funding Company (www.salfco.com)