Will Ramaphosa's investment drive get off the ground?
---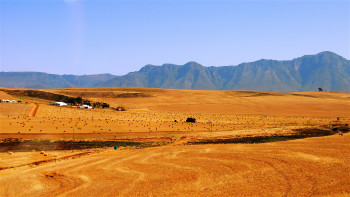 President Ramaphosa plans an investment conference later this year with a target to attract, well, we're not quite sure - anywhere between R240 billion and R1,200 billion a year, or perhaps it is $100bn in foreign direct investment. His figures are murky, but the real problem is he has poisoned the well before he even started with talk of expropriating land without compensation. Following through on this will send a signal that any Constitutional guarantees on property are meaningless. Now Ramaphosa appears to be walking back on this threat, no doubt sensing his task of economic regeneration is dead in the water if expropriation is part of his agenda. John Kane-Berman of the Institute of Race Relations explains what's going on.
In his recent statement announcing his "new investment drive", President Cyril Ramaphosa said he was aiming at generating "at least $100 billion in new investments over the next five years". At an exchange rate of R12 to the dollar that works out at R1 200 billion. That amount over five years translates into R240 billion a year.
President Ramaphosa made it clear in his statement that the investment conference planned for August or September this year would seek to involve both domestic and international investors.
The target of R240 billion a year is strangely modest. In 2017, according to the South African Reserve Bank, "private business enterprises" accounted for R549 billion in "gross fixed capital formation". So Mr Ramaphosa's target is not even half the actual amount invested by the private sector in 2017. In fact, private sector investment has been above the R240 billion target for the last five years.
It is possible that what Mr Ramaphosa really meant to say was that the target is not R240 billion a year, but R1 200 billion a year. In that case, the target would be much more than double the actual 2017 figure of R549 billion. This very much more ambitious target would be more in line with the objective in the National Development Plan (NDP) of increasing fixed investment from its current level of 19% of GDP to 30%. (This figure includes investment by the public sector.)
If, as some commentators have suggested, the $100 billion target refers only to foreign direct investment (FDI), it is stratospherically ambitious. Reserve bank figures show that actual FDI in the last ten years amounts to $38 billion. This means that Mr Ramaphosa's annual target for the next five years is more than five times the actual average for the last ten.
Mr Ramaphosa said he expected the investment conference to report on "actual investment deals that have been concluded". An early indication of the success of his drive will be announcements by mining companies of new investment. Towards the end of last year the Chamber of Mines reported that "a more certain and conducive environment" could lead to an additional R122 billion of mining investment in the next four years.
Although Mr Ramaphosa has been widely credited with having generated more certainty about economic policy, his achievements in this respect are exaggerated. The destructive mining minister has been sacked, but whether the revised mining charter will provide the necessary conducive environment is anybody's guess.
In some respects the policy environment is worse than when Jacob Zuma was still in power, because Mr Ramaphosa began his presidency by promising expropriation without compensation. This would apply to mining as well as to agriculture and all other sectors as well as to all types of property. Even though he and other ministers have sometimes tried to calm the fears his promise provoked, it is again anybody's guess whether they are staging a tactical retreat or whether they have abandoned expropriation as a long-term objective.
The four new "president's special envoys on investment" will soon take off on their "roadshows" in preparation for the investment conference. But they will have a tough time with any would-be investors who might still be paying attention to South Africa. How, for example, will they explain why our own mining companies are decamping? Why are our major construction companies getting out? Why can the government not even meet the targets for its own infrastructural investment?
Mr Ramaphosa says that "we are embarking on an ambitious investment drive along with the implementation of necessary economic reforms". The investment drive may or may not be ambitious – depending on what his targets actually are. The economic reforms he has referred to are certainly not ambitious.
Either way, Mr Ramaphosa is putting the cart before the horse. The government and business have sent dozens of people on numerous roadshows in the past. They have not stopped the decline in FDI, from R76 billion in 2008 to R17.6 billion last year, according to Mr Ramaphosa. This is because they have little to sell. In this context the four "president's special envoys on investment" are just another marketing gimmick.
*John Kane-Berman is a policy fellow at the IRR, a think-tank that promotes political and economic freedom.
Read the original column on Politicsweb here.