Satire is booming in post-Mugabe Zimbabwe
---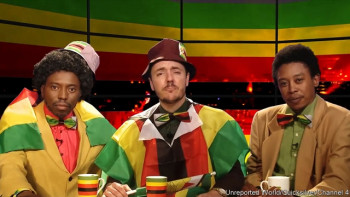 From The Economist: On a stage in a park in Harare, Zimbabwe's capital, Carl Joshua Ncube, perhaps the country's most famous comedian, is coaching a novice. Imitating her act, in which she pretends to deliver a baby, he mimes a doctor slapping its bottom. "People love to hear about bottoms," he tells her. An hour or so later, he introduces her—and three other wannabe female comics, one of whom is his wife—to a big audience. "In Zimbabwe we only have one female comedian," he says, mock-solemnly. "We need some competition for Grace!" Feigning anxiety, he adds: "Although we know what happens when people try to introduce their wives to the profession!"
By Grace, Mr Ncube of course means Mugabe, the couture-loving wife of Robert Mugabe, Zimbabwe's leader until his removal last November. Before the coup de Grace, jokes at her expense were a bit risqué. These days they can be told anywhere, loud and clear. "Operation Restore Regasi", a play crudely satirising the Mugabes, sold out repeatedly earlier this year (the name parodies an army commander who mispronounced Operation Restore Legacy, the coup's code-name). At this month's Harare International Festival of Arts, where Mr Ncube was performing, Freshlyground, a band with members from across southern Africa, ended the jamboree with a song ridiculing Mr Mugabe, to raucous applause.
Satire may be the country's fastest-growing industry. Comedians are now "rock stars in Zimbabwe", says Mr Ncube. The boom demonstrates the lightning speed at which prohibitions can crumble, and the cathartic benefits that can follow. But Zimbabwe's comics are not merely the beneficiaries of political change. They are actively working to cement it.
You've been a wonderful audience
With a goatee and square spectacles, Mr Ncube has a professional mien. His appearance belies his bravery. Over the past few years, he has developed an entire repertoire around his fear of Mr Mugabe. His trick was to make the joke without making it. A few years ago, he even told one in front of the president himself. "Your excellency, thank you so much for allowing me to be here," he began. "There's a lot of people who have been saying things behind your back, and they're afraid to say them to your face. I'm not afraid of you. I'm going to say what everyone else has been saying right now." And then, when the tension among the assembled politicians was at its peak, the punchline: "Everyone here wants to know if they can get a selfie with you?"
For much of the tail-end of Mr Mugabe's reign, Mr Ncube decided to stay away from Zimbabwe. "I called it going on tour, but I was pretty much in exile," he says. Satire was dangerous; Mr Ncube says the government would even blame him for other people's tweets. But it took off nonetheless, perhaps thanks to the abundance of material. One of the most prominent groups is an organisation called the Magamba Network. Since 2011 it has produced a satirical news show called the "Zambezi News", mocking the state broadcaster, ZBC, and the stooges who appear on it. Before the coup, the group's offices were repeatedly raided. An American employee was arrested and charged with attempting to overthrow the government.
From a purely comic perspective, Mr Ncube says, the repression had an upside: "The jokes were better because there was that fear." But finding a way to remain funny is not Zimbabwean comedians' only worry. They are also trying to ensure that their newfound licence is not revoked.
Today, the Magamba Network is frantically putting out jokes ahead of a general election in July or August. But it is also in effect doing reporting, says Samm Monro, a white Zimbabwean who appears as his alter ego "Comrade Fatso" (pictured right). The aim is to do for Zimbabwe what the "Daily Show" or John Oliver do for young Americans—which, in a country where most voters are under 40, could be decisive. The gags focus on problems faced by most Zimbabweans, especially the middle classes, such as not being able to get money from the banks. As well as the comedy, which (like Mr Ncube's stand-up) is mostly in English, the network's projects include live reporting of parliamentary hearings and social-media initiatives in Shona and Ndebele, the two main languages.
Emmerson Mnangagwa, the former vice-president who took over from Mr Mugabe and is known to Zimbabweans as "EDM" or "the crocodile", is widely expected to win the vote. Charles Munganasa, the director of "Operation Restore Regasi", says he is optimistic about that outcome. He pours praise on Mr Mnangagwa, arguing that credit for his play "should also go to the current government". It is certainly true that until recently Mr Munganasa would never have got away with a show in which an actor bounces around hunchbacked in imitation of Mr Mugabe.
But not all Zimbabweans are convinced Mr Mnangagwa will be much better than the man he replaced, or that Zanu-PF, the ruling party, has changed. "This is definitely not a new Zimbabwe, it's the same old dudes," says Mr Monro. One of his colleagues, Mukudzei Kandoro Majoni, or "King Kandoro", fears there is "too much relaxation" among creative types, which might enable backsliding by the authorities. After all, jokes about the old president don't hurt his successor; if anything, they are a distraction from the fact that the present government seized power in a coup.
So far, tolerance for attacks on the new rulers has not been tested. Though declared unconstitutional in 2013, a law against mocking the president remains on the statute books and Mr Mnangagwa has supported keeping it. Laws restricting reporting are still in force; all plays must still be censored by geriatric party officials.
Mr Majoni compares being a comic to a "Sahwira", a traditional Shona figure who is a bit like a Shakespearean fool: "He's somebody who comes out and says what's really up." The best hope for that indispensable role is that it will be difficult for Mr Mnangagwa to stop what has started. The jokes have already spread far and wide. Though many prices are going up, internet connections are getting cheaper. Even in the countryside everyone has to have a mobile phone, not least to make payments, because there is scarcely any cash left. When the authorities tried to demolish part of the Magamba Network's offices, hundreds of protesters resisted. Once the mockery starts, can it end?