Does SA need 35 ministers, 9 provinces and 263 municipalities?
---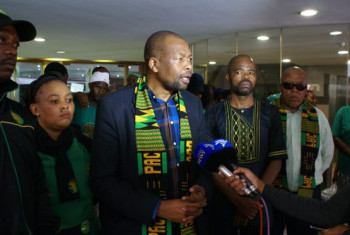 SA is over-governed. We have 35 ministers, 37 deputy ministers, and 9 provinces each with their own ministers and administrations. Then there are the 263 municipalities, operating another layer of bureaucracy. Perhaps government should set the pace by scaling back on this boondoggle.
And in case you think this is all well and good, consider that just 49 of the country's municipalities achieved clean audits in the 2015/16 financial year, according to the Auditor General, Kimi Makwetu.
The AG also reported that irregular expenditure in municipalities increased by over 50% to R16.81bn, though the figure could be substantially more as a third indicated that the full extent of mis-spending was unknown.
Narius Moloto, president of the Pan African Congress (pictured above), calls the nine provinces "mini bantustans" and wants to see them scrapped, with the money spent on duplicated administrations spent on job creation and uplifting the poor.
The Democratic Alliance (DA) thinks it's time to scale back on the blue light brigade. "This cabinet is by far one of the biggest in the world with 35 ministers; far bigger than the United States at 15 ministers, Kenya with 18 ministers, and the United Kingdom with 21 ministers," according to DA spokeswoman Desiree van der Walt.
This year alone, the 35 ministers and 37 deputy ministers are expected to earn R163.5 million, with their ministerial staff (limited to 10 for minister and 6 for deputy ministers) costing a further R1bn.
Is this value for money? The DA has done some decent homework on this subject and concludes that government should set a good example by cutting back on the number of ministers. What do we need a sports minister for, other than to cheer on our soccer team and complain about race quotas not being met? What does our science and technology minister hope to achieve that the private sector cannot? Then we've got higher education and basic education. Why 2 ministries (both rather miserable in their academic achievements)?
That's just one side of this boondoggle. Public Works doled out R188m on 33 properties in Pretoria and Cape Town for the ministers and deputies, a princely R5,7m per property. Another R48m is to be spent in the current fiscal year for 6 more properties – a cost of R8m per property. The R236m spent on ministerial properties could have built 2,000 RDP houses, says the DA.
Then there's the travel and entertainment budgets coming in at a shade under R300m this year. But the real shocker is the VIP protection services, costing R1,5bn in the current fiscal year, and close to R5bn over the next 3 years.
The DA says part of the problem lies in the ministerial handbook, which provides rather generous staffing and expense limits on ministers and their deputies.
Previous presidents had smaller cabinets. Nelson Mandela – total cabinet size 50 (28 ministers); Thabo Mbeki – total cabinet size 50 (28 ministers); Kgalema Motlanthe – total cabinet size: 47 (28 ministers); Jacob Zuma/Cyril Ramaphosa – total cabinet size 73 (35 ministers).
"If the president is serious about helping National Treasury reign in the runaway budget deficit he will have to cut executive spending by finalising a stricter and more frugal ministerial handbook, as well as cutting the overall size of the cabinet," Van der Walt said.