AfriForum lobs a few grenades at Julius Malema
---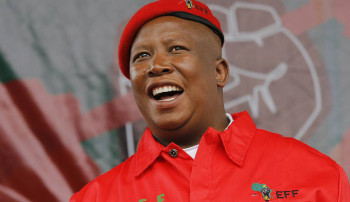 AfriForum is throwing the book at EFF leader Julius Malema, with multiple private prosecutions being brought against him. The latest private prosecution relates to fraud and tender corruption involving Limpopo company On-Point Engineering. AfriForum advocate Gerri Nel - who famously prosecuted SA Olympic blade runner Oscar Pistorius for the shooting of his girlfriend, Reeva Steenkamp - has attacked the National Prosecuting Authority (NPA) for failing to take forward numerous cases against Malema. Malema, in response, challenged the "white racists" to bring it on, and said the prosecutions were to divert attention away from his call for land expropriation. Business Day reports.
The EFF has described the private prosecution of Julius Malema as a bid by AfriForum to divert attention from the issue of land expropriation without compensation.
AfriForum said Advocate Gerrie Nel' the head of its Private Prosecuting Unit' will privately prosecute Malema and his co-accused for fraud and tender corruption should the National Prosecuting Authority (NPA) not yield to AfriForum's demand that the case against Malema, and involving the company On-Point Engineering in Limpopo' be reinstated.
On-Point' in which Malema's family trust had an interest' was, in 2009, appointed to assist the Limpopo Department of Roads and Transport with infrastructure development' maintenance and planning, and in so doing' allegedly received bribes from successful tenderers.
AfriForum said it laid a charge against Malema at the Brooklyn police station in Pretoria on July 24 2011 in terms of the Prevention and Combating of Corrupt Activities Act' in connection with On-Point's activities.
After the Hawks investigated the charge' the NPA started the prosecution of Malema. However' on August 4 2015 the case against Malema was struck from the roll of the Polokwane High Court after one of Malema's co-accused could not attend the hearing due to illness.
Nel said it is unacceptable that the NPA, after more than 30 months, has failed to take the corruption case against Malema any further. Malema reacted to the news with a fiery tweet: "Bring it on bloody racists' you don't scare me at all. I'm born ready! No white man will decide my destiny' the poor masses of our people will..."
The EFF said in a statement afterwards that the prosecution was a "nonsensical attempt of the ultra-right wing" that had less to do about the rule of law than deflecting attention from the thorny issue of land.
"It is not a secret that the EFF is at the forefront of the struggle for land expropriation without compensation and that AfriForum is one of its right-wing opponents'" a statement by acting spokesperson Tebogo Mokwele read. "Instead of engaging in a democratic debate and engagement on the land question' AfriForum does what their colonial and apartheid forefathers did to freedom fighters' which is criminal persecution and prosecutions for political reasons."
The EFF said the original case was struck off the roll because the NPA "couldn't present a solid case" and that the party stood behind Malema, and believed that the private prosecution would simply multiply support for land expropriation without compensation.
"Nobody is above the law. Even if Mr Malema thinks he is above the law' he is not. We will make sure that he is held accountable'" said AfriForum CEO Kallie Kriel on Thursday.
AfriForum' asked why they were targeting figures such as Malema and Duduzane Zuma for prosecution' said on Thursday: "If the NPA doesn't do [its] job' then we have to intervene in these matters."
AfriForum, in conjunction with AfriBusiness, is currently preparing for a case of contempt of court by Malema. This comes after a court order was obtained against Malema in 2017 that forbade him to incite people to occupy land. "With his latest statements, Malema is contravening this court order and therefore is acting in contempt of the court order'" Kriel alleged.
The other case against Malema is a charge of incitement to commit crime' submitted by AfriForum and to be heard in the Bloemfontein Regional Court. The court has postponed the matter to July 2018.
In October, AfriForum announced that the first person its private sections unit would be prosecuting was Duduzane Zuma for culpable homicide in the death of Phumzile Dube, who was killed in February 2014 when Duduzane's Porsche collided with the taxi in which she was travelling.
Kriel later told journalists that the lobby group had given the NPA a January 2018 deadline to release a nolle prosequi certificate — a formal notice of abandonment by a plaintiff or prosecutor of all or part of a suit (required for a private prosecution) — which would allow Nel to prosecute Duduzane.