Russia to the US: our nuclear missiles are untouchable
---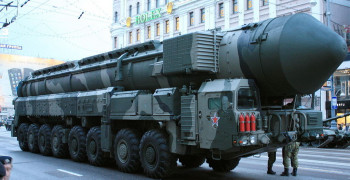 If anything should put the fear of God into the West, it is the State of the Nation address given by Russian President Vladimir Putin earlier this week. He detailed a new generation of nuclear weaponry that is impervious to US or any other defence system. Putin prefaced his speech by saying Russia had been forced to revamp its military and offensive capability after the US and NATO had betrayed an agreement not to move an inch closer to the Russian border. The US now encircles Russia with military bases and holds hostile military exercises with earshot of Russia's borders. This is how Russia is responding, but this seems not to matter to the crazed neoconservatives in the US, who relish the idea of more wars and more military spending. One of the new weapons systems carries a heavy duty nuclear energy unit giving it almost unlimited range. This is part of the speech given by Putin this week.


President Vladimir Putin: The operation in Syria has proved the increased capabilities of the Russian Armed Forces. In recent years, a great deal has been done to improve the Army and the Navy. The Armed Forces now have 3.7 times more modern weapons. Over 300 new units of equipment were put into service. The strategic missile troops received 80 new intercontinental ballistic missiles, 102 submarine-launched ballistic missiles and three Borei nuclear-powered ballistic missile submarines. Twelve missile regiments have received the new Yars intercontinental ballistic missile. The number of long-range high-precision weapons carriers has increased by 12 times, while the number of guided cruise missiles increased by over 30 times. The Army, the Aerospace Forces and the Navy have grown significant stronger as well.
Both Russia and the entire world know the names of our newest planes, submarines, anti-aircraft weapons, as well as land-based, airborne and sea-based guided missile systems. All of them are cutting-edge, high-tech weapons. A solid radar field to warn of a missile attack was created along Russia's perimeter (it is very important). Huge holes appeared after the USSR disintegrated. All of them were repaired.
A leap forward was made in the development of unmanned aircraft; the National Defence Control Centre was established; and the operational command of the far maritime zone was formed. The number of professional service members has increased by 2.4 times, and the availability of equipment in the Armed Forces grew from 70 percent to 95–100 percent. The years-long queue for permanent housing was eliminated, and the waiting period was cut by 83 percent.
Now, on to the most important defence issue.
I will speak about the newest systems of Russian strategic weapons that we are creating in response to the unilateral withdrawal of the United States of America from the Anti-Ballistic Missile Treaty and the practical deployment of their missile defence systems both in the US and beyond their national borders.
I would like to make a short journey into the recent past.
Back in 2000, the US announced its withdrawal from the Anti-Ballistic Missile (ABM) Treaty. Russia was categorically against this. We saw the Soviet-US ABM Treaty signed in 1972 as the cornerstone of the international security system. Under this treaty, the parties had the right to deploy ballistic missile defence systems only in one of its regions. Russia deployed these systems around Moscow, and the US around its Grand Forks land-based ICBM base.
Together with the Strategic Arms Reduction Treaty, the ABM Treaty not only created an atmosphere of trust but also prevented either party from recklessly using nuclear weapons, which would have endangered humankind, because the limited number of ballistic missile defence systems made the potential aggressor vulnerable to a response strike.
We did our best to dissuade the Americans from withdrawing from the treaty. All in vain. The US pulled out of the treaty in 2002. Even after that we tried to develop constructive dialogue with the Americans. We proposed working together in this area to ease concerns and maintain the atmosphere of trust. At one point, I thought that a compromise was possible, but this was not to be. All our proposals, absolutely all of them, were rejected. And then we said that we would have to improve our modern strike systems to protect our security. In reply, the US said that it is not creating a global BMD system against Russia, which is free to do as it pleases, and that the US will presume that our actions are not spearheaded against the US.
The reasons behind this position are obvious. After the collapse of the USSR, Russia, which was known as the Soviet Union or Soviet Russia abroad, lost 23.8 percent of its national territory, 48.5 percent of its population, 41 of the GDP, 39.4 percent of its industrial potential (nearly half of our potential, I would underscore), as well as 44.6 percent of its military capability due to the division of the Soviet Armed Forces among the former Soviet republics. The military equipment of the Russian army was becoming obsolete, and the Armed Forces were in a sorry state. A civil war was raging in the Caucasus, and US inspectors oversaw the operation of our leading uranium enrichment plants.
For a certain time, the question was not whether we would be able to develop a strategic weapon system – some wondered if our country would even be able to safely store and maintain the nuclear weapons that we inherited after the collapse of the USSR. Russia had outstanding debts, its economy could not function without loans from the IMF and the World Bank; the social sphere was impossible to sustain.
Apparently, our partners got the impression that it was impossible in the foreseeable historical perspective for our country to revive its economy, industry, defence industry and Armed Forces to levels supporting the necessary strategic potential. And if that is the case, there is no point in reckoning with Russia's opinion, it is necessary to further pursue ultimate unilateral military advantage in order to dictate the terms in every sphere in the future.
Basically, this position, this logic, judging from the realities of that period, is understandable, and we ourselves are to blame. All these years, the entire 15 years since the withdrawal of the United States from the Anti-Ballistic Missile Treaty, we have consistently tried to reengage the American side in serious discussions, in reaching agreements in the sphere of strategic stability.
We managed to accomplish some of these goals. In 2010, Russia and the US signed the New START treaty, containing measures for the further reduction and limitation of strategic offensive arms. However, in light of the plans to build a global anti-ballistic missile system, which are still being carried out today, all agreements signed within the framework of New START are now gradually being devaluated, because while the number of carriers and weapons is being reduced, one of the parties, namely, the US, is permitting constant, uncontrolled growth of the number of anti-ballistic missiles, improving their quality, and creating new missile launching areas. If we do not do something, eventually this will result in the complete devaluation of Russia's nuclear potential. Meaning that all of our missiles could simply be intercepted.
Despite our numerous protests and pleas, the American machine has been set into motion, the conveyer belt is moving forward. There are new missile defence systems installed in Alaska and California; as a result of NATO's expansion to the east, two new missile defence areas were created in Western Europe: one has already been created in Romania, while the deployment of the system in Poland is now almost complete. Their range will keep increasing; new launching areas are to be created in Japan and South Korea. The US global missile defence system also includes five cruisers and 30 destroyers, which, as far as we know, have been deployed to regions in close proximity to Russia's borders. I am not exaggerating in the least; and this work proceeds apace.
So, what have we done, apart from protesting and warning? How will Russia respond to this challenge? This is how.
During all these years since the unilateral US withdrawal from the ABM Treaty, we have been working intensively on advanced equipment and arms, which allowed us to make a breakthrough in developing new models of strategic weapons.
Let me recall that the United States is creating a global missile defence system primarily for countering strategic arms that follow ballistic trajectories. These weapons form the backbone of our nuclear deterrence forces, just as of other members of the nuclear club.
As such, Russia has developed, and works continuously to perfect, highly effective but modestly priced systems to overcome missile defence. They are installed on all of our intercontinental ballistic missile complexes.
In addition, we have embarked on the development of the next generation of missiles. For example, the Defence Ministry and enterprises of the missile and aerospace industry are in the active phase of testing a new missile system with a heavy intercontinental missile. We called it Sarmat.
Sarmat will replace the Voevoda system made in the USSR. Its immense power was universally recognized. Our foreign colleagues even gave it a fairly threatening name (Satan).
That said, the capabilities of the Sarmat missile are much higher. Weighing over 200 tonnes, it has a short boost phase, which makes it more difficult to intercept for missile defence systems. The range of the new heavy missile, the number and power of its combat blocs is bigger than Voevoda's. Sarmat will be equipped with a broad range of powerful nuclear warheads, including hypersonic, and the most modern means of evading missile defence. The high degree of protection of missile launchers and significant energy capabilities the system offers will make it possible to use it in any conditions.
Could you please show the video.
(Video plays.)
Voevoda's range is 11,000 km while Sarmat has practically no range restrictions.
As the video clips show, it can attack targets both via the North and South poles.
Sarmat is a formidable missile and, owing to its characteristics, is untroubled by even the most advanced missile defence systems.
But we did not stop at that. We started to develop new types of strategic arms that do not use ballistic trajectories at all when moving toward a target and, therefore, missile defence systems are useless against them, absolutely pointless.
Allow me to elaborate on these weapons.
Russia's advanced arms are based on the cutting-edge, unique achievements of our scientists, designers and engineers. One of them is a small-scale heavy-duty nuclear energy unit that can be installed in a missile like our latest X-101 air-launched missile or the American Tomahawk missile – a similar type but with a range dozens of times longer, dozens, basically an unlimited range. It is a low-flying stealth missile carrying a nuclear warhead, with almost an unlimited range, unpredictable trajectory and ability to bypass interception boundaries. It is invincible against all existing and prospective missile defence and counter-air defence systems. I will repeat this several times today.
In late 2017, Russia successfully launched its latest nuclear-powered missile at the Central training ground. During its flight, the nuclear-powered engine reached its design capacity and provided the necessary propulsion.
Now that the missile launch and ground tests were successful, we can begin developing a completely new type of weapon, a strategic nuclear weapons system with a nuclear-powered missile.
Roll the video, please.
(Video plays.)
You can see how the missile bypasses interceptors. As the range is unlimited, the missile can manoeuvre for as long as necessary.
As you no doubt understand, no other country has developed anything like this. There will be something similar one day but by that time our guys will have come up with something even better.
Now, we all know that the design and development of unmanned weapon systems is another common trend in the world. As concerns Russia, we have developed unmanned submersible vehicles that can move at great depths (I would say extreme depths) intercontinentally, at a speed multiple times higher than the speed of submarines, cutting-edge torpedoes and all kinds of surface vessels, including some of the fastest. It is really fantastic. They are quiet, highly manoeuvrable and have hardly any vulnerabilities for the enemy to exploit. There is simply nothing in the world capable of withstanding them.
As I have already said, all future military products are based on remarkable advances that can, should and will be used in high-technology civilian sectors. I would like to stress that only a country with the highest level of fundamental research and education, developed research, technology, industrial infrastructure and human resources can successfully develop unique and complex weapons of this kind. You can see that Russia has all these resources.
We will expand this potential and focus on delivering on the ambitious goals our country has set itself in terms of economic, social and infrastructure development. Effective defence will serve as a guarantee of Russia's long-term development.
Let me reiterate that each of the armament systems I referred to is uniquely important. Even more importantly, taken together all these advances enable the Defence Ministry and General Staff to develop a comprehensive defence system, in which every piece of new military equipment will be assigned a proper role. On top of strategic weapons that are currently on combat alert and benefit from regular updates, Russia will have a defence capability that would guarantee its security in the long term.