Dealing with the land question without killing the golden goose
---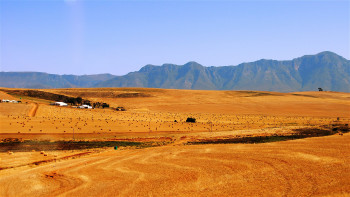 Land will become one of the major political issues in 2018 and beyond, with "expropriation without compensation" being the preferred route of redistribution for the ANC and EFF, among others. In this article in Business Day, Neels Blom lays the table with a look at what two different studies have shown in terms of land distribution by race, gender and nationality. On the face of it, whites have a disproportionate amount of agricultural land, but this ignores land that has already been transferred to blacks in prior years.
When a parliamentary committee considers whether it should recommend changes to the Constitution that would permit the expropriation of land without compensation, factors other than the cold facts presented in the reports to it are likely to influence it.
It will have two information sets on which to base its decisions and, by extension, two different approaches to evaluate.
The two reports reach divergent conclusions, each reflecting its research premises and therefore its methodologies and underlying data sets.
The reports are therefore not strictly comparable.
The land audit report Private Land Ownership by Race, Gender and Nationality, produced in November 2017 by the Department of Rural Development and Land Reform, is a comprehensive survey of land registered with the deeds office.
It aggregates all land by hectarage and compares its private ownership in terms of race, gender and nationality.
The department's report includes the private ownership of agricultural land, urban erven and ownership under sectional title. As the idea of expropriation without compensation has been raised primarily regarding the redistribution of agricultural land to alleviate poverty, this discussion must focus on agricultural land.
In private ownership of agricultural land, the department finds that land held by whites constitutes 72% of 37-million hectares of farm land, while 15% is held by coloureds, 5% by Indians and 4% by Africans.
These figures exclude agricultural land held by companies, trusts, nongovernmental organisations and by the state.
This is significant because that would include the hectarage already transferred under various land-reform processes, tribal trust land, land held by community property associations and land inherited from the previous regime.
Since 2011, the transfer of title (the government's measure of private ownership) of agricultural land to beneficiaries has been limited to medium-to large-scale farmers and then only after leasing it from the state for 30 to 50 years. Unless the definition of ownership is changed to include land-reform beneficiaries without title, the government's racial profile of private land ownership would therefore remain permanently skewed to reflect greater white private ownership.
In this sense, the department's report on private ownership does not reflect the de facto demographic spread of control over agricultural land.
The second land audit report, which was also published in November 2017, was produced by the agricultural industry body Agri SA, the consultancy Agri Development Solutions and the publication Landbouweekblad.
It draws its data from land transactions. This means that it too does not provide an accurate racial breakdown of who owns what.
Its premise is that not all agricultural land is the same; that it is affected by several factors, including rainfall, proximity to markets, water rights and supporting infrastructure. It bases its assessment of land potential on land fertility as reflected by the capacity to carry large units of stock. This industry-centric approach suggests that hectarage is of lesser importance in an assessment for the purposes of land reform and that land should be evaluated in terms of potential agricultural yield, although its demographic spread is largely corroborated by the department's report.
As with the department's audit, the industry report does not include details on land ownership by companies and trusts. But unlike the government report, the report conflates the land held by previously disadvantaged people and land owned by the state in its definition of ownership.
Its finding in chief, based on transactional data, is that from 1994 to 2016, previously disadvantaged people and the government bought 8.9-million hectares at R90.3bn. In hectarage that is 12.9% of the total land surface traded commercially. The amount represents 22.5% of the total value of land traded from 1994 to 2016.
The state bought 2.8-million hectares at R20.5bn, representing 31.9% by hectarage and 22.7% in rand value. As with the government report, it combines the transactions for farm land as well as urban land.
Agricultural land comprises about 76% of the country's total land surface of about 122.5-million hectares, the report reads.
It finds that the state, the former homelands and trusts combined own 25% of the land.
It also finds that state acquisitions yielded 2.2-million hectares, while private acquisitions by previously disadvantaged people amounts to 4.3-million hectares.
Most significantly, and in terms of the researchers' broad definition of ownership — which combines state, trust and private land — previously disadvantaged people own considerably more agricultural land than whites in farming provinces that are high yielding. More than half of all agricultural land in three of SA's most fertile provinces — the Eastern Cape, Limpopo and KwaZulu-Natal — is owned by previously disadvantaged people, the report reads.
Nationally, they control more than 46% of the country's agricultural potential.
In the high-rainfall and fertile KwaZulu-Natal, for instance, blacks own 73.5% of agricultural land. In the similarly high-yielding Mpumalanga province, 39.4% is owned by blacks.
In terms of the land's value and its potential, the ownership share increases substantially, the report reads.
In rand value, the share for blacks is 29.1% and in terms of land potential, the share is 46.5%. This figure compares with the 26.7% in terms of hectares owned.
The report suggests that to extract the highest yield from farmland the government and commercial agriculture should form partnerships to equip new farmers with skills and operational funding required to run their farms.
In its recommendations, the department's report proposes the establishment of a land administration commission, the introduction of overarching legislation on national land rights and the establishment of a land reform fund.
The report neither recommends nor discusses the idea of the expropriation of land without compensation.
You can read the government's land audit report
here
.