Ramaphosa to be elected president on Thursday - if chief justice is available
---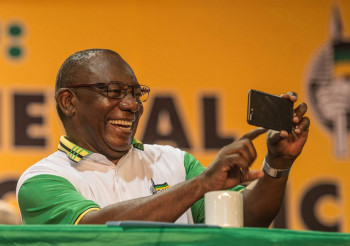 It seems the knives are out for outgoing President Jacob Zuma. His own party will join the Economic Freedom Fighters (EFF) in a vote of no confidence in their leader, according to Business Day. If all this goes as planned, and the chief justice is available for the swearing in, tomorrow will see the first day in office of President Cyril Ramaphosa.

The ANC has confirmed that it will back an EFF-sponsored motion of no confidence in President Jacob Zuma, to be debated on Thursday.
"We have asked the chief whip [Jackson Mthembu] to proceed with the motion of no confidence so that Zuma is removed and we proceed to elect Cyril Ramaphosa as president, so that he delivers the state of the nation address," ANC treasurer-general Paul Mashatile said at a media conference early on Wednesday afternoon.
"We can no longer wait [to remove Zuma] … the decision by the NEC [national executive committee] has been taken and it must be implemented."
Mthembu said Ramaphosa could possibly be sworn in as president of SA on Thursday, depending on the availability of Chief Justice Mogoeng Mogoeng.
The ANC had approached the EFF to request that it withdraw its motion.
"They [the EFF] flatly refused … what would have been an option would have been to [table] our own motion, but it is not possible … therefore our rules allow for an amendment of any motion.
"We will effect the amendments [to the EFF motion] to effect some amendments, but the substance of the [EFF motion] will not be changed, which will result in the removal of Zuma," Mthembu said.
The ANC announced on Tuesday that it had decided to recall Zuma. ANC secretary-general Ace Magashule said the party expected Zuma to respond on Wednesday. However, he emphasised that the state of the nation address, which was originally scheduled to be delivered on February 8, would be delivered by the Ramaphosa.
Indications are that Zuma will defy his party's decision and cling to power, which has forced the ANC caucus to pursue a motion of no confidence.