Nedbank client takes his case to the Jersey court
---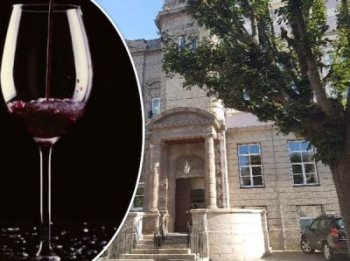 Ian Brakspear of Durban has been fighting his case against Nedbank for the better part of a decade. It all started when the bank foreclosed on a R7m loan he says he neither asked for nor received. A bizarre court case in Durban found in favour of the bank. Now Brakspear's mother has taken the case to the Jersey courts in search of justice. The Bailiwick Express reports on the latest developments.
A widow in her 80s is hoping to secure compensation worth millions for her family from a Jersey trust company after a complex court battle involving a South African wine farm, an alleged fake £500,000 loan, and a multi-billion luxury company…all without the paid help of a lawyer.
In a case currently before the Royal Court, Dorothy Brakspear (83) is representing her family without any legal assistance because she alleges the actions of Nedgroup Trust have left her family significantly out of pocket.
The Northampton-based pensioner therefore took to teaching herself the ins and outs of Jersey trust law in a bid to bring the company to court over alleged breaches of confidentiality and a number of transactions which she claims were made up.
Nedgroup strongly deny all of her claims, and are calling for the case to be thrown out, as the South African courts have already found against the claimants.
The Brakspear's submission suggests that the 13-year-long saga began when 59-year-old businessman Ian Brakspear tried to acquire part of an 85-hectare wine estate. This was done partly as an investment, but also as a means to help Mrs Brakspear and another party to secure residency in South Africa.
Mr Brakspear wished to do so using an offshore trust structure, and sought the advice of Nedgroup Trust. It's claimed that he was told the best way to do this was by allowing another party to 'hold' the shares on his behalf so that he could enjoy the benefits of the wine farm without his personal details being made public. Furthermore, it's alleged he was informed that his instructions would be followed at all times, and that he would have the final say on any transactions.
In a sworn affidavit, Mrs Brakspear explained that Mr Brakspear poured his time and efforts into tending to the farmland, leaving his young children to fly to Cape Town fortnightly.
After some time, Mr Brakspear had the farmland audited, only to be disappointed to learn that its assets were not as extensive as he says he had been led to believe.
Dreaming of developing a boutique hotel and dividing the land into several smaller wine estates so that it could be sold, Mr Brakspear consulted with several architects and town planners about his ideas – all at considerable expense.
Despite allegedly being aware of the financial costs Mr Brakspear was incurring, it was alleged Negroup never disclosed that the ownership of the land was structured in such a way that he wouldn't be able to benefit from the farm or its sale.
In August 2007, a buyer emerged. They offered 37.75million in South African Rand (ZAR) – around £2.7million in Sterling – for the property.
But that offer soon fell through after the Brakspears claim Nedgroup disclosed sensitive financial information about the seller. After some time, the buyer re-emerged with a new offer: less than half of what was originally on the table. Court documents showed that this resulted in a loss of ZAR 19.75million.
The transfer began, but Mr Brakspear was unhappy, and informed Nedgroup of his intention to sue over the losses he claimed they had caused him.
Just before that transaction was processed, Johan Rupert - the owner of the multi-billion luxury holdings group Richemont, which is responsible for brands including Chloé, Cartier and Azzedine Alaia – stepped in. The designer fashion mogul offered to purchase the site for ZAR 25million (£1.78m) through his company Applemint.
But when Mr Brakspear informed Nedgroup of his intention to accept this new offer, it's alleged that the company said that they would only agree if they were able to take at least ZAR 1million (£71,000), and that Mr Brakspear and Mrs Brakspear abandon any claims they might take against the company.
When the Brakspears disagreed, it's claimed Nedgroup initiated a claim against them in the South African courts. As a result, the land was reportedly sold off in order to pay off a fictitious debt from a 'loan' that Mr Brakspear says he had never requested or been given. The Brakspears state that these "false representations" caused legal and liquidation fees of hundreds of thousands.
But Nedgroup strongly refute all of the claims. Represented by Advocate Mark Taylor, they are now seeking to strike out the claims put forward by the Brakspears on the basis that the case has already been through the South African court system, which found against the claimants.
They have also reserved their right to "plead more fully to any paragraphs of the Order of Justice which survive the strike out application."
They also denied that they should be held liable to pay any punitive charges, instead claiming that the plaintiffs should pay their legal costs instead.
Related Articles:
I was liquidated over fictitious R7m loan, says Durban businessman
Brakspear trial showcases a broken judicial system