26 changes to the cabinet - some good, some awful
---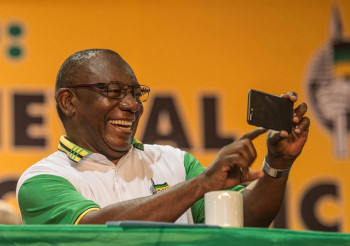 Perhaps the best news in the cabinet reshuffle announced on Monday by President Cyril Ramaphosa is that Nene is back at the finance ministry, and Pravin Gordhan gets to run public enterprises. Zwane is gone as mining minister, replaced by fiery trade unionist Gwede Mantashe. Most of those ministers with links to the Guptas are gone, except Gigaba - who has been moved from finance to his old portfolio of home affairs (where he famously imposed new visa rules, causing a slump in tourism and a loss of billions to the economy). You have to scratch your head at some of the appointments, which suggest there is still a Zuma gun pointed at Ramaphosa's head. City Press looks at the reshuffle.
President Cyril Ramaphosa has brought back Nhlanhla Nene to head Treasury – 26 months after Jacob Zuma unceremoniously dumped him and appointed an unknown backbencher, Des van Rooyen, as finance minister in December 2015, plunging the rand to record lows.
Nene, who will be deputised by the former mayor of Ekurhuleni, Mondli Gungubele, is one of 26 new executive appointments announced by Ramaphosa on Monday night. All the ministers accused of having links to the notorious Gupta family, with the exception of Malusi Gigaba, were sacked. Gigaba who delivered the national budget speech last Wednesday goes back to home affairs.
Other changes saw Nomvula Mokonyane becoming the voice of government in her new role as communications minister. Cabinet veteran Jeff Radebe, who has been in the executive since 1994, becomes the new minister of energy, another veteran Lindiwe Sisulu, who was touted among candidates for deputy president of the republic becomes international relations and cooperation minister. Former science and technology minister Naledi Pandor takes over the troubled higher education portfolio.
Newly elected ANC chairperson Gwede Mantashe is the new mineral resources head, with former mayor of Cape Town Nomaindia Mfeketo, who has been international relations deputy minister since 2014, being appointed as the new human settlements minister. Bheki Cele who served as national police commissioner between 2009 and 2012 is the new sheriff in town as minister of police.
Pravin Gordhan and Derek Hanekom, who have openly spoken out against Zuma over the past year and campaigned for Ramaphosa ahead of the ANC's national conference, are back in the Cabinet. Gordhan takes over the embattled public enterprises portfolio and Hanekom goes back to Tourism.
Blade Nzimande is another returnee as he takes over transport while Ayanda Dlodlo, who served for a few years as public service and administration deputy minister, becomes the head honcho of that department. It's also her third move in less than a year.
Thulas Nxesi goes back to public works which he headed since 2014 until his appointment to sports and recreation in the midnight reshuffle of March 31 last year. The ANC women's league's Thokozile Xasa takes over at sport.
Maite Nkoana-Mashabane, who survived the numerous Zuma reshuffles since 2009, has been moved to the contentious rural development and land reform portfolio in a year where land expropriation without compensation is the buzz word. Mmamoloko Kubayi-Ngubane is also moving to her third portfolio in 11 months – from energy to communications and now science and technology. Susan Shabangu swaps portfolios with ANC women's league president and outgoing social development minister Bathabile Dlamini, who becomes the new minister in the presidency responsible for women.
Nkosazana Dlamini-Zuma is another minister in the presidency. She will be responsible for planning, monitoring and evaluation. The deputy minister of public service and administration, Dipuo Letsatsi-Duba, takes over from Bongani Bongo as the new minister of state security. ANC veteran Gugile Nkwinti will have to tackle the ongoing drought crisis as the new minister of water affairs and sanitation.
Sifiso Buthelezi, who has been the deputy minister of finance for the past year, will become the new deputy minister of agriculture, while Cassel Mathale becomes the deputy minister of public service and administration. Pinky Kekana becomes the deputy minister of communications and Chana Pilane Majake takes over as the deputy minister of public service and administration.
Ramaphosa has appointed former ANC treasurer-general Zweli Mkhize as the new minister of cooperative governance and traditions affairs pending his swearing-in as a member of Parliament. David Mabuza, the deputy president of the ANC, will also be sworn into Cabinet and will take over as the new deputy president of the republic.
Ramaphosa said the changes were intended to ensure that national government was better equipped to implement the mandate of his administration and specifically the tasks identified in the state of the nation address: "In making these changes, I have been conscious of the need to balance continuity and stability with the need for renewal, economic recovery and accelerated transformation.
"As indicated in the state of the nation address, we have begun a review of the configuration, size and number of national ministries and departments. We will retain the existing ministries and departments until that review is completed," said Ramaphosa.
Ramaphosa's dramatic move was welcomed by the ANC but opposition felt it showed that he was weak and not in control of the party.