Mugabe's allies scatter to the winds
---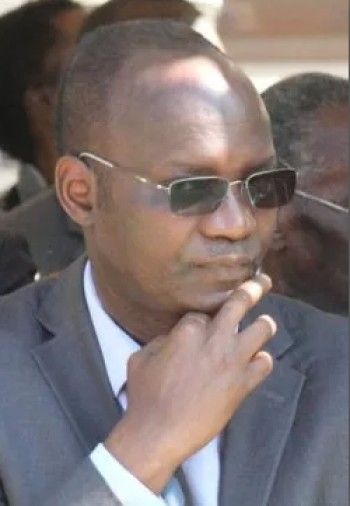 Zimbabwe's former information minister Jonathan Moyo is smart, funny and always ready with a stinging quote to reduce his political opponnents to ash. According to this article by Richard Chidza, he was also a political turncoat who jumped sides whenever it suited his own political survival. With the swearing in of new Zimbabwean president Emmerson Mnangagwa last week, Moyo is once again out in the cold. Diehard Mugabe supporters have lost their chief patron, and for many this is the end of their political careers. Some may end up in prison. Will Jonathan Moyo survive this time, as he has done so many times in the past?
Fast-forward to November 21, 2017, in the aftermath of Mugabe's resignation, Moyo used social media and wrote: "There'll never be anyone like Cde RG Mugabe. I'm grateful for the opportunity to have served my country under and with him. I'm proud that I stood with and by this iconic leader during the trying moments of the last days of his Presidency. Democracy requires politics to lead the gun!"
There can never be a better illustration of Moyo's political character than as indicated by the two quotations, but then, politicians have been known to be a fickle lot and the Professor, as he is affectionately known, cannot be expected to be an exception.
And Italian Renaissance era historian, politician, diplomat, philosopher, humanist and writer Niccolo Machiavelli could not have put it any better when he said, "politics have no relation to morals".
Politicians are only loyal to their interests, hence, they have no permanent friends or enemies, today's friend may become a foe the next day and vice-versa.
Another philosopher and former Russian autocrat, Vladimir Lenin, expressed it even better when he said: "There are no morals in politics; there is only expedience. A scoundrel may be of use to us just because he is a scoundrel."
Moyo was educated in the United States after abandoning a bid to join the liberation struggle in Tanzania before returning to independent Zimbabwe to teach at the University of Zimbabwe.
The Public Administration Professor turned into a stern critic of Mugabe's administration, writing books and articles that painted the former guerilla leader as an unrivalled despot.
Before joining mainstream politics, Moyo wrote: "The only way to destroy Zanu PF is from within", and he came within a whisker of fulfilling this prediction two weeks ago before everything crumbled like a deck of cards and with it Mugabe's 37-year brutal rule.
Then towards the turn of the century, something snapped in Moyo. He was brought into Zanu PF by Mugabe after he impressed as the spokesperson of the failed initiative to draft Zimbabwe's new Constitution at the turn of the millennium that was rejected at a referendum in 2000.
Again, according to a citation in Luise White's book, Moyo, who was to be appointed Information minister after the 2000 legislative elections, claimed Rhodesians, neo-colonialists, and other retrogressive forces voted against the government's proposed Constitution.
"Some of them came all the way from South Africa to vote in the referendum (2003:98)," Moyo reportedly said in a ZBC interview just after the referendum.
Moyo revolutionised the Information ministry, moving the then obscure department to Mugabe's citadel of power at Munhumutapa Building, arguing as government chief spokesperson he needed easy access to the country's chief executive officer.
Witty and intelligent with an acerbic and twisted tongue, Moyo morphed into Mugabe's biggest cheerleader, leaving critics feeling small and earning himself comparisons with German's 19th century spin doctor Joseph Goebbels.
At the height of Mugabe's quarrels with Western countries amid accusations the Zanu PF leader had stolen his way to electoral victory, Moyo famously remarked: "It is unfortunate that Britain and, to some extent the EU, has taken the position that in Africa, free and fair elections must be won by the opposition."
Moyo was credited with crafting some of the most obnoxious pieces of legislation Zimbabwe had ever seen, not least of which were the media constrictor Access to Information and Protection of Privacy Act and the Public Order and Security Act, whose draft was described by one of Zimbabwe's finest legal minds and architect of Mugabe's dictatorship Eddison Zvobgo as "the greatest assault on our liberties".
After the 2004 fall-out over the Tsholotsho declaration that sought to catapult then Social Amenities minister Emmerson Mnangagwa into the Zanu PF presidency, Mugabe described Moyo as "clever, but not wise".
Moyo was expelled from Zanu PF in 2005 and again, he turned into a critic of Mugabe's regime, describing the former President as a "threat to national security".
But two years later, the Professor was back just before the country's 2008 harmonised elections and infamously said of his political sabbatical "it's cold out there".
He immediately earned a litany of monikers from turncoat to chameleon, serial flip-flopper to an arrogant mafikizolo (Johnny-come-lately), who lacked respect for elders and so on.
But Moyo always had an answer to every question and would berate his opponents with witty quotations that had the media eating out of the palm of his hands.
Moyo helped craft Zanu PF's election manifesto ahead of general elections in 2013, which was later transformed into the current government's five-year blueprint known as the Zimbabwe Agenda for Sustainable Socio-Economic Transformation (ZimAsset).
He was riding the crest of a wave.
In June 2013, as the country's political figures heckled over whether an election should be called, Moyo wrote an opinion in a State daily lashing out at opposition MDC-T leader Morgan Tsvangirai in typical fashion: "Given Tsvangirai's now well-established open zip, open mouth and shut mind reputation, it is not surprising that he does not know the simple fact that Sadc's facilitator in Zimbabwe is Jacob Zuma [South African President] in his personal capacity and not South Africa or its embattled government".
After the election, won controversially by Mugabe, Moyo was once again appointed Information minister and went about transforming State media to push an internal reform agenda under the banner of generational renewal later to be christened into the political faction of Zanu PF now known as Generation 40, a loose reference to the need for Zimbabweans of 40 years or younger to take the levers of power.
Addressing mourners at the burial of another former Information minister Nathan Shamuyarira, Mugabe in 2014, lashed out at Moyo for using State media for factional battles describing his propaganda chief as a "devil incarnate . . . weevil".
The writing was on the wall for Moyo or was it? He survived, but was moved to the Higher Education ministry in the subsequent reshuffle.
Instead of lying low, Moyo turned up on social media with such ferocity that his adversaries began looking for protection from Mugabe.
From Mnangagwa to Zimbabwe Defence Forces Commander General Constantino Guveya Dominic Nyikadzino Chiwenga, his ordinary followers on Twitter to journalists, Moyo dragged all and sundry into the gutter, leaving most whining, battered and bruised.
And when opposition parties demanded reforms, he retorted: "Zanu PF is not going to reform itself out of power".
G40 grew in stature and took on Mnangagwa's Team Lacoste pound for pound in a brutal power scrap that went all the way to the wire.
Moyo was at the forefront of former Vice-President Joice Mujuru's expulsion in December 2014, pushing former First Lady Grace Mugabe to the forefront of national politics.
After helping her hijack the position of Zanu PF women's league secretary, Moyo then used Grace to check-mate Mnangagwa's ambitions to succeed Mugabe.
But when the military indicated it would not support a Grace presidency, yet, as always, Moyo had an ace up his sleeve.
In June this year, Moyo used a public discussion at the Southern African Political and Economic Series discussion to drop into the succession conundrum Defence minister Sydney Sekeramayi's name as a better alternative to Mnangagwa and all hell broke loose.
Sekeramayi has the same wartime credentials as Mnangagwa and his candidature was capable of scuttling the man known as the Crocodile's ambitions.
Moyo took the fight to another level when he made a presentation to the Zanu PF politburo dissecting Mnangagwa as an opportunistic, sly and backbiting successionist who had all along been plotting to depose Mugabe.
Mnangagwa was presented as a regionalist and the brains behind the mid-80s genocide known as Gukurahundi despite the fact that Sekeramayi was Defence minister at the time, while Mugabe was overall in charge of the crack North Korea-trained military unit known as Fifth Brigade.
Moyo accused Mnangagwa of plotting a coup against the 93-year-old former President and the then Zanu PF leader bought this narrative hook, line and sinker.
Mnangagwa was left reeling on the ropes and things got worse when the then Vice-President claimed he had been poisoned at a Zanu PF youth interface rally in Gwanda on August 12 this year.
Moyo and his acolytes reportedly planted claims that Mnangagwa's supporters were claiming the poison had been administered through ice cream from Mugabe's Gushungo Dairies.
Mugabe was left seething with anger and demanded to meet Mnangagwa's doctors before telling another rally the Vice-President had not been poisoned.
Mnangagwa was forced to issue a statement retracting reports he had been poisoned through ice cream, leaving everything hanging in the air.
Moyo again went for the jugular, arguing Mnangagwa had suffered from an overdose of antiretroviral tablets.
Mnangagwa tried to hit back, accusing Moyo of being an American spy, but it was too late, Mugabe had made up his mind and it was a question of time.
Zanu PF insiders claimed Moyo was behind Grace's every move and speech against Mnangagwa and his cohorts with tacit support from Mugabe.
This was cemented by the fact that Mugabe continuously ranted about abuse of social media, but never really spoke directly to Moyo, who continued to abuse his opponents at will.
Moyo and his colleagues in the G40 faction, among them Local Government minister Saviour Kasukuwere, Mugabe's nephew and Labour minister Patrick Zhuwao, celebrated Mnangagwa's misfortune as the Midlands political godfather took a beating that later turned him into a victim of Zanu PF shenanigans and ultimately the people's underdog.
Enter Chiwenga.
Moyo had supported Mugabe's mantra that the army should stay out of Zanu PF internal factions, demanding that if Chiwenga wanted to join full-time politics, "remove our uniform".
While Chiwenga and other veterans of the liberation struggle had argued they were stockholders in Zimbabwe, Moyo hit back, saying "the only stockholders are the people".
So, when military tanks rolled into town on November 14, Moyo was a prime target. Reports indicate gunshots rang out at his plush Borrowdale home.
Ironically, he shares a wall with Chiwenga.
Moyo escaped with his life and turned up at Mugabe's private "Blue Roof" mansion, where he remained as the military ran amok rounding up most G40 members and acolytes in the army, police and intelligence in an operation code-named "Operation Restore Legacy".
Inexplicably, Moyo and his sidekick Kasukuwere, among others, escaped the dragnet and are now reportedly in Kenya, Equatorial Guinea and South Africa.
The Zanu PF central committee met on November 19 and resolved Moyo, Kasukuwere and 18 other G40 leading figures including Grace should be expelled from the party.
Moyo is now once again outside Zanu PF and likely to turn into Mnangagwa's arch-nemesis.
Again, it might turn cold outside and do not bank on it, there is every chance in hell that Moyo will make another dramatic return to Zanu PF he so hates.
But there is a catch "I will never support Mnangagwa" Moyo is on record as having told Mugabe. Moyo might need to fight from outside to have Mnangagwa out of Zanu PF before another return "home".
The serial flip-flopper-turned-praise-singer showed he is everything one needs in a politician and he knows it.