Mashaba plans to sue Home Affairs over processing of illegal immigrants
---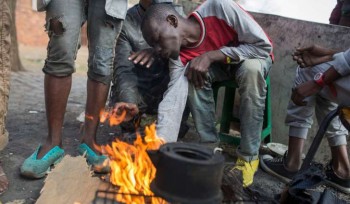 Joburg Mayor Herman Mashaba wants to know who is in his city legally and for those whose documentation is not in order to be processed by Home Affairs. And to achieve this he is preparing to take the Department of Home Affairs to court, arguing that the challenge of illegal immigration was a crisis in the city and that the responsibility for "immigration control lies with national government and not local municipality". Daily Maverick reports.
A legal battle is looming between the City of Joburg and the Department of Home Affairs over migrants to Johannesburg.
Democratic Alliance mayor, Herman Mashaba, has written to the new Minister of Home Affairs, Ayanda Dlodlo, and departmental officials demanding that they provide details by 24 November of the specific measures, plans and interventions they have for illegal immigration in Johannesburg.
It is at least the fourth such letter the City has written to Home Affairs, the first having been sent to former Home Affairs minister, Malusi Gigaba.
According to Mashaba's lawyer, Nicolas Ngwenya, the mayor has sent several letters of demand to Home Affairs, requesting them to "take appropriate steps at the identification and processing of illegal immigration" and also to "ensure the expeditious provision of legal documentation for immigrants who qualify for such".
The City is not optimistic about getting a response to the latest missive and is preparing legal papers to file against the department once it has failed to respond.
Since being sworn in as Democratic Alliance mayor of Joburg through a coalition agreement with other opposition parties after the 2016 local government elections, Mashaba has focused on "cleaning up" the city by attempting to reclaim hijacked buildings in the inner city. But this has proven difficult. Thousands of people – some South African, many more being from neighbouring countries – call these buildings home. And if the City is to evict them, it has to provide temporary accommodation to the residents as per the Prevention of Illegal Eviction Act and a recent constitutional court ruling that found that evictions are legal if it does not lead to homelessness.
But Mashaba believes that housing should only be provided for South Africans and documented migrants.
In his letters of demand, Mashaba states that the Department of Home Affairs' "inaction… in respect to immigration in the Johannesburg Metropolitan Municipality" was a hindrance to plans to clean up the city and provide decent housing. Mashaba argues that in order to budget for housing, the City must be informed of the numbers of people that qualified for housing.
"Immigration control lies with national government and not local municipality," Mashaba said.
"The mayor is not wielding an axe and simply rooting people out of their places and not knowing where to place them," Ngwenya said.
Mashaba cannot simply evict residents of hijacked buildings
According to the Prevention of Illegal Evictions Act and a Constitutional Court ruling, evictions are legal if, and only if, they do not lead to homelessness. Therefore, alternative and temporary housing must be secured and provided for those evicted from a building before a court order can be granted for an eviction. Justice Phineas Mojapelo stated that "Judges must be sure that evictions will not lead to homelessness" and emphasised "the fundamental importance that a person's home has to the realisation of almost all human rights".
In a statement, Mashaba said the City of Johannesburg faced a housing backlog of about 300,000 units.
"I believe the inner city holds the perfect solution to this challenge' with the opportunity of government partnering with the private sector to create high-rise' densified' low-cost' quality accommodation'" Mashaba said.
"Financial planning and budget concerns" were among the reasons Mashaba gave for the need to compel home affairs to act. The City's ability to provide services to its residents and knowing the population size is a big factor in Mashaba's woes with Home Affairs.
"We are asking the Department of Home Affairs to do its job," said Ngwenya. And on what they expect from the courts, he said, "an order to compel the department to work with us".
The African Diaspora Forum intends joining Mashaba as friends of the court if the matter goes ahead.
"For public service planning you need figures," says Marc Gbaffou, Chairperson of the African Diaspora Forum, "Home Affairs does not know who how to count its visitors."
But legal officer for the Socio-Economic Rights Institutions Nomzamo Zondo said: "The housing crisis in the inner city of Johannesburg has its genesis in the apartheid state's policy of excluding black people from well located land like the inner city and has been worsened by the post-apartheid state's failure to provide affordable housing in the inner city and the speculative property investment in buildings that were abandoned in the late '90s. It has been further expounded by urbanisation and people migrating into the city but this has been both South African and non-South Africans. Suing Home Affairs will not address these issues. A good starting point would be the provision of housing to the thousands living in the inner city who earn up to R3,200 per month."
Mava Scott, who is the spokesperson for the recently appointed Minister of Home Affairs, Ayanda Dlodlo, said they had not received any letter of demand from the mayor or any of his lawyers. And if they do receive it, they will respond accordingly. DM
Photo: Former residents of Johannesburg's Cape York building warm themselves at a fire at the "temporary" camp they were moved to by The City after the fire. Photo: Ihsaan Haffejee.