Liar liar: Brown vs Qoma. Who's telling the truth?
---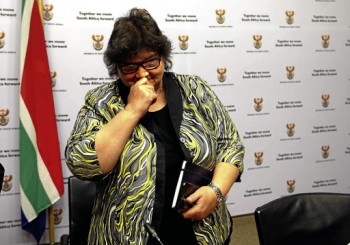 Eskom spokesperson Khulani Qoma laid into public enterprises minister Lynn Brown yesterday, saying "she lies all the time." What is she supposedly lying about? Well, just about everything, including the influence of the Guptas in making Eskom board appointments, to the true financial health of the state-owned electricity provider. Brown hit back with a few jabs of her own, calling the parliamentary inquiry into state capture a "kangaroo court", according to Times Live.
It's a kangaroo court! This was how Public Enterprises Minister Lynne Brown reacted to humiliating criticism of her ethics and ability voiced during parliament 's state capture inquiry on Tuesday.
Eskom board spokesman Khulani Qoma did not mince his words.
"She lies all the time," he said of the minister. She is an "atrocious minister".
Qoma told the public enterprises committee's inquiry that Brown was surrounded by "captured" individuals but contended that she herself was not.
"Minister Brown has gone to the end of the world telling us she is not wet, but she is right in the midst of water. Her DG is captured, her PA is captured, obviously her lover has interests at Eskom ...
"Minister Brown lies, she lies all the time and she thinks we can't see it."At the end of the day Brown issued a statement in which she said that the state capture inquiry ran the risk of serving no "higher function than advancing political agendas and further undermining the economy."
"… the inquiry takes the form of a kangaroo court intent on reaching predetermined outcomes," she said.
Qoma told the inquiry: "The problem here is the minister. This minister needs to sit here and account because this mess would not have been possible if she were a capable minister. She 's totally incapable, there's no doubt about that."
He said that earlier this year, following severe damage to Eskom's corporate image, former board chairman Ben Ngubane "came close to suspending acting CEO Matshela Koko," but was stopped at the eleventh hour by Brown.
Qoma told the committee that Koko had been called back to Eskom and Ngubane had convened a board meeting to discuss his suspension.
However, "Mr [Zethembe] Khoza told me that he sneaked out and made a call to a 'G - brother '— which I understood to mean a Gupta brother".
He said the Guptas had contacted Brown, who called Ngubane and halted the suspension.
Qoma said that Khoza had told him that "Minister Brown is captured" and that four new board members would be appointed by the Guptas.
Qoma was head-hunted by members of the Eskom board last year in a bid to deal with "reputational issues" that had arisen for the most part from Public Protector Thuli Madonsela 's State of Capture report.
Qoma says he was shocked by Koko's rise at Eskom
Qoma told the committee that Ngubane had attempted to bring former ANC spokesman Carl Niehaus on board to help with corporate communications but, Qoma said, this did not make business sense. He said that before he had started work at Eskom Koko had appeared on the Carte Blanche TV programme and had "totally lied" about the Eskom pre-payment to Tegeta that enabled it to buy the Optimum coal mine. "The minister appointed Koko after he lied on Carte Blanche. She brought [Brian] Molefe and Anoj [Singh]." He said Koko, together with CFO Singh "were eating the entire asset of the state faster than you can imagine". Qoma later penned a report about the reputational damage at Eskom in which he suggested that Koko be removed. He said Brown had repeatedly been lied to, and had misled parliament as a result, but she did little against those who "caused her to lie".
Brown said in a statement issued after the hearing: "Unless the parliamentary inquiry into allegations of malfeasance at state-owned companies gives those who have been accused of wrongdoing the opportunity to explain their actions it will serve no higher function than advancing political agendas and further undermining the economy.
"Few South Africans will disagree that strengthening governance at state-owned companies is a national imperative; the companies form the spine of our economy and their wellbeing is therefore inextricably linked to that of the country. The swirl of allegations that has enveloped them must be investigated and set right."
On the testimony given the committee, she said: "I do not take instructions from anyone." She said Eskom officials had "intentionally misled" her about the utility's dealings with consultancy Trillian.
Deputy Public Enterprises Minister Ben Martins has also objected to the way in which the hearings are being run.
He said Brown had written three letters regarding the inquiry, raising procedural issues including "the evidence leader's conflicted role" and his "failure to act ethically."
Evidence leader Nthuthuzelo Vanara was criticised for allowing testimony without warning those implicated by it, thereby "violating their human dignity".