Jubilation in Zimbabwe as the Mugabe era fizzles
---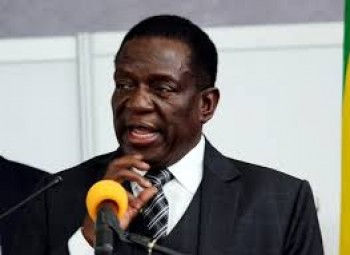 Zimbabwe opposition member of parliament Eddie Cross reported a week ago that the era of Robert Mugabe was coming to an end. Little did he know just how prescient that prediction was. A few days later the army had taken over in a soft coup and placed Mugabe and his family in "protective custody". The old man refused to go, but it now seems he has no say in the matter. As Eddie Cross argues in this article, the fired vice president Emmerson Mnangagwa (pictured left) is likely to lead a transitional government, which will have to act quickly to restore credibility to the country. This means opposition members may be included in any interim cabinet. We also find out from Cross that Mnangagwa has a history of human rights abuses, but is not known particularly for corruption.
On the 9th of November (six days ago) I wrote that the Mugabe era was at its end and that all that remained was who, when and how? Well we now know – it was Emmerson Mnangagwa; it took just 48 hours; and it was in the form of disguised coup. Today as I write the leadership of the G40 faction in the ruling Party has been detained, many are in hiding or on the run, some resisted and last night there was some gun fire and explosions and I understand some close security people were shot and killed. This morning there was a clear statement by the Army that they have taken charge.
How did this happen? Mnangagwa has been in the Cabinet for 37 years, vice President for 3 years and a close confidant of Robert Mugabe for over 50 years. He fully expected to be named Mugabe's successor after he engineered the Zanu PF electoral victory in 2013 but instead was sidelined in favour of the then Vice President Joice Mujuru and was demoted to Justice Minister. He never abandoned his ambitions and in 2014 he engineered the ouster of Mujuru and took her place in the Presidium.
Even then Mugabe continued to play games and he appointed a second Vice President whom he stated was Mnangagwa's equal. This was followed by a carefully orchestrated campaign to oust him led by the younger leaders in the Party and the wife of the President. This campaign culminated in an outburst and verbal attack on him at a Rally in Bulawayo two weeks ago. This was followed on that Sunday by a meeting between the President at the Armed Forces where the President informed them he was going to dump Mnangagwa. On Monday the deed was done and when his close security was withdrawn, Mnangagwa fled the country via Mozambique with military top cover. (One headline stated Mnangagwa was a "dead man walking" in reference to the way previous opponents of Mugabe had met unusual and untimely deaths).
After a whirlwind series of short trips and meetings, he met with Constantino Chiwenga, the commander in chief of the armed forces in Johannesburg. Afterwards, Chiwenga travelled back to Harare where he was met by a military convoy who escorted him to his home. On Sunday Chiwenga issued a long (5 page) statement in which he said the army would not stand by while the State was captured by people who did not deserve that place. This was interpreted as an ultimatum to Mr. Mugabe.
On Monday the President met with the Joint Operations Command (the JOC) and made little progress. On Tuesday he chaired a long Cabinet meeting and while this was underway, the Army moved. Heavy equipment and a Battalion of Troops entered the Capital and strengthened the Presidential Guard. By late afternoon a full-blown exercise to take over the State was underway. During the night, gunfire and explosions rocked the northern Suburbs and in the early morning it was announced over State TV and Radio that the Army had taken control.
It is my understanding that the whole leadership of the G40 faction in Zanu PF are either in detention or on the run. In addition, another list of leaders is being sought and will be detained if they are caught. The President is being held under protective custody at home and his wife has been allowed to fly out of the country. It is also rumored that Mnangagwa returned to Harare yesterday afternoon.
I fully expect that Mr. Mugabe will shortly (Friday) announce his retirement and the appointment of Mnangagwa as the new interim President of the Republic of Zimbabwe. One week, seamless, ruthless and virtually bloodless. Wow! Always something new out of Africa.
The real question is what next?
This exercise has been long in planning and is being managed against a clear timetable and set of goals. Mnangagwa is a clever man (a full Barrister at law) and a clever strategist. He is also ruthless and feared. He does not have a clean background and is partly responsible for several programs that involved gross human rights abuse and even genocide. But he is not known as a corrupt individual and certainly has a clear understanding of what is required to get Zimbabwe back on its feet.
He also knows that for this to happen will require the support of the international Community which will not be an easy call. Many countries will be very skeptical and cautious in their dealings with any post Mugabe regime that does not have clear democratic credentials – credentials that Mnangagwa knows will be nearly impossible to secure.
For these reasons I think we will see a Cabinet reshuffle this weekend followed by negotiations to form a national government that can meet the case for credibility and real change. Providing this has a broad base of capable individuals it may work. The future of Zimbabwe and the region may depend on it.
I know that a great deal of uncertainty swirls around the situation in the absence of any clear statements by any of the persons involved. Since the takeover on Tuesday night, the Army has maintained a blackout on news and statements. I have no doubt that Emmerson Mnangagwa is behind the scenes pulling strings and directing activity.
SADC has become involved and everyone is behaving as if they have power and influence here. They have none and no regime in the region has any capacity to either take on the Zimbabwe Army or to put real pressure on the people here. South Africa with its trade, transport and financial links could bring pressure to bear but this is very limited. I see no sign that they are prepared to take on the situation to keep Mugabe in power.
I cannot see the Army backing down and certainly not Mnangagwa. As for President Mugabe – he has no real support left in the country. The War Veterans have abandoned him, the armed forces are clearly at one on the action taken, the mood on the streets is of jubilation and relief that the end of his regime is in sight. No one has called for him to be kept on and the chorus of figures calling for his resignation grows by the day.
If Mnangagwa does become President soon, I have no doubt that he will have to consider forming a transitional government which represents the broad interests that make up the Zimbabwean population. He must then face the international Community and they are going to demand that he commits the Government to a free and fair election as soon as possible with a clear road map and time lines; they are going to demand that he returns to the Lima Agreements negotiated in 2015 and 2016 and that he implements the new Constitution in full, returns to the rule of law, respects property rights and lifts all restrictions on speech and association.
Under the Lima Agreements and an IMF guided program he will have to accept a return to fiscal probity, limit the fiscal deficit to a 3 per cent target, reduce expenditure on the Civil Service and lift restrictions on trade and foreign exchange. Overall this is a tough call, but unless he does this there can be no reengagement with the international Community, no resumption of aid and no assistance from the multilateral agencies. Without that help, the downwards spiral of the Zimbabwe economy will continue, inflation will devastate people's lives and destroy much of what is left of Zimbabwe's economy.
Weekend update
The situation in Zimbabwe is moving fast and I thought I would give you what my take is right now on Saturday morning before I go off to join the rest of Harare in the rain at a rally. These rallies have now multiplied – there will be at least three in Harare and many in other Cities and across the world. They are being called to celebrate what has happened so far and Mugabe's imminent departure and to put pressure on him and any friends he has left, in the form of a mass action.
On Tuesday night, the Army moved to take over control of all key points in the country and to take Mr. Mugabe and his close allies into custody. After a brief struggle the operation was completed before sunrise and an announcement was made over TV and Radio that the Army had taken over and that the President and his family were safe but under protective custody.
During Wednesday they picked up several other Mugabe allies and confirmed their hold on the country. The first reaction from the regional and international community came in – mostly mixed signals, not knowing what to make of the situation, jubilation and dancing on the streets – solid support for the Army.
Thursday talks began on the next step, with the Army and the Mnangagwa leaders insisting that Mr. Mugabe announce his retirement and that he was handing over to Mr. Mnangagwa as the "Interim" President. They know that this means that in 90 days the Zanu PF Party has to confirm him in that position. What was not visible was an equally swift and efficient takeover of all Zanu PF Party structures throughout the country.
South Africa tried to intervene on the side of Mr. Mugabe and called for a SADC Summit and an urgent meeting of the SADC Organ on Security. This took place on Friday in Gaborone. An attempt was made to threaten the Army here with sanctions, but it was short lived – on this issue SADC is a divided house.
What confused people was the decision to "allow" Mr. Mugabe to meet the South African emissaries at State House with cameras present and then to allow him to take part in the Graduation ceremony on Friday at the Open University. But this is just play acting for the benefit of African leaders to whom the people in charge want to represent what is a coup as simply an attempt to restore sanity to national affairs and that they were doing their best to make it constitutional and legal with the minimum of force.
But behind closed doors, Mr. Mugabe could not accept what had happened and he argued that he was State President and that he would not resign until his term was completed in late 2018. This is not acceptable and when he would not budge and South Africa looked like it might intervene, the Army and the Mnangagwa group decided to use other means.
The Zanu PF Party structures at Provincial level were asked to meet and in hours the great majority had decided to resolve that Mr. Mugabe be recalled and replaced. In addition, the call went out to hold mass rallies to show popular support. These are under way.
What may happen next – unless Mr. Mugabe gives in and resigns, is that Parliament will be called to sit on Tuesday next week and start the process to have him dismissed from the Presidency and replaced.
This is the end of the Mugabe era in every way – new leadership will be in place next week and then Zimbabwe has to find its way back from the wilderness of isolation and failure which are Mugabe's legacy.