Ramaphosa must fire Jacob Zuma, says Gordhan
---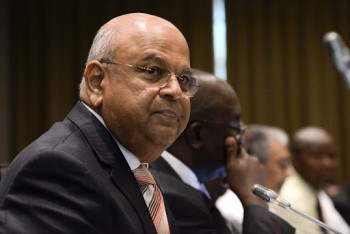 Former finance minister Pravin Gordhan has called on Deputy President Cyril Ramaphosa to sack President Jacob Zuma in January, says Business Day.
"The Ramaphosa team must take over in December' and in January they must tell Mr Zuma to go and live in Nkandla'" Gordhan said on Thursday.
It is the first time Gordhan has publicly called for Zuma to be sacked' and he also took a swipe at Zuma's administration and backers.
Speaking as part of a panel at an investment conference in Cape Town with his former deputy' Mcebisi Jonas' and Bloomberg journalist Arabile Gumede' Gordhan said: "What you have at the moment is a group of people who are willing to do anything in order … to loot from the state, firstly. Secondly' they don't care about consequences."
The looters did not care about the consequences for the country' their constituencies or the 30-million South Africans living in poverty as long as they could accumulate what they wanted.
Speaking about the safety of workers' retirement funds' Gordhan said South Africans had to be vigilant and watch every step Finance Minister Malusi Gigaba was taking.
Asked by Gumede which institutions were not captured' Jonas answered by imploring South Africans to guard all institutions.
"Until recently' we have been saying Treasury was on the right track' the Reserve Bank is on the right track and Statistics SA and the Electoral Commission. But that is not static … all institutions are under attack. We must defend all institutions' even those we think are not captured'" said Jonas.
South Africans should always be worried' because if institutions such as Stats SA were captured, they would produce information that reinforced a particular agenda.
Gordhan said top of the list to be captured was the Treasury' followed by the Financial Intelligence Centre and the Reserve Bank.
"I mean' we must ask the public protector' since when did you become an expert on macroeconomic policy?" said Gordhan.
He was referring to Public Protector Busisiwe Mkhwebane's report on Absa, which called for a change in the mandate of the Reserve Bank.
"Apart from visiting the Presidency' which economist advised [her] on what [she] said about the necessity to change the mandate of the heritage Reserve Bank? That wasn't just a so-called honest mistake' that was part of a conspiracy' and we need to know more about where this economist came from."