Opposition groups on high alert over alleged Russian interference in energy portfolio
---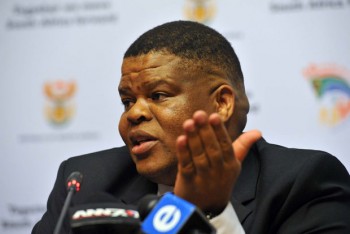 The Sunday Times reported on the weekend that a Russian delegation had slipped into SA from Mozambique to coerce President Jacob Zuma in appointing David Mahlobo as energy minister last week to be the Russians' "eyes and ears" and to push a costly nuclear energy deal through parliament. Business Day reports on the aftermath.
.
Anticorruption bodies and the opposition are closely monitoring developments with SA's multibillion-rand nuclear build, which may be pushed through despite a lack of capacity in the fiscus.
The urgency for passing the deal has become apparent after a delegation comprising Russian military, police and intelligence allegedly entered the country via Mozambique to coerce President Jacob Zuma into appointing David Mahlobo as energy minister last week, the Sunday Times reported at the weekend.
Mahlobo's appointment was made even as Zuma's associates, the Guptas, had allegedly suggested Public Service and Administration Minister Faith Muthambi for the position.
According to the newspaper Mahlobo is believed to be the "Russians' eyes and ears in the South African government".
"It's something we take very seriously," David Lewis, executive director of Corruption Watch, told Business Day. "It's real global espionage of a huge scale. Given that the Russians have been involved in subverting democracies all over the world, it's not an implausible story. The record of the Russians across a vast range of matters speaks for itself."
However, Lewis was unable to say whether Corruption Watch would pursue the matter. The watchdog is involved in reporting KPMG's involvement in dodgy dealings in SA to US authorities.
Zuma's spokesman, Bongani Ngqulunga, did not respond to a request for comment on the story, although he acknowledged the request.
ANC secretary-general Gwede Mantashe confirmed he had read the story in the newspaper, but added, "I'm not going to call a press conference for it."
DA shadow minister for energy Gordon Mackay said he would keep "a very close eye" for amendments to regulations concerning the nuclear-build procurement process and would push for transparency.
"Should the details of any progress on pushing through this costly and unnecessary nuclear build not be open to the public, the deal will be tainted and the DA will not hesitate to go to court to interdict it."
Ted Blom, Outa's (Organisation Undoing Tax Abuse's) portfolio director on energy, said: "He's [Zuma] promised lots but he hasn't delivered nuclear to the Russians yet, so this sounds like a very plausible story. It's something we need to be on our guard about. As far as my organisation is concerned, we'll fight it tooth and nail."
Former energy minister Mmamoloko Kubayi told the Sunday Times she was unaware of the visit by the Russian delegation.
Business Day was unable to obtain comment from Russia's embassy in SA.
At a conference of nuclear experts last week, Mahlobo — the third energy minister in a year — gave his vision for the country's nuclear future. He said SA would pursue generation three or higher nuclear reactors "because we need to move to the next stage. It must be much cleaner, safer and produce less waste," News 24 reported.
This comes as the Department of Environmental Affairs approved Eskom to develop 4GW of new power stations near Koeberg last week.
Mahlobo said this was part of a policy decision to pursue nuclear energy as base load energy to improve the country's carbon footprint. A new integrated resource plan is mooted for late 2017 or early 2018. A draft plan delayed nuclear until 2037 but speculation is that it may be brought forward.