75 year old man thrown into prison 9 years ago for trespassing in his own house
---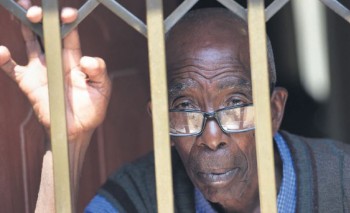 The heartbreak of watching the home that you have lived in for more than 30 years taken away from you is difficult to imagine. Even worse is being sent to prison for "trespassing" in your own home. This is the story of Soweto resident Steven Ngoepe, now 75 years old, reports The Citizen.

For Steven Ngoepe, 75, of Soweto, the nightmare began early one morning when an unknown woman arrived at the house he had lived in since 1969 and claimed the property was hers.
"She told me that she had bought the house from Absa and Standard Bank, which was confusing, because you cannot buy a house from two banks," he said.
The young woman came back several times to the house demanding that Ngoepe leave the property, but he refused, maintaining that the house belonged to him. She then opened a case of trespassing against him at Soweto Magistrate's Court.
And so, on February 28, 2008, the police, along with the sheriff of the court, arrived to arrest him and his wife. Ngoepe's son was able to get his mother out, but police refused to release Ngoepe. He was charged with trespassing and spent six months in Johannesburg's Medium B prison in Naturena, popularly known as Sun City, awaiting his bail hearing.
"I nearly lost my mind in there, it is no place for a human," he said.
Finally on July 29, 2008, he was released on bail.
"I'm still waiting for my case to be presented to court. All they told me is that they will investigate the matter," he continued.
Alex Mashilo, spokesperson for the SA Communist Party, confirmed that many houses are being sold around the country without the knowledge of the owners, who believe they have either paid off their home loan or have not defaulted on repayments.
In some cases, such as Ngoepe's, the homes are sold on auction or illegally for amounts well below their market value – for as little as R10 in some cases. This then leaves people who have spent most of their lives paying for those houses homeless.
King Sibiya, the national chairperson of the Lungelo Lethu Human Rights Foundation, could not believe that this was happening.
"Initially when I heard this story, I could not believe that a house could be sold for as little as R10," said Sibiya.
"We began working with more people and when they saw this campaign, it began to change into a movement, and this is when we realised that there are hundreds of people who have the same problem," he continued.
Ngoepe is one of 225 applicants from all sectors of society who have embarked on a class action law suit. Led by the Lungelo Lethu Human Rights Foundation (LLHRF), the R60 billion case – claiming damages from the big banks for home repossession abuse – has been launched at the Constitutional Court.
A memorandum presented to the major banks and government states that the majority of the repossessions were as a result of court actions by major banks using reconstructed documents after claiming that the originals had been destroyed. Without access to these original documents, many people have been unable to protect their constitutional rights.
Nedbank, Absa (Barclays), First Rand Bank and Standard Bank have been listed as defendants, along with the National Credit Regulator, the minister of justice and correctional services, the SA Human Rights Commission and the High Court Rules Board.
"The government and parliament should change the legislation to stop homes being sold at auction below their market value and in the meantime, evictions should be frozen until the introduction of this new legislation," said Sibiya.
A court date has not yet been given as they wait for the Constitutional Court to give them word.
"There are so many people who have died and not seen justice, and we want to prevent this from happening. We demand that directors of banks must be arrested on criminal charges," said Sibiya.
Absa told The Citizen it had committed itself to making every reasonable effort to assist its distressed customers in retaining their homes.
"We have and will continue to advise our customers to contact us should they experience difficulty in repaying their debts, so that we can assist them," Absa said.
Regarding Ngoepe's case, Absa is of the opinion the application is flawed in respects and they have instructed their attorneys to oppose the relief sought.
"The Constitutional Court will now give directions on how the matter should be dealt with."