Ramaphosa claims leaked emails of extra-marital affairs a "smear campaign"
---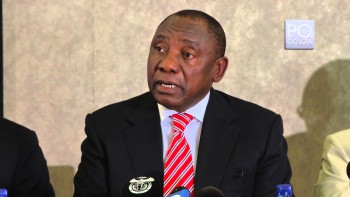 The Sunday Independent reported it was in possession of leaked emails that purport to show deputy president Cyril Ramaphosa was involved in multiple extra-marital affairs. But is this part of a campaign to stifle his challenge against President Jacob Zuma and put an end to his presidential ambitions? And if so, who is behind the leaks? Business Day reports.
Intelligence services have again been embroiled in ANC succession politics, as the dirty tricks campaign against Deputy President Cyril Ramaphosa ramped up ahead of the ANC's elective conference in December.
The campaign started in earnest two weeks ago, singling out Ramaphosa for spousal abuse — a claim denied by him and his former wife, Hope.
Following this, personal e-mails from Ramaphosa's address were leaked to the Sunday Independent newspaper, which pointed to several extra-marital affairs.
Ramaphosa, one of the front runners to take over as ANC president from President Jacob Zuma at the December conference, conceded that he had one affair eight years ago.
He told Business Day's sister newspaper, the Sunday Times, that some of the e-mails were doctored to smear his name. He said the bulk of the alleged affairs were part of a political smear campaign aimed at stifling his bid to lead the ANC.
The e-mails reportedly point to Ramaphosa providing financial assistance to a number of young women with whom he is said to be having affairs.
The ANC succession race will kick up a notch at the end of September with official nominations for leadership positions opening up after the national executive committee meeting.
Political analyst Ralph Mathekga said there was a trend of intelligence agents getting involved in the run-up to the party's conference.
He said it was a sign of how South African politics had evolved. It was now based on "money and smearing" and not on guiding principles. But he said the leaks of personal e-mails were a new phenomenon in SA. "We have had leaks of [intelligence] reports that are dodgy and so forth, but now we are seeing people's privacy being encroached upon.
"I would also imagine … it becomes very difficult for people to now assess whether this belongs in the public forum or not. Again we don't want to dignify some of this dodgy work by … taking on those leaks as the narrative."
Matshekga said there was no doubt the recent leak of Ramaphosa's private e-mails came from intelligence quarters and was not "amateur work".
Questions sent to Ramaphosa by the Sunday Independent were leaked on Friday.
WMCleaks, an anonymously run website that targets those who criticise the Gupta family and their associates, on Saturday started tweeting about the questions and e-mails and posted pictures of Ramaphosa and some of the women he is said to be having affairs with. In an 11th-hour bid on Saturday, Ramaphosa turned to the High Court in Johannesburg to try stop publication of the story.
However, the court dismissed the application and the story was published on Sunday.
It is not clear whether Ramaphosa will take the matter forward. His acting spokesman, Tyrone Seale, said Ramaphosa would make further statements as and when appropriate.
Matshekga said the effect of the "smear campaign" depended on how Ramaphosa's campaign responded to it. A crisis could be turned around if Ramaphosa was honest.
"We should expect to see more of this kind of thing."