How South Africa was stolen - Forensics for Justice
---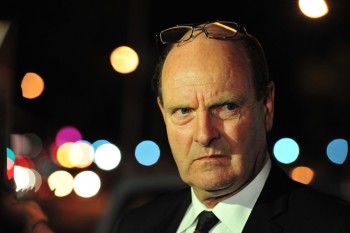 An explosive criminal docket opened last week by Sarah-Jane Trent of Forensics for Justice - spearheaded by forensic investigator Paul O'Sullivan - spills the beans on just how deep the corruption in SA runs. It claims the intelligence services are being used to hound political enemies, while the Criminal Justice System is being used to pursue witch-hunts intended to silence those exposing corruption. "Put simply, South Africa has been stolen and sold to the highest corrupt bidder and, in order to cover their tracks, (and prevent being caught and jailed) the criminals have procured the infiltration of the criminal justice system, so that the criminals can go unpunished, and those exposing the corruption can be unlawfully attacked, intimidated and harassed, with the worst victims even being subjected to kidnapping and torture," says the docket.
South Africa has been stolen and sold to the highest bidder, and the Criminal Justice System has been infiltrated by criminals to cover their tracks, says an explosive criminal docket opened last week by
Sarah-Jane Trent of Forensics for Justice.

Highlights

Here are some of the highlights:
The Intelligence Services have failed the country and are instead being used by connected politicians, for unlawful purposes, such as spying on their political foes;
Valuable CJS resources are being wasted on witch-hunts aimed at silencing those exposing corruption, whilst the crimes committed by the Guptas and the criminals listed at 3.2 above, go completely un-investigated and un-punished.
The police DPCI and NPA have been neutralised to such an extent, that large-scale criminal underworlds, have sprung up and are operating with impunity, due to the impotency of the Police, DPCI and NPA, who are otherwise engaged on political witch-hunts, or covering their own criminal tracks.
South African Airways, has been insolvent for many years and can only survive with State bailouts, (public funds) as they are losing hundreds of millions a month. In the last 18 months alone, Myeni was thwarted in repeated unlawful attempts to breach the Public Finance Management Act, by awarding tenders at massively over-inflated values, for 'consulting services' that were never needed.
Eskom, is in dire financial trouble and has repeatedly failed in its obligation to provide a continuous supply of electricity, necessary for the economic advancement of the country. In recent times, the lights have stayed on, but only because of the down-turn in the economy caused by the systemic corruption that is strangling the country, which in turn has led to less demand for power. In other words Eskom failings, have led to a reduction in economic growth.
Water utilities across the country have failed to maintain their infrastructure, leading to a reduction of potable water, increase of polluted water or no water at all, whilst more than 80% of the country's rivers are being polluted with raw sewage.
Transnet paid 5.3 Billion Rand more than they should have for locomotives, so that Gupta linked entities could receive a kick-back from China South Rail.
PRASA lost more than 7.5 Billion Rand to contracts, corruptly awarded by Lucky Montana and his accomplices and have completely failed in their service delivery promises, with billions of Rand of useless and redundant technology on their books, at ten times its actual value.
Vast sums of money have been paid out for roads, low-cost housing, schools and clinics that have never been built or handed over, yet the cash has simply gone.
The Guptas, and their accomplices spirited away billions of Rand that could have been used to build thousands of low cost homes to help uplift the poorest of the poor. These poor people are still living in abject poverty and are becoming impatient with the State that has simply failed them, in order to feed the greed of a corrupt few.
Roads have been e-tolled, against the wishes of the people that use them, with Billions of Rand being spirited away to Austria, in opaque tender processes.
The affidavit
Here is a portion of Trent's criminal docket, outlining what she says are the main protagonists in the theft of the country.
1. I, the undersigned Sarah-Jane Trent state under oath as follows:
I am an admitted attorney and a Founding Trustee of the public-benefit organisation known as 'Forensics for Justice'. Forensics for Justice was formed in 2015 with NPC no. 2015/259621/08. It was formed with the intention of using forensic skills and techniques, for the purpose of ridding South Africa of the scourge of corruption, particularly within the criminal justice system. I attach hereto as Annexure 'SJ-1' and Annexure 'SJ-2', a copy of two published documents, that set out the aims and objectives of Forensics for Justice. I therefore have the standing, to open this docket.
1.1. The purpose of this sworn statement is to open a criminal docket against the following persons:
Lt General Ntlemeza 'Ntlemeza'
Lt General Phahlane 'Phahlane'
Lt General (retired) Moonoo 'Moonoo'
Major General Mokotedi 'Mokotedi'
Advocate Shaun Abrahams – NPA 'Abrahams'
Advocate Mlotshwa – NPA 'Mlotshwa'
Ex-Minister of Police 'Nhleko'
Additionally, ALL members of the so-called Priority Crimes Litigation Unit 'PCLU'.
Ntlemeza, Phahlane, Moonoo, Mokotedi, Abrahams, Mlotshwa, Nhleko and the PCLU, are hereinafter collectively referred to as 'the suspects'.
DEFINITIONS
1.2. The following abbreviations shall have the following meanings ascribed to them:
ACTT Anti-Corruption Task Team
DPCI Directorate for Priority Crime Investigation, also known as Hawks
IPID Independent Police Investigative Directorate
NDPP National Director of Public Prosecutions
NPA National Prosecuting Authority
PCLU Priority Crime Litigation Unit – a unit of the NPA
SAPS South African Police Service
2. I will allege that the suspects have acted in conspiracy with each other, and others, with a common purpose to commit the following serious criminal offences:
Corruption,
Racketeering,
Defeating the ends of Justice,
Breaching Section 32 of the National Prosecuting Authority Act
BACKGROUND – THE MOTIVE FOR THE CONDUCT OF THE SUSPECTS
3. By way of background, I state ON THE RECORD that the criminal conspiracy in the police, whilst being driven on the front line by Ntlemeza, Phahlane, Mokotedi, and their reporting functionaries, was being politically driven by Nhleko and was clearly aimed at protecting the following criminal suspects, inside and outside the Criminal Justice System. Some of those mentioned below are actively engaged in a subversive campaign to undermine the constitutional democracy of the Republic, for the sole purpose to cover their tracks by recruiting anarchist individuals and entities, such as the corrupt Black First Land First, 'BLF' entity and paying them to cause racial division in the country, so as to intentionally create (political and racial unrest) smoke-screen. I now examine some of these personalities:
3.1. Protected Criminal suspects in the Criminal Justice System:
Lt General (suspended) Phahlane disgraced, corrupt suspended Acting chief of police
Lt General (suspended) Ntlemeza disgraced, corrupt dismissed head of DPCI
Lt General (retired) Moonoo disgraced, corrupt retired Divisional head of detectives
Lt General (suspended) Mdluli disgraced, corrupt suspended head of crime intelligence
Major General Mokotedi disgraced, former ethics manager at NPA, subsequently unlawfully appointed as head of DPCI in Gauteng by Nhleko
Nomgcobo Jiba disgraced, former advocate and Deputy NDPP at NPA, who also acted in the position of 'Acting' NDPP for a long period
Lawrence Mrwebi disgraced, former advocate and DPP at NPA
Both Jiba and Mrwebi, despite being on 'leave of absence' still attend meetings of the ACTT and actively participate in decision making pertaining to highly sensitive corruption cases.
3.2. Criminal suspects outside the Criminal Justice System 'CJS', that have been protected by the 'suspects':
Radovan Krejcir (Moonoo, Mdluli and many other police and politicians are on his payroll)
Preggy Padayachee (Moonoo is/was on his payroll, along with other police officials)
Jen Chi Huang (Moonoo is/was on his payroll, he employs Moonoo's daughter and shares the proceeds of crime with Khulubuse Zuma)
Yusuf Kajee (Moonoo is/was on his payroll and he shares the proceeds of crime with Edward Zuma)
The Bhana family (Moonoo is/was on their payroll and they share the proceeds of crime with Khulubuse Zuma who launder the proceeds, or conceals the proceeds in Panama)
Dudu Myeni The corrupt chairman of SAA, the proceeds of her activities benefitting both the Jacob Zuma Foundation and herself
Lucky Montana The corrupt erstwhile CEO of PRASA
The Gupta family It is now common-cause that this family have plundered South Africa for their own obscene gain, which plundering runs into Billions of Rand. They share the proceeds of crime with Duduzane Zuma, and selected 'complicit' political figures and senior employees of organs of State and State owned companies.
CRIMINAL JUSTICE SYSTEM SUSPECTS – WILLING ACCOMPLICES TO CRIMINALS
4. I will demonstrate herein that the CJS suspects should be brought to justice, for their involvement in a criminal conspiracy, aimed at achieving two primary goals:
Protecting criminals in and outside of the CJS
Silencing those exposing systemic corruption, pertaining to the above named personalities.
4.1. In this regard, I attach a copy of a report, Annexure 'SJ-3', which has been published by Forensics for Justice, entitled 'Joining the Dots – Capture of the Criminal Justice System'. Although originally published in December 2016, it was updated and re-published in July 2017. I wish that the report should be taken in its entirety, together with annexes, which are available on-line at http://www.forensicsforjustice.org/portfolio-posts/state-capture-criminal-justice-system/ This report is evidence that the CJS, has been intentionally captured by criminals, for no other purpose, than to protect influential, politically connected individuals, who have plundered the State's resources, in order to obtain an obscene pecuniary advantage, and in order to entrench that protection to viciously attack any person or entity that is exposing the corruption being carried out by those being protected. Their collective conduct amounts to nothing more, or less, than a deliberate assault on the constitutional democracy of South Africa.
5. The plundering of State resources, has led to a massive bleeding of public funds, through private companies, owned and or controlled by the Gupta family and/or other criminals. It is impossible to gauge the full scale of the plundering, however a conservative figure is One Hundred Billion Rand, or 8 Billion US dollars. Using a process of money laundering, a large amount of the proceeds of that crime, if not all of it, has been spirited away, to such places as Dubai, Switzerland and Panama.
6. The wholesale corruption and theft of public funds has been so great, it has completely removed the ability of certain organs of State and certain state owned companies, to provide the public with the services they were originally established to provide.
Read more
here
.