Fears grow of capture at SARS
---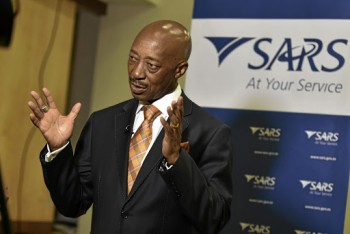 Fears that the South African Revenue Service (SARS) had fallen prey to state capture were heightened after its chief financial officer of nearly three years abruptly resigned this week, according to Business Times.

Matsobane Matlwa, a long-time SARS insider, was appointed CFO in December 2014. He was instrumental in establishing the Large Business Centre, which he ran for five years from 2004. The unit monitored high-earning taxpayers such as Dave King as well as corporate taxpayers.
SARS's credibility has been called into question since Tom Moyane (pictured) - who is close to President Jacob Zuma - was appointed three years ago. Highly trained investigators who had exposed syndicates and collected billions in unpaid value-added tax and other taxes left the system after Moyane undertook a restructuring drive that pitted him against former finance minister Pravin Gordhan. He disbanded the national projects team, which conducted in-depth investigations, claiming there was an undercover rogue unit.
Insiders had also previously accused a group close to Moyane of seizing control of the Large Business Centre, a key revenue-generating unit, and delegating its functions to smaller, regional centres.
Iraj Abedian, economist and CEO of Pan African Investment and Research Services, said operational inefficiencies had crept in, VAT claims were prolonged or not paid on time, and a rising number of corporates had tax contestations with the ombudsman.
"This comes at a time when the economy has contracted into recession." The legitimacy question of the revenue services "just exacerbates the situation for government revenue collection", Abedian said.
"SARS is unfortunately in the same basket of Hawks and NPA and other institutions that have lost their hard-won legitimacy and credibility," he said.
A former senior government official said the news of Matlwa's departure was not a good sign. "If you look at the pattern of institutions being captured, you see good people being targeted, accused of something, and then they get suspended for a while, get paid off or leave."
Conflicting reports emerged this week about the reasons behind Matlwa's resignation, some saying that he was suspended on Wednesday and thereafter chose to resign.
SARS was adamant that his resignation was voluntarily. Business Times has established that a subordinate had made allegations and submitted a grievance against him.
Late on Friday Matlwa confirmed the grievance, saying a female employee had alleged he was a "horrible boss, very bossy and those kinds of things". A process was under way to validate the allegations and he would be interviewed in the coming week to give his response.
Stressful environment
But he said this was not the reason for his resignation. He said SARS was a "very stressful environment" and that he had a chat with Moyane, resigning on July 26. "Moyane agreed there's not tension, there's no fighting, and he agreed I can serve my notice period at home."
Matlwa's last day of work will be on August 25. "I can categorically say there's no bad blood. This is just a professional decision that most of us have to take at one point or another."
Nazrien Kader, managing partner for Africa Taxation Services at Deloitte & Touche, said: "Public perceptions that SARS is becoming less efficient could affect compliance by taxpayers and in the longer term result in more strain on collections."
SARS has been struggling to meet revenue targets because of a weak domestic economy that has seen a rise in retrenchments as companies struggle under the pressure of low business and consumer confidence.
At the time of publication, Finance Minister Malusi Gigaba had not been briefed on the resignation of Matlwa and could not comment, his spokesman Mayihlome Tshwete said.
Luther Lebelo, group executive for employee relations at SARS, said Matlwa's resignation was "not a shock" and that Moyane had already instructed human resources to commence a recruitment process.