How the Guptas captured SA and its PR firm inflamed racial tensions
---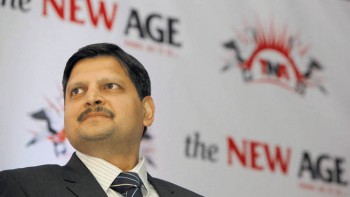 The rise and fall of the Guptas and their capture of a president will be studied in political and PR classes for generations to come. The good news is they are a spent force.
For a lesson in how to capture a country, you might want to study the rise and fall of the Gupta family. Originally from India's state of Uttar Pradesh, the Gupta brothers (Ajay, Atul, Rajesh and nephew Atul) arrived in South Africa in 1993 to set up a modest enterprise, Sahara Computers, that would serve as the cash engine to bankroll the capture of the country. These guys didn't just dream big, they had a plan and knew how to implement it.
Over the next 24 years the empire expanded into mining, engineering, steel, newspapers and TV. But what's more impressive is their astonishing political clout and their toxic influence on the racial climate in South Africa.
When journalists and opposition parties started exposing the extent to which they had captured the president and were making key ministerial appointments, the Guptas hired London-based PR firm Bell Pottinger to turn the tide of public opinion. It was at this point that racially inflammatory phrases such as "white monopoly capital" and "radical economic transformation" started spewing from the mouths of politicians. The intention was to stir anti-white tensions. We now know that Bell Pottinger dreamed up these phrases to deflect unwanted attention from their clients. This week Bell Pottinger's CEO James Henderson issued some kind of an apology suggesting his firm had been played for fools by the smooth-talking Guptas.
"At various points throughout the tenure of the Oakbay (one of the Gupta companies) account, senior (Bell Pottinger) management have been misled about what has been done. For it to be done in South Africa, a country which has become an international beacon of hope for its progress towards racial reconciliation, is a matter of profound regret and in no way reflects the values of Bell Pottinger," said the statement.
Whether Bell Pottinger can survive this remains to be seen, but the outrage across South Africa and beyond is something to behold. Even our billionaire deputy president and former trade union leader Cyril Ramaphosa, with one eye on the presidential post and another on the surging sea of anger, accused the PR firm of stoking racial tensions.
"It is a matter of great concern that a public relations company … from outside our country was able to so effectively poison the political discourse in our country and in our movement to drive their own personal narrow interest," said Ramaphosa.
Political opposition parties and even allies of the African National Congress (ANC) want Bell Pottinger held to account for the harm it caused. The PR firm cut ties with the Guptas in April, but it may not live this latest scandal down. This is the same company that was hired to promote tourism in South Africa, while on the other hand stoking racial tensions. It was taking fees wherever it could get them.
The Guptas own a newspaper and TV channel which no-one pays much attention to, which explains why Bell Pottinger had to be brought in.
The New Age
newspaper, owned by the Guptas, secured contracts with provincial government departments and state-owned entities, which explains how a rag few want to read has managed to stay afloat.
The artful wordsmiths at the PR agency decided that the best way to serve the interests of their client was to turn South Africans on each other. With Bell Pottinger at the helm, "white monopoly capital" became part of the ruling party's lexicon and explained the government's ineptitude in matters economic. The implication being that whites are racist, and greedily clinging to all the wealth in the country, when the evidence suggests otherwise: a recent report shows blacks own the majority of stocks on the Johannesburg Stock Exchange. Twenty five years after the ending of apartheid, the social engineers are still obsessed with skin color, and Bell Pottinger tapped into this fruitful vein of prejudice.
Another theme promoted by Bell Pottinger was "radical economic transformation", a vague through incendiary term implying Zimbabwe-style property theft.
The rise and rise of the Guptas is an astonishing story that ought to be studied in political and PR courses for the benefit of future generations. They bought off the president by employing his family members in their various businesses, setting up what can has been described as a shadow colonial government. Management of virtually every state-owned company was handed over to cronies of President Jacob Zuma, each one carefully vetted by the Guptas. This way, they would have first bite at the public sector tenders that have turned a small coterie of politically-connected individuals – and the Guptas themselves – into billionaires. This is crony capitalism at its worst.
We now know from leaked emails and testimony from former members of the government that the Guptas were making ministerial appointments – and key ones at that. In December 2015, President Zuma fired his respected finance minister Nhlanhla Nene because he refused to sign off on an Airbus transaction being negotiated by South African Airways, which is chaired by a reputed paramour of the president, Dudu Myeni. This hopelessly inept woman has successfully seen off seven CEOs in as many years and run up losses approaching $800m during her tenure. But In matters of the heart, our dear leader decided it was the finance minister who had to go.
The replacement minister was a relative unknown by the name of Des van Rooyen, who had no experience in finance to speak of. The news of this appointment, arranged by the Guptas, sent South Africa's currency into the sewer. So great was the cost to the country in terms of rising import costs, that the president was forced to reverse the appointment within a few days and appoint a former finance minister, Pravin Gordhan, to the post. Zuma wanted a Gupta-friendly finance minister, but had to settle for Gordhan, a man he despises. It was obvious that Gordhan, like his predecessor, would be fired at the first available opportunity, and so it was. Gordhan was axed earlier this year based on a dodgy intelligence report claiming he was involved in a conspiracy to undermine the country.
The Guptas hired private investigators to track Peter Bruce, the editor of one of the largest business publications in the country, but even here they could not get it right. They assumed when the editor was caught on camera hugging a woman who was not his wife that he was having an affair – which was evidently not the case.
The good news is that the Guptas are a spent force in South Africa, as is President Zuma. Now begins the task of deracinating this corrupt crew, root and branch, though getting rid of the culture of graft they spawned is a tougher ask.