Dudu Myeni goes awol while SAA scrambles to repay R2,3bn
---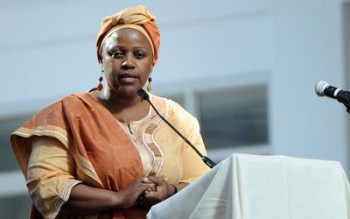 SAA chairperson Dudu Myeni is reportedly awol while SAA struggles to repay a R2,3bn loan to Standard Chartered Bank. Myeni's time at SAA is up, according to recent reports. Under her tenure, she clocked up losses of more than R10bn, got rid of several top executives, and was embroiled in financial irregularities, such employing a company with no experience to refinance R15bn worth of loans for the airline, according to Timeslive.
While the board of state-owned airline SAA is battling to track down chairwoman Dudu Myeni, executives are scrambling to find R2.3-billion to repay a loan from Standard Chartered Bank.
The UK-based bank has rejected a request by the troubled airline to extend the loan facility, which matures at the end of this month.
Sources at SAA this week told of the two-month struggle to try and find the money, with the board sometimes meeting up to three times a week to discuss the issue.
This week the Mail & Guardian newspaper reported that Myeni had missed about eight meetings since April. This has led board members to seek legal advice on how to proceed on the issue of Myeni's absence.
A board member said he was unsure why Myeni kept pulling out, although "there are strong personalities on this board".
Under former finance minister Pravin Gordhan, the Treasury appointed a new SAA board in September to try to boost yet another turnaround plan for the airline.
"It's all hands on deck to try and avoid a default and also make sure SAA remains a going concern," said the board member. "We're doing our damnedest to make sure the financial distress issue is managed."
SAA has been surviving by borrowing to service debt or extending loan terms - which was a major reason it spent R1.2-billion on interest payments, according to its latest financials.
However, Standard Chartered has been put off by recent political developments and by policy uncertainty flagged by ratings agencies.
If SAA is unable to repay the money, the bank could trigger its government guarantee, and other lenders could follow suit.
A bank spokeswoman declined to comment, citing confidentiality.
SAA spokesman Tlali Tlali confirmed the board was working to return the carrier to financial stability, which had meant more board and subcommittee meetings.
"We confirm that some of our loans will be maturing during the course of this year," Tlali said, although the company disputed the R2.3-billion loan figure. However, he did not provide an amount.
Another SAA board insider confirmed that Myeni's absence was a major issue. "The company is facing a liquidity crisis and updates have been given every time the board meets.
"The board is involved in these negotiations through the finance and investment subcommittee chaired by Tryphosa [SAA deputy-chairwoman Tryphosa Ramano]. But the committee itself reports to the board so it's critical to attend these meetings."
The Mail & Guardian reported that Ramano also wanted Myeni to speak to the Treasury to resolve "issues around the company's financial distress".
The board member said the airline was considering whether to ask a consortium of South African banks to extend a line of credit, or to request the UK bank to hold off until October when Finance Minister Malusi Gigaba announces a cash bailout for SAA.