The story of a brazen hijack
---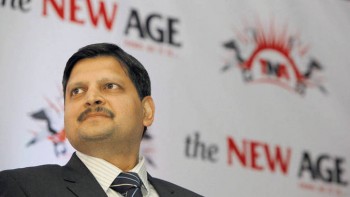 We now have a clearer idea of how the Gupta-owned Tegeta got control of the Optimum coal mine from Glencore for a song, using its "special relationship" with Eskom. The deal stinks to high heaven. It involved imposing an impossibly high fine on Glencore for supplying under-sized coal to Eskom, which allowed Tegeta to move in and capture the mine - and resume normal business with Eskom. Former mineral resources minister Ngoako Ramatlhodi was fired by President Jacob Zuma for refusing to co-operate with the elaborate scam, according to Busines Day. Here's how it went down.
Investigative journalism unit amaBhungane, in an excellent piece of work, has painstakingly assembled the story of the purchase of Optimum mine by Gupta-owned Tegeta, which it aptly describes as "SA's most audacious business hijacking".

The details of how the hijacking took place are drawn from dozens of investigations of the Guptas' special relationship with Eskom, several court cases as well as information contained in the public protector's State of Capture report. Adding the cherry on the top is the startling admission by former mineral resources minister Ngoako Ramatlhodi that he was fired by President Jacob Zuma for refusing to co-operate with the elaborate scam.

At the centre of Ramatlhodi's accusations of corruption stand the two people Public Enterprises Minister Lynne Brown has only this week again reaffirmed are the right people to run Eskom: Brian Molefe and chairman Ben Ngubane. Ramatlhodi says Ngubane requested to see him in October 2015. At a meeting that Molefe also attended, he was urged to cancel Glencore's mining licences until the company had made good on a R2.17bn penalty for undersized coal levied by Eskom.

His refusal to do so, says Ramatlhodi, caused Ngubane to warn that he would have to report back on the matter to Zuma. Shortly afterwards, Ramatlhodi was summarily replaced by a surprise pick from the Free State — Mosebenzi Zwane — who, it just so happened, had a more positive record of doing government business with the Guptas.

On Tuesday, Ngubane strongly denied Ramatlhodi's story.

And Brown said earlier this week, despite all the noise in the media and the State of the Capture report, Molefe had not yet been found guilty of anything.

Neither has Ngubane. But how much more suspicion and doubt need to be cast on these two individuals before they are deemed unsuitable to be in charge of a public entity?

It is both frustrating and depressing to observe the blatant abuse of public office and public resources by ministers Brown, Zwane and others, not to speak of the president himself.

Even the ANC, this time, was irate at the disregard shown for the public in bringing Molefe back, saying that the move was "tone deaf to the South African public's absolute exasperation and anger" at dealing with corruption.

With contempt such as this, the only resort left — even for the ANC — is, sadly, the courts. It is not desirable that a country should be run through the courts, but what choice is left when public representatives in a democratically elected government go rogue, shrugging off both political and legislative mechanisms of accountability.

It is very possible that a court will find Eskom has not followed the proper procedure in reappointing Molefe. The procedure for the appointment of the CE of Eskom is clearly outlined and includes an interview process by the board and the ratification of the appointment by the Cabinet.

This may deal with the problem of Molefe, but what about Ngubane? It is long overdue that Ngubane be subjected to some sort of scrutiny. Not only has he presided over a board at Eskom that has bent over backwards to do favours for the Guptas, he had also been involved in dubious activities while he was chairman of the SABC.

His fellow directors and Brown, his shareholder representative, are not likely to apply to a court for Ngubane to be declared a delinquent director. But employee representatives, such as a trade union of the Companies and Intellectual Property Commission, the government's regulator, are empowered to do so. SA has excellent corporate governance rules and standards. It is time that the public sector was forced to live by them, too.