Soweto man in court for trespassing in his own home
---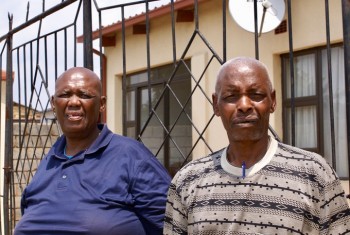 Solomon Nhlapo appeared in the Soweto Magistrates Court this week charged with trespassing in his own home. This bizarre case is by no means unique. Nhlapo has lived in this house since 1965, but when a sherriff arrived with an eviction order in 2014, he realised his house had been sold behind his back for R100 by Nedbank, which claimed a R22,000 loan taken out by Nhlapo's late mother Mary was in default. Yet Nhlapo has written confirmation from the bank itself showing the loan is paid up. This article first appeared in Groundup.
Solomon Nhlapo, whose Soweto house was sold behind his back for R100 by Nedbank in 2014, appeared in the Protea Magistrates Court in Soweto this week charged with trespassing in his own home. This is despite having lived in it since 1965. He inherited the house from his late mother Mary.
He was charged with trespassing after his house was sold behind his back after he allegedly fell into arrears on a R22,000 loan taken out by his late mother with the SA Perm (later acquired by Nedbank) in 1986. Nhlapo (pictured left above, standing next to King Sibiya) has written confirmation from the bank that his late mother's loan is fully paid up, yet the bank still managed to get a default judgment against him (the judgment was issued by a court registrar, not a judge, a practice the Constitutional Court has since declared unlawful).
This was Nhlapo's third appearance in court on the same charge, but this time he had legal representation at his side in the form of Louwtjie van Biljon of SPLD Attorneys in Roodepoort. The case was postponed.
The court was packed with supporters of Nhlapo, many of them wearing ANC and SA Communist Party T-shirts. King Sibiya, head of the Lungelo Lethu Human Rights Foundation, a group helping hundreds of people facing eviction across Gauteng, says Nhlapo's case has become a touchstone for many other people facing eviction in Gauteng townships.

"Evictions by the banks has become an epidemic, and people are being thrown onto the streets over paltry amounts of money," Sibiya said. "This is a shocking abuse of human rights. We are calling on the government to follow the example of Greece, and freeze all evictions from a family's primary residence. That would give more meaning to our Constitution, which is supposed to protect people against arbitrary deprivation of property."
Sibiya points to a recent PhD study by Advocate Douglas Shaw which suggests South Africa's eviction practices are among the most abusive in the world. Most other countries treat eviction as an extreme measure, and demand that banks allow defaulting clients time to recover from financial hardship. He says banks in SA, abetted by the courts, treat eviction as a first port of call when a client defaults on a mortgage loan. "What makes Nhlapo's case even more disturbing is he is not in default – Nedbank has admitted this in its own internal correspondence."
As Groundup previously reported, it was Nedbank itself which bought Nhlapo's house for R100. It then sold it to another company called Pyraned for R51,000. The house was sold three more times, the latest owner paying R350,000 for it. Nhlapo had no idea that there was a judgment against his name, nor that his house had been bought and sold multiple times behind his back – until one day the sheriff arrived at his door with an eviction order.

Nedbank previously indicated it wanted to resolve the matter amicably. Groundup requested an update on the status of Nhlapo's case from Nedbank. The bank had not responded at the time of going to press.
Nhlapo refuses to move, and brandishes a letter from Nedbank saying his mother's R22,000 loan is fully paid up. "This is my house, which I inherited from my mother. We both paid for it. Why should I move?"
Sibiya says syndicates involving members of the banks, sheriffs' offices and property investment firms are behind the rash of evictions that his office attends to on a daily basis.
The case was postponed to 22 February to give Nhlapo's lawyers time to prepare.