Houses being sold multiple times by corrupt officials south of Joburg
---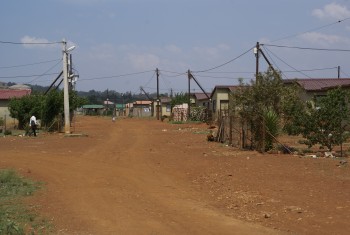 South of Johannesburg, in the dirt poor area of Thulamntwana (pictured left), shack dwellers were promised houses of their own after President Jacob Zuma visited the area in 2010 and found people living "like pigs". Six years later, hundreds of residents who scraped and saved to get housing allocations say thieves have made off with their money, and then sold the same property multiple times, according to this article in Groundup.
A 2010 presidential project intended to house shackdwellers in the south of Johannesburg is mired in corruption and wholesale land theft, with hundreds of residents cheated out of houses they paid for.
Those who have attempted to get to the bottom of the theft have been threatened and, in one case, kidnapped.
GroundUp spoke to dozens of residents of Thulamntwana, near Orange Farm, who say they paid up to R25,000 to secure housing units in the township, only to find that the units had been sold to other buyers. They have been trying for four years to get their houses or to get their money back, without success.
On a visit to the area in 2010, President Jacob Zuma promised to improve living conditions. He said he was appalled that people still lived "like pigs". A task team of national, provincial and City of Joburg officials was appointed to fast-track housing.
A 2014 report by Gauteng's Department of Human Settlements found that the Presidential Project intended for Sweetwaters had been relocated to nearby Thulamntwana. But most of the beneficiaries were neither from Sweetwaters nor from Thulamntwana, and hundreds of houses intended for local residents were sold to people from outside the area, and in some cases sold multiple times.
"There are letters illegally issued on a letterhead of Greater Johannesburg Metropolitan Council recognising the 'Bearers' as residents to be relocated to the Thulamntwana Housing Development, purporting to be from the targeted informal settlements" says the Human Settlements report. The report goes on to say that these illegal letters gave the bearers the impression that they were being relocated to Thulamntwana from surrounding areas.

Stands being sold more than once
The report goes on to say that a Soweto couple illegally purchased a house in Thulamntwana from one Juta Maja for R25,000, and confirms that there are other instances of "duplicate allocation of stands."

Community members say one young man suffering from epilepsy, James Mncwango, was kidnapped in April 2016 because he resisted efforts to remove him from his mother's home in nearby Finetown. He resurfaced several weeks later and laid criminal charges against the culprits. A few days before his case was to be heard in court, they say, he was kidnapped a second time, and has not been seen since. His mother's shack was burned after the kidnapping and a new house has been built in its place, given to someone else.
Daniel Sithole of Sebokeng is a driver who saved up money for several years to acquire a property in Thulamntwana. "I met a guy called Juta, who said he was an agent for these houses, who said I could get a house of my own if I paid R25,000," he says. He says he handed over the money to Juta Maja, who was apparently working for a local ANC woman's league official, and was shown what purported to be a receipt stamped 21 May 2013 for the purchase of Stand 335 in Sweetwaters.
But he never got the house and his name does not appear on the Johannesburg Department of Housing database as the owner of Stand 335 in Sweetwaters – or of any other stand for that matter.

Pay your money and get lost
These stories are repeated over and over. Precious Mazibuko of Sebokeng says she paid R12,000 to the same Juta Maja after she and her husband, a driver, saved up to purchase a property where they could bring up their two children. As the months and years passed by, Mazibuko wanted to know what had happened to the property. As in Daniel Sithole's case, her name did not appear on the Joburg Housing database. She assumed her money had been stolen, and filed a criminal complaint (Case number 148-102015) at the nearest police station. The investigating officer, Cilen Moodley, referred GroundUp to Crime Intelligence's press liaison officer, who did not reply to questions about this, or any of the more than three dozen criminal case complaints we supplied, along with case numbers.
Joseph Mokoena has been living in Thulamntwana since 1996 and erected a shack on a piece of land in the township. He says in 2012 someone from the Johannesburg's housing department turned up at his door and told him he had to move, as plots in the area were reserved for those who lived and worked locally, and Mokoena had been working in the Northern Cape. He moved out of his tiny shack, which was then demolished to make way for a new house and a new occupant. He now lives with his nephew in Thulamntwana.
Ntombi Tokwana had been living on a stand in Thulamntwana for years, until she was told that she had to move. "Someone else took over my stand and then sold it on to another person," she says.

Elizabeth Ramaselele of nearby Weiler's Farm is a single mother who has been raising her four children alone since her husband died some years ago. She also hoped to get a house of her own, and paid R1,000 to someone from the SA National Civic Organisation. She has a receipt showing she has been allocated Stand 1616 in Weiler's Farm. But when she went to claim her house, she found it had been allocated to someone else.
Likewise, in 2012 Puleng Mofokeng paid R12,000 for a house which she never received. She opened a criminal case. "I was told to put up a shack on the stand that I had purchased to show that I am living here, which I did," she says. "Then I found out that my shack was being rented out. I was told that the Hawks now own my shack."
The chairman of the local SA National Civic Organisation (SANCO) is also implicated in taking money and illegally allocating stands, according to the Gauteng Human Settlements report: "The illegal allocation of stands is rife with letters issued as signed by its chairperson (of the SANCO) resulting in the illegal allocations of stands."

Time to put a stop to all evictions
Meanwhile, the more than 400 residents who paid money for stands have been waiting for someone – anyone – to lift a finger in their defence. King Sibiya, head of the Lungelu Letho Human Rights Foundation, says what is happening in Sweetwaters and Thulamntwana is symptomatic of what is happening across Gauteng. His office has been inundated with reports of illegal evictions of people who do not know their legal rights.
"It is time for the government to put a stop to all evictions until such time as we can reform the legal process so that people cannot be thrown arbitrarily onto the streets. Constitutional protections against arbitrary deprivation of property are meaningless in situations like this. Most people being served with eviction notices have no idea how or where to enforce their legal rights, and this is something that is happening at every level in SA," says Sibiya.
"In Sweetwaters and Thulamntwana, we have evidence of cases of corrupt officials preying on the poorest people in the country. The rights of these poor people to housing have been trashed."