The tide has finally turned against Zuma
---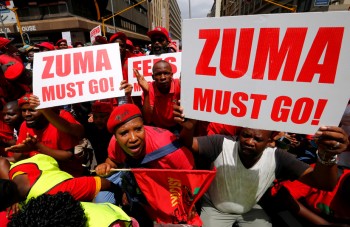 The release of the state capture report by the Public Protector has shifted the balance of power away from President Zuma. Senior elements within the ANC now deem it safe to come out against him. Meanwhile the DA is shifting a chunk of its HQ to Johannesburg to ride a two and a half year campaign to unseat the ruling party from Gauteng, writes Keith Gottschalk in The Conversation.
There are growing signs the tide has indeed begun to turn against South African President Jacob Zuma and his supporters. The politics of patronage is no longer working as it used to when Zuma's defenders could be rewarded for their efforts with promotion, tenders, or a lucrative revolving door to corporate directorships.
In addition, his power base is in a state of increasing disarray. Zuma came to power on a campaign driven by the African National Congress Youth League, Congress of SA Trade Unions (Cosatu), and the South African Communist Party. Today the youth league is a shadow of its former vibrant self. The trade union federation has split, with large unions such as the National Union of Metalworkers of South Africa and the National Education, Health and Allied Workers' Union opposing him. The Communists are now strident in condemning state capture.

For the moment Zuma's supporters control the ANC's levers of power. But an unprecedented and growing army of ANC veterans, whose service to the party goes back to the 1950s, like Ahmed Kathrada, Andrew Mlangeni and Ben Turok, issue public protest upon public protest.
Most devastating of all, the ANC's chief whip in parliament, Jackson Mthembu – whose very job description includes caucus discipline – backs critics of the ANC's current executive. The chief whip would certainly not have issued his statement that the party's leadership should resign unless he had taken the feeling of the majority of his caucus.
In short, Zuma's critics within the ANC are emboldened to make protest upon protest, with clearly growing momentum. There is a sense that the Zuma machine within the ANC has begun to grind to a halt.
The unravelling
Some key Zuma allies are now deeply wounded, if not rendered ineffective. Among them are his defenders in the prosecution agencies, including the National Prosecuting Authority. Its powerful deputy director of public prosecutions Nomgcobo Jiba and the Specialised Commercial Crimes head Lawrence Mrwebi have felt the heat. Instead of being rewarded for their hard work protecting Zuma, their efforts got them debarred as advocates. And the president was compelled to institute an inquiry into whether they are fit and proper persons to hold their current posts.
Next, Shaun Abrahams, the head of the National Prosecuting Authority, ignominiously had to withdraw his threatened prosecution of Finance Minister Pravin Gordhan. A barrage of critics want him declared unfit for office.
Another Zuma ally, police minister Nathi Nhleko has also suffered a severe setback. His repeated attempts to dismiss Robert McBride from the Independent Police Investigative Directorate have backfired. The National Prosecuting Authority has withdrawn charges of fraud and defeating the ends of justice against him.

It appears that the Gupta family – accused of "capturing" Zuma and some of his cabinet ministers – also seems to be hedging its bets. There are reports that it has bought a R450 million mansion (US$34 million) in Dubai.
Simultaneously, Zuma's legal woes never seem to cease. Yet another report from the retired Public Protector has not been good news for Zuma and his cronies, Minerals Minister Mosebenzi Zwane and Cooperative Governance Minister Des van Rooyen.
Zuma's legal team has managed to stall a flurry of litigation from the official opposition and tenacious NGOs throughout the five years of his first term of office which started in 2009. His second term hasn't been easier and it will now be tougher to continue stalling.
If Zuma is prosecuted at some point in the future, there is now no longer any guarantee that there will be hand-picked prosecutors in place should he come to court.
And up to 1000 former ANC municipal councillors are now unemployed following the recent local government elections. Councillors voted out of office only get a once-off severance payment, but no pensions. That once-off payment will have run out by now. Demoralisation and despair will be eroding Zuma's support from that constituency too. ANC national MPs and provincials MPs will be calculating how a continuing Zuma presidency might hurt their own chances in the 2019 election.
On the defensive
Zuma supporters in the ANC are on the defensive. They are no longer able to justify Nkandlagate – the scandal over the use of public money on his private homestead – or his allegedly corrupt relationship with the Guptas.
His supporters are reduced to diversionary debating tactics and peddling in conspiracy theories and western imperialist plots for regime change. This attempt at smearing Zuma's critics within the ANC as foreign agents is carrying less weight than ever before.
Meantime the official opposition, the Democratic Alliance, has announced it is transferring a chunk of its HQ staff to Johannesburg – with the specific mission of running a two and a half year election campaign against the ANC in the Gauteng Province. And so far, the difficult tactical alliance between the DA and Economic Freedom Fighters is holding.
British Prime Minister Harold Wilson famously remarked during the 1960s that a week can be a long time in politics. One ANC cabinet minister to whom I quoted that responded: "A day can be a long time in politics!"