Ministers threaten to quit if Zuma stays
---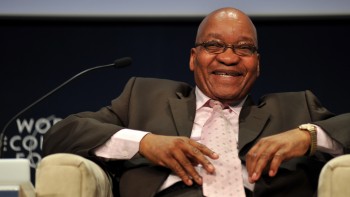 Business Day reports that several ministers are planning to resign should President Zuma remain in office, raising the stakes in SA's growing political crisis. The choice for these ministers - who remain unnamed - are to face Zuma's axe or to pre-emptively push him to resign.
A group of ministers threatened to resign on Sunday if President Jacob Zuma remained as the country's president.
The ministers made the dramatic threat on the sidelines of a tense extended national executive (NEC) committee meeting.

The threat can be viewed as a pre-emptive strike against Zuma, who has been planning a Cabinet reshuffle to purge his political opponents.

One of the ministers said: "It's a malicious rumour, we are fighting within ANC processes."
The ministers are known to Business Day.
It is understood a stalemate in the meeting prompted ANC Northern Cape chairman Zemani Saul to propose a "compromise". He suggested that the top six leaders of the party should wrangle over the issue and report back to the NEC at its next meeting.

Many ministers who have been contemplating resigning spoke out in support of Zuma's recall at a three-day NEC meeting in Irene over the weekend.
Ministers who spoke out face a stark choice should Zuma remain in office: resign and make way for Zuma to fill their positions with his loyalists or wait for him to reshuffle them.
Tourism Minister Derek Hanekom, Health Minister Aaron Motsoaledi, his deputy, Joe Phaahla, and ANC economic transformation chief Enoch Godongwana were among those who led the charge against the embattled Zuma.
Sources said Home Affairs Minister Malusi Gigaba, Sports Minister Fikile Mbalula, Deputy Defence Minister Kebby Maphatsoe and African Union Commission chairwoman Nkosazana Dlamini-Zuma came to Zuma's defence.
Sources from both sides said there was a point in the meeting at which Deputy Agriculture Minister Bheki Cele and Arts and Culture Minister Nathi Mthethwa almost came to blows. Cele chided an irate Mthethwa about the Marikana massacre when the latter was police minister. Cele did this as he sought to illustrate how ANC leaders failed to take responsibility for their actions.
The ANC NEC was on Monday night split on the future of party president Zuma, with members on both sides pushing to win the day after his recall as state president was raised at the meeting on Saturday.