RW Johnson's take on post-election SA - it's not good for the ANC
---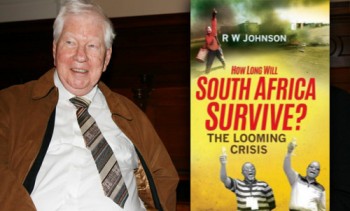 In this interview, RW Johnson, author of How Long Will South Africa survive?, talks about the aftermath of the local government elections and how the ANC plans to survive when it is perceived as a party in retreat. The SA Communist Party is attempting to rally its supporters to make Joburg and Pretoria ungovernable, just as they did when the ANC lost Cape Town to the Democratic Alliance (DA). This strategy didn't work in Cape Town and will not likely work in either Joburg or Pretoria. Marxist orthodoxy makes no allowance for a reversal of what is perceived as "progress", which has left the ANC militants confused and angry.
President Zuma's attack on his finance minister Pravin Gordhan is an extension of his system of patronage. Gordhan has refused to sign off of SAA's accounts for last year, which threatens the R5bn that SAA is seeking from government. SAA has been given until this month to submit its financial statements or it may be prevented from flying to Hong Kong, with other destinations likely to follow (no-one wants to accept flights from a bankrupt airline).
Gordhan wants Dudu Myeni removed as chairperson of SAA, but she enjoys unwavering support from Zuma – a direct slap in the face for Gordhan.All this suggests the president is determined to have his finance minister removed and, possibly, arrested. Quite simply, Gordhan is refusing to sign the cheques on which Zuma's system of patronage depends.
Can Zuma survive until the next presidential elections in 2019? He certainly looks like a man digging in for the long haul, but his ship has sprung a leak.
RW Johnson sees no prospect of SA avoiding a ratings downgrade later this year. The main risk here is the lack of growth, and the government is paralyzed in its policy options. There will likely be no growth this year. The government will do nothing to liberalise the labour market, investment will continue to move offshore, and there is no sign of serious improvement in governance at state-owned enterprises such as SAA and Eskom.
This is all pretty depressing. Is there any sliver of hope here? The fact that Joburg, PE and Pretoria are DA-run may provide an opportunity to turn these cities around by doing some relatively simple things: fix the potholes, do away with bucket toilets and get Joburg's billing problems under control. The DA's new mayor of Tshwane, Solly Msimanga, has already started looking at corrupt tenders under the previous ANC city leadership. Herman Mashaba, the new mayor of Joburg, will likely do the same. This will start to unravel part of Zuma's empire of patronage as city councillors, tenderpreneurs and other beneficiaries of ANC largesse contemplate life in the "free market". These new mayors will have to govern with the ANC in opposition and its more militant members attempting to wreck it completely as a revolutionary imperative.
Interesting times ahead.
Listen
here
.