I am prepared to die to save SA from thieves - Gordhan
---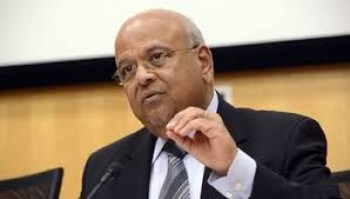 As South Africa flirted with the prospect of economic meltdown this week, with President Jacob Zuma's allies moving yet again to neutralise Pravin Gordhan, the finance minister made a dramatic vow: that he is prepared to die to save the country from thieves, according to The Sunday Times.
A defiant Gordhan promised that he would never back down from fighting corruption.
The embattled finance minister also told hundreds of Treasury staff members he was aware of speculation over a cabinet reshuffle.
"He said ministers come and go and we must just commit to work with whoever is the minister of finance," said a Treasury employee who was at a staff meeting addressed by Gordhan in Pretoria on Friday afternoon.
"He said we didn't think what happened to Nhlanhla Nene could happen, but it happened," said another source.

A third source said: "He said this is part of a bigger political battle. Don't be surprised if me and the deputy minister [Mcebisi Jonas] are removed this weekend".
Gordhan has been central to South Africa'a attempts at avoiding a damaging ratings downgrade, possibly to junk status, which could see the rand plummet to R30 to the US dollar.
Gordhan's remarks, made a day after his refusal to appear before the Hawks to give a warning statement, come amid a growing groundswell of support for the minister - and a growing lobby of opposition against Zuma, who has come under increasing fire for poor leadership and perceived abuse of power.
Gordhan's standoff with the Hawks is seen as a proxy war between the presidency and Treasury over control of the national fiscus, something Zuma's office denies.
Several people at the meeting told the Sunday Times that Gordhan said he would not back down from investigating irregular state contracts - even if he was fired.
"He said he will face whatever consequences that may come even if it means dying for saving the country from the thieves," said one source.
They said he made it clear he was being persecuted for doing his job by investigating contracts with companies owned by the Guptas.
One source said Gordhan told them: "I am a political appointee and you guys are civil servants, let's continue fighting corruption. We are not going to stop."
"He also said Treasury was being persecuted for fighting corruption and this was nothing new because he was persecuted by the security branch and apartheid police and was willing to die.
I am advised by my legal team that the assertions of law made by the Hawks (are) wholly unfounded on any version of the facts
The staff member added: "He said: 'Even now I am prepared to die for what I believe in'."
Staff who attended the meeting said Treasury's lawyers were "turning up the heat" on state contracts with Gupta companies.
These include a contract the Gupta-owned coal company, Tegeta, has with Eskom; a partnership between the Gupta-linked arms company VR Laser Asia and state weapons maker Denel and lucrative deals that another Gupta-linked company, Trillian, enjoys with Transnet.
This week Gordhan refused to appear at the Hawks offices to make a warning statement.
A warning statement is often the precursor to a suspect being charged criminally.
The Hawks want to question Gordhan for allegedly contravening the National Strategic Intelligence Act by creating a covert unit at SARS and the Public Finance Management Act for approving former commissioner Ivan Pillay's reappointment on contract after he was granted early retirement with full benefits.
Pillay and former covert unit commander, Johan van Loggerenberg, also provided the Hawks with warning statements this week.

Gordhan allegedly told the Treasury staff meeting he'd offered the Hawks his full co-operation but "they don't want to engage".
He also cast doubt on the legality of the case against him.
There has been speculation that key players in the saga, including another former SARS covert unit commander Andries "Skollie" van Rensburg and former SARS commissioner Oupa Magashula, could be offered immunity from prosecution in return for testifying against Gordhan.
Van Rensburg has denied this. Magashula confirmed the Hawks had summonsed him to sign a warning statement, but would not comment on whether he had been pressured to turn on Gordhan.
A source close to the investigation said allegations in the warning statements of violating the Public Finance Management Act and the National Strategic Intelligence Act by setting up a covert unit in SARS was "just the beginning of a far bigger case".
"They [the Hawks] are building a case of racketeering - looking at who received gratification," he said.
Another source close to Treasury who is not sympathetic to Gordhan said: "These guys are gunning for Pravin big time - he's made lots of enemies. There is war on in the ANC. There are factions in the ANC. It's a collaboration of convenience. It's about self-preservation."

He said he believes the ANC will haul Gordhan before the party's integrity committee after he has been charged as a precursor to removing him from his post.
The Gupta family issued a statement yesterday expressing "deep disappointment" about the "alleged comments by Finance Minister Gordhan to his Treasury staff".
It said the Guptas were victims "of a political campaign" being "perpetuated by many media titles".
"We repeat to our detractors - if you have evidence against us, please bring it. Otherwise, please leave us alone. We have no interest in politics. Only business."
Gordhan's spokesperson Phumza Macanda did not respond to questions for comment.
"The minister's address was for staff," she said. "Refer to media statement from Wednesday."
In the statement, Gordhan said his lawyers had advised him he was under no legal obligation to present himself to the Hawks.
"I am advised by my legal team that the assertions of law made by the Hawks (are) wholly unfounded on any version of the facts," he said.
The alleged charges were "wholly unfounded".
This week the Guptas threatened to get an interdict against Treasury to stop it from releasing a report on an investigation into Eskom coal contracts with Tegeta Exploration and Resources, a Gupta-owned mine. The report, which the Sunday Times has seen, reveals how the power utility bent over backwards to accommodate Tegeta, ignoring several glaring shortcomings in Tegeta's bid and giving them the 10-year, R400-million-a -year coal supply deal.
The growing frustration over Zuma was clear at former minister Makhenkesi Stofile's funeral at Fort Hare University in Alice this week, which was attended by powerful ANC figures including Trevor Manuel and Kgalema Motlanthe.
Speaker after speaker assumed a clearly anti-Zuma posture, with former foreign affairs director-general Sipho Pityana openly telling Zuma to quit because he had failed to lead.
Deputy President Cyril Ramaphosa, also appeared to be showing support to the anti-Zuma grouping, using the delivery of the eulogy to speak out against the ongoing standoff between the Hawks and Gordhan.

Ramaphosa said this was a sign of a "government at war with itself."
The political stand-off between Zuma and Gordhan has also raised the concern of one of South Africa's biggest trading partners.
This week Ramaphosa met with officials from the Chinese Communist Party, who allegedly raised concern about the political and economic instability in South Africa.
The Sunday Times has learnt that Chinese investors are worried about the billions of rands invested in the South Africa and what a downturn in the economy would mean,.
Ramaphosa's spokesman Ronnie Moemeopa said the meeting was tourism related and not about South Africa's economic situation.
On Friday evening, international consulting firm Ernst & Young called a meeting of ANC top brass to discuss the state of the economy.
ANC treasurer general Zweli Mkhize was called to the meeting in Sandton alongside economic development minister Ebrahim Patel.