Dead man's chest
---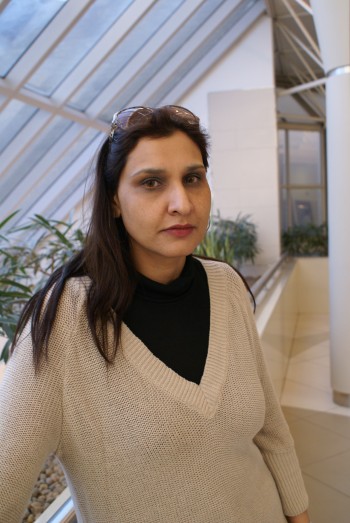 When Johannesburg businessman Imtiaz Mohammed was shot dead by a disgruntled employee in 2010, it fell to his widow Hajira to wrap up the estate. Only years later she discovered some dirty family secrets intended to keep her late husband's assets out of her hands. It turns out her dead husband's business bank account was kept alive by Standard Bank and other members of the family for 18 months after his murder, according to Noseweek.
Imtiaz Mohammed operated a successful hardware and property business in the east of Johannesburg until he was shot dead by a disgruntled employee in July 2010.
He left behind him four young children and his wife, Hajira (pictured left), who was executor and sole heir of his estate. The extended family rallied around to comfort and support the grieving family. Hajira had little knowledge of business, and entrusted her late husband's business affairs to her brother-in-law, Mahomed Akoon, a former ANC councillor in Ekurhuleni.
In terms of the will, Hajira inherited her husband's entire estate, comprising the hardware business, trading as Hire World and Hardware, and 50% in I&I Properties, which owned three properties in the east of Johannesburg. I&I Properties earned monthly rental income of about R50,000, to which – as heir to her husband's estate – she was entitled to half.
The other 50% of the company was owned by her late husband's father, Ismail. But she left the day-to-day management of the business to Akoon who, she alleges, could scarcely wait for the requisite Islamic mourning period of four months and 10 days after her husband's death before proposing marriage to her. Akoon denied this in papers presented to the South Gauteng High Court earlier this year.
But Hajira insists her rejection of his amorous advances is critical to understanding the acrimony and disputes over the spoils of the family business that were on display in the South Gauteng High Court in March this year.
It was after the alleged marriage proposal that familial relations started to break down. Some time in 2013 Hajira stopped receiving rental income from her late husband's 50% share of the property portfolio. She also claims she was prevented from having access to the bank statements and financial records related to the business.
How did this once happy family end up in this position? In 2013, three years after the death of her husband, Hajira decided to marry the new love of her life, Mohammed Sibda, a businessman who had recently returned from Saudi Arabia where he worked as a commodities broker. At this point relations with the rest of the family, which were already frosty, deteriorated into open hostility. Mohamed was more business-savvy than Hajira, and started looking into the business affairs of Imtiaz. He didn't like what he saw.
Until 2014, Hajira had assumed all her late husband's business affairs were conducted through the I&I Properties bank account held at Standard Bank's Boksburg branch. Later, Mohamed inadvertently discovered a second Standard Bank business account in the name of Hire World and Hardware, which was 100% owned by Imtiaz, and therefore the rightful property of his heir, Hajira. She claims the Hire World business account had been kept secret from her – and apparently for good reason. She knew about Hire World business, but not the bank account. When her new husband Mohamed managed to get bank statements for Hire World – which had subsequently been sold for R2,5 million to a Sasol employee, Feroza Syed, and renamed Nebuplex – he found that the account had been traded for 18 months after Imtiaz's murder, and then mysteriously closed – though no-one knowns who closed it. Standard Bank to this day refuses to say who authorised the trading of a dead man's account, and then who closed it. Nearly R5 million had been trafficked through the business account after Imtiaz's murder. Hajira also discovered that the company was issuing invoices using two VAT numbers, which would no doubt be of huge interest to the VAT investigators at SA Revenue Services.
Hajira also discovered that Akoon and Ismail continued to use her own money, through the I&I Properties bank account, to fight their legal battles against her.
In an application before Judge Kathie Satchwell in the South Gauteng High Court in March, Hajira asked the court to force Akoon, Ismail (father of her late husband Imtiaz) and I&I Properties to give her unrestricted access to the properties, bank accounts and records of the business so that she can fulfil her duties as executor of the estate.
The respondents in the case were Ismail, Akoon, I&I Properties and Standard Bank. Akoon and Ismail brought a counter application of their own claiming relief on the grounds that Imtiaz's will had been forged, in support of which they brandished evidence from two handwriting experts claiming the signature on the will was not that of Imtiaz. Hajira produced a handwriting expert of her own claiming the opposite. Akoon and Ismail further claimed that Hajira had consented to distribute her late husband's estate according to Shariah law – which would mean she would get just one-eighth of the benefit.
Judge Satchwell made short work of the counter application from Ismail and Akoon, dismissing their claims on the grounds they had no locus standi as they were not heirs to the estate. Further, the master of the court had accepted the will as valid, and had not been joined to the proceedings. On the matter of the alleged forgery, she ruled that the matter could not be decided on the papers.
Judge Satchwell ordered Akoon and Ismail to hand over to Hajira all financial records, bank statements and contracts related to her late husband's business, and to give her unfettered access to the properties in the I&I portfolio. Satchwell also ordered that Hajira be granted access to the company bank accounts, while Akoon was to be "divested of any right to manage the business…or represent it in any way," and was further interdicted from operating the company bank accounts. Standard Bank was also ordered to revoke any power Akoon had to operate the company bank account.
Akoon and Ismail were ordered to pay costs. The court also ordered that Hajira's right to sell her interest in I&I Properties be referred to trial.
In their counter-application, Ismail and Akoon claimed Hajira consented to distribute her late husband's assets in terms of Islamic Sharia law, whereby she would be forced to hand over seven-eighths of any benefit she received from the will. Hajira disputed this, saying she never consented to Sharia law. She previously agreed to gift certain of her late husband's assets to Ismail as an act of good faith – but this was before she found out about the secret bank account, and what she claims was the family's attempt to dispossess her of her late husband's assets.
Hajira's affidavit placed before the South Gauteng High Court lays bare some dirty family laundry. She claims Ismail, her late husband's father and business partner, was a spendthrift with a gambling problem. She also claims her late husband had to block the old man's access to the company account for fear he would gamble it away. In his reply, Ismail calls these statements "vexatious and defamatory" and fires back with some dirt of his own, calling Hajira "untruthful and untrustworthy." He also claims, based on the supposed evidence of Hajira's children, that her new husband Mohammed is causing dissention in the family in an effort to get his hands on Imtiaz's assets.
Judge Satchwell saw it differently, praising Mohamed for stepping in to support Hajira's two younger daughters, even though he was not a blood relative. "When I enquired I was told that the applicant (Hajira) has remarried and that it is her current husband who is supporting these minor daughters. I expressed then, and do now, my appreciation that a person who is not a blood relative has taken on the financial care of the children of the late Imtiaz Mahomed," wrote Satchwell in her judgment.
Hajira claims Akoon's attitude towards her turned sour after she spurned his offer of marriage. She claims in her affidavit that Akoon had ulterior motives: as marriage was now out of the question, "he had to find a different way of securing the benefits of the business". This became evident when the regular payments she received from I&I Properties started to peter out and the properties fell into disrepair.
In 2012 a representative from Standard Bank visited Akoon's home, with Hajira present, to sign documents opening a new account under the name of I&I Properties, making Akoon a signatory to the account. There were now three signatories to the account, Ismail, Akoon and Hajira, though Akoon was the chief signatory.
When Hajira stopped receiving income from the property business, she decided she had better take a more active interest in the affairs of the business. In January 2014 she visited the Boksburg branch of Standard Bank to inquire into the financial affairs of I&I Properties. The business manager at the branch refused her access to bank statements, at which point Hajira demanded that the bank immediately freeze the bank account. Standard Bank replied it could only comply with her request if it received written instructions from both Ismail and herself. Ismail was not prepared to play along, so the bank account continued trading, with Hajira being kept in the dark as to what payments were being made, and to whom.
Hajira fired off emails to Akoon and Ismail asking why the monthly rental payments had stopped, and demanded a full reckoning of the company accounts. Months went by without a reply so she decided it was time to engage a lawyer, and instructed Emraan Dasoo of Dasoo Attorneys to demand that Standard Bank immediately suspend Akoon's access to the account.
Hajira still had no luck getting bank statements for I&I Properties, neither from the family members, nor from Standard Bank. She then decided to approach I&I Properties' accounting officer, only to be told the books had not been completed. She approached SA Revenue Services to find out when tax returns had last been filed. It turns out this had last been done in 2010, the year her husband had been murdered.
Seeing no other way out of the mess, in February 2014 Hajira offered to buy Ismail's 50% share of the business for R2,5 million. Ismail did not respond, so she approached an Imam in the local mosque to mediate, which went precisely nowhere.
She eventually managed to get bank statements for I&I Properties and it soon became clear why Ismail had been reluctant to share this information with his daughter-in-law. In the year to May 2015, the old man had doled out R285,000 to Sikander Attorneys to pay the legal bills in the fight against Hajira, and a further R194,411 to himself.
Up to this point, Hajira assumed the two family members entrusted with her late husband's business affairs had simply neglected their duties. Akoon reneged on his offer to assist in managing the business, referring tenant complaints to Hajira and Ismail. Ismail claimed he had nothing to do with the business. She now started questioning whether the Standard Bank mortgage bonds over the properties were being serviced, and whether a sale in execution was about to snuff out her sole source of income.
Ismail claims Hajira, as executor, allowed the properties to fall into disrepair. She replies that she had no access to the company funds – these being under the charge of Ismail and Akoon – and was therefore unable to attend to basic maintenance of the buildings.
Another strange aspect to this case, only discovered four years after Imtiaz's death, was the fact that the Hire World business account at Standard Bank had been shut down in 2011 and a new account opened up in the company's name in May of the same year. Hajira says she has no recollection of signing documents for the opening of this account. Hajira's affidavit states: "I have…referred to the fact that (Ismail) is a signatory on the Hire World account and given the fact that I was not even aware of the account still being operational after the death of Imtiaz, he is the only person who should have been able to transact on the account, however it appears that despite the contents of the account application, Ismail was allowed by (Standard Bank) to sign and issue cheques from the account."
As executor of Imtiaz's estate, Hajira gave authority to sell Hire World for R2,5 million to Feroza Syed. She decided to share half of this with Ismail, though he was not a shareholder in the business nor an heir to her late husband's estate, in return for which she was allowed to continue staying in his house with her children. As the family started to squabble over the assets, Hajira was forced to leave the house, taking her two smallest children with her.
The Hire World bank account was not the only secret from Hajira. She later found out her late husband had a 20% interest in a company called Hassim Investments cc, a property owning company. Ismail, it turns out, was also a member in the close corporation, but omitted to mention to Hajira his son's interest in the company. A perusal of the Hassim Investments' members shows two dead men – the other being Imtiaz's cousin, Moulana Hashim, who died in 2011 – still registered as members. This would be convenient for the surviving three members of the cc, who it seems are sharing in the dead men's spoils.
Perhaps a cautionary note is in order: never mix family and business, because if you lose one, you lose both.