SAA under Dudu Myeni reflects the meltdown elsewhere in SA
---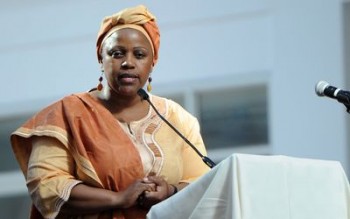 Dudu Myeni, the chair of SAA, cares little for the solvency of the national air carrier, nor does she seem to give a damn about corporate governance. The SAA in-flight magazine goes into the minutiae of race-based bean counting, and as such appears to be written for staff rather than SAA passengers. The airline has been dubbed "Hollywood" since it has "acting" rather than permanent postings for virtually all key appointments. SAA is one of the reasons SA's state-owned enterprises are dragging us to the brink of junk status. By Tony Leon, writing in Business Day.
Voltaire's Dr Pangloss believed that "all is for the best in the best of all possible worlds". With Tshwane now in flames, ANC ministers at war with each other and a winter of discontent everywhere, it's hard to be a Panglossian optimist. Fear not, aside from tuning into the SABC, you can always read the South African Airways (SAA) in-flight magazine, Sawubona, for a dose of good news.
Under a Mao-size picture, SAA chairperson Dudu Myeni assures readers that the airline is poised to soar to "greater heights". Never mind that most of the entrapped airborne readers would probably prefer to find out about more legroom, better food, flat beds and faster connections, she provides an alternative basis of reassurance.
"Since 1994," she writes, "we've striven to ensure that the demographics of our employees reflect those of our country" — and in great detail, lists each categorised percentage of her achievement.
Doubtless, there is a small audience somewhere for this sort of racial and gender bean-counting, though whether it matters a jot or tittle to the passengers flying on a roundabout route back to Cape Town from Buenos Aires alongside me recently is questionable. No matter. Myeni is not there to preside over a board of aviation experts or, in fact, over any board at all. But as is apparent from the extract from the "letter from the chairperson" quoted, above all she gets the politics right. And together with her fastness to President Jacob Zuma, her complete absence of any other qualification for presiding over a national, or any other, airline is deemed irrelevant. (Disclosure: I have previously consulted in this sector).
Her board is inquorate, her missteps in corporate governance legion and her "management style", a term of ill-starred flattery in her case, is the commercial equivalent of Joseph Stalin's: authoritarianism, purges, security investigations and rule by fiat and fear. Risibly, the finance minister is her only shareholder, or representative of the taxpayer, but she has contemptuously shrugged off his attempts to rein her in and make the airline fit for purpose, or at least vaguely solvent and not in permanent violation of the legislation governing state-owned enterprises, never mind a slew of other legal instruments.
Of interest, in the same "chairperson's letter", she extols the virtues of the SAA "Heartbeat programme", intended to "look after all aspects of their health and wellness". This apparently includes access to "professional advice on all their life, health, work, legal and financial challenges". Leaving aside the curious inclusion of such management gobbledygook in a magazine aimed at SAA customers rather than in a staff manual, it must be doubtful whether Myeni herself has ever checked into this programme. If she had, perhaps the person assigned to provide particulars regarding "legal and financial challenges" might be able to detain the hard-charging chairperson with some interesting facts.
These would include her failure to provide financial statements for this multibillion-rand state-owned airline for the 2014-15 financial year, now delayed for the third time. A rudimentary financial adviser might also have enlightened her that her comment that the airline can stay airborne without a state guarantee is both fatuous and simply wrong. In fact, without state support, it would be hopelessly insolvent and her off-hand remark that "the aircraft are always full" raises the question, or many of them, as to how this even tackles its enormous overheads, cash-flow constraints and myriad other issues far busier and less top-heavy airlines than SAA struggle with.
Economic Development Minister Ebrahim Patel, ever alert to the slightest hint of collusive or uncompetitive practices in the private sector, has been strangely reticent about the latest hostage to fortune Myeni has gifted her many internal critics and a host of external competitors. When the Financial Mail dubbed SAA "Hollywood" — since every key officer in it, save the chairperson, is in an acting capacity — it noted that Myeni presides over an operation without a permanent CEO, finance director, chief commercial officer, chief strategy officer, or even a human resources chief.
Most of those who had once held such offices were purged by Myeni or fled to evade her misrule. It was noted elsewhere that the airline has been without a permanent CEO since 2014 and the Financial Mail article described one of the many revolving-door acting appointments in that position, Mango CEO Nico Bezuidenhout, as "the last man standing". But he too has now quit. And in her zeal to discredit his operational role at the low-cost carrier, Myeni or her acolytes let the competition cat out of the bag by confirming what many of the airline competitors long suspected — Mango's apparent achievement was purchased at a high, possibly illegal price: covert subsidisation of the carrier by SAA providing subsidised and discounted leases for its aircraft.
The runways are littered with other aircraft with fading logos — Nationwide, Sun Air, Flitestar — flown out of business by the predatory pricing practices of SAA and abuse of its sector dominance. Now perhaps those still flying just received a silver bullet courtesy of the SAA chairwoman to fire off in their next Competition Commission salvo. The rot covers many of the boards of state-owned entities, where political connectivity rather than corporate nous, never mind any sector expertise, is the basis for appointment and longevity, but SAA is a standout example.
It enjoys, along with its chairwoman, the favour of the president. In utter defiance of corporate probity, never mind political collegiality, Zuma paid an official visit in May to the airline's headquarters. He did not bother to ask the minister charged with the airline, Pravin Gordhan, to accompany him. But he certainly had Myeni close to hand when he offered the "reassurance" that the airline would "never be sold" and that he personally would assist in attending to its challenges. That should help.
A few weeks later, in Parliament, Gordhan was lashing out at "the belligerence and arrogance of the boards of some state-owned enterprises". The country has been put on notice by two key rating agencies, and it has little time to start implementing an admittedly modest menu of reforms, to reassure them that the sovereign should not be downgraded to junk status. Restoring good governance, or even the semblance of it, at the national airline would be a relatively easy step on the to-do list. It would cost only one job at this stage, and would probably save many into the future. But the inexplicable protection, perhaps immunity the SAA chairperson enjoys comes at a high cost, not just to the beleaguered airline, but to the sovereign's reputation.
Myeni might indeed inhabit Voltaire's Panglossian world of make-believe optimism, heedless of the facts on the ground and in the air. But she, and her political masters, might pause to recall in the cut-throat world of airline competition, Voltaire's "single and very short" prayer: "O Lord, make my enemies ridiculous. And God granted it."
• Leon is a former leader of the opposition.