Lawyers rake in cash from blizzard of e-tolls summonses
---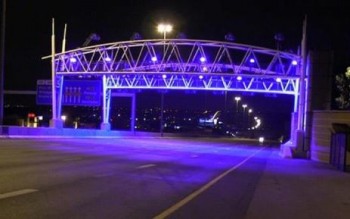 Lawyers are raking in fees from the blizzard of summonses issued by the SA National Roads Agency (Sanral) over the non-payment of e-tolls. The Organisation Undoing Tax Abuse (OUTA), which is fighting e-tolls, has its own legal team to defend the summonses, and has brought in one of the top legal minds in the country, Gilbert Marcus SC, to prepare for the court battle that lies ahead. This is likely to drag out for years, and could clog the court system, according to Moneyweb.
Law firms are licking their lips at the prospect of SA National Roads Agency (Sanral) going to war with Gauteng motorists over the non-payment of e-tolls.
In response to questions from Moneyweb, Sanral says it has summonsed nearly 5,500 individuals and 837 businesses for non-payment of e-tolls. The Organisation Undoing Tax Abuse (Outa), which is fighting e-tolls, says a further 6 500 summons were delivered "by the bakkie load" this week at various magistrates courts. That's a total of about 13 000 summonses that have been issued so far.
These cases are likely to clog the justice system, as many of these are being defended. Some of the cases will be heard in the high courts, others in magistrates courts dotted around the country. One summons is claiming R6,9m in unpaid e-tolls, another R1,6m.
OUTA is defending scores of its members against Sanral, and has briefed one of SA's top legal heavyweights, Gilbert Marcus SC, to argue its case in court. These cases are so mired in technical disputes, they could conceivably run for several years before being ruled on by the courts. Then there is the likelihood of judges in different courts making contradictory rulings. It's a good time to be a lawyer.
"We want to see if we can join these cases so they can be heard together, since they involve pretty much the same legal arguments," says OUTA chairman, Wayne Duvenage.
Sanral's Strategic Plan document shows an allocation of R8,5m for legal fees in the 2015/16 financial year, and R5,7m for the current year.
This may not be enough. Most of these cases are likely to be defended, many of them by OUTA. The summonses seen by Moneyweb are "simple summonses", meaning they are simple claims for repayment of outstanding debt, without the supporting evidence, such as photographs of vehicles passing under the e-tolls gantries. OUTA is likely to demand the Sanral furnish the supporting evidence, which will run to tens of thousands of pages in some cases. If you multiply this by more than 6,000 cases, the courts are going to be drowned in a blizzard of paper.
Sappi and Mondi should do well out of this. So too will the participating lawyers. Sanral has appointed Daly Attorneys to manage the issue of summonses, backed by a network of correspondent attorneys around the country. Werksmans is on retainer to Sanral as its attorney of record on e-tolls. According to OUTA, some attorneys have refused to represent Sanral on principle.
Attorneys issuing the summonses are likely to earn about R1,000 for each summons, with a further R500 going to correspondent attorneys, and R500 for the sheriff service. That's not counting Werksmans' retainer. One legal expert reckons all told, the issue of a single summons could cost Sanral upwards of R4,000, or a total of about R25m, though it is likely to have negotiated bulk discounts. And this is before the case ever gets to court. Nor does it count the costs of cases that are being defended. Attorneys will have to be briefed, affidavits prepared, and counsel hired to argue the cases. Based on the number of summonses already issued by Sanral, attorneys are likely to collect upwards of R50m. Suddenly, e-tolls has become the biggest game in town for lawyers.
Several summonses seen by Moneyweb given the recipients a number to phone in the event they decide to defend the matter. The number takes them straight through to Sanral's debt collection department. The email address is likewise connected to the debt collection department.
OUTA argues that e-tolls were imposed unlawfully on Gauteng motorists, not least for Sanral's failure to consult broadly with the public as required by law, and for its failure to investigate more viable alternatives. The organisation has hired an in-house team to provide legal defence to its members.
Membership numbers have shot up since Sanral started issuing summonses, says Duvenage. "There has been obvious concern among Gauteng motorists when they are served with summonses. Our advice is not to panic, and give notice within 15 days of intention to defend."
Vusi Mona, general manager for communications at Sanral, says this is just the start of Sanral's campaign to recover outstanding debts, and Gauteng motorists can expect plenty more summonses when the sheriff comes knocking on the door.
"Sanral is an agency of government and bound by the prescripts of the Public Finance Management Act, and therefore has an obligation to collect what is owed to the state. It is the same process used by SA Revenue Services, retail clothing stores and the like," says Mona.
"We have to consider the 1,5m compliant individuals, businesses and corporates who have been doing the right thing and paying their e-tolls. We also have to consider the importance of upholding the rule of law."
OUTA disputes the figure of 1,5m e-tolls subscribers. "It's hogwash," says Duvenage. "This is the number of e-tags that were issued, but most of these were fitted in government and car rental fleets in Cape Town, Durban and elsewhere, and never once passed under an e-toll gantry."
Duvenage says Sanral's legal onslaught is a mark of its desperation. Its bond issuing programme is under pressure as investors are unsure whether it will be able to meet its repayment obligations without leaning on government guarantees.
Says Mona: "It would be safe to say that the country cannot afford that Sanral fails. Specifically it has to do with not only our credit rating but the country's. Should Moody's Investor Services downgrade our country – the sovereign credit rating - it would directly impact on our cost of borrowing, specifically for the bonds issued under the guarantee, which is almost R30bn. This is because the guarantee is directly linked to government and the bond yields, or interest rates, are linked to government bonds with similar maturities. So even if Sanral's risk remains the same, meaning we are not downgraded but the country is, we would still be affected. This is because government bonds would become more costly, and our cost of borrowing would increase.
"In theory, our credit rating is used by investors only for the non-guaranteed bonds - the National Roads Agency bonds - as they are exposed directly to Sanral on these bonds. This is why these trade at higher spreads, which means the difference between the government bond yield and SANRAL's bond increases as the risk increases. If we are downgraded, the risk increases and the cost of borrowing increases. If our country is also downgraded, it is a double whammy."
Mona adds that Sanral's non-toll portfolio, accounting for 85% of the total, is not directly affected by a ratings downgrade. Only 15% of its network is tolled. "Of course, indirectly, the sovereign downgrade would affect governments' ability to fund and the cost of its borrowing, which may affect the allocation Sanral receives for its non-toll portfolio in the next financial year. It will also mean that more money from the fiscus will need to be allocated for the repayment of debt, leaving less for budget allocations, including the Sanral non-toll expenditure. This will have a knock-on effect on the industry and may affect jobs."