Just look who is calling Rupert a racist thief
---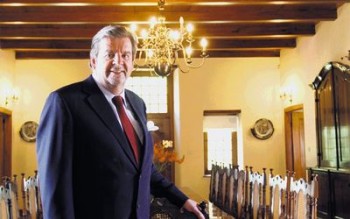 ​Johann Rupert is accused of being racist, monopolist and a thief by some interesting people. This comes at a time when the ruling party is trying to change the subject from Nkandla, the Guptas and Zuma. Predictable stuff, but Leon Louw sets the record straight.
Johann Rupert, one of the world's wealthiest people, is a corrupt racist thief and white monopoly capitalist, according to his racist critics.
Monopoly, whatever that means in this context, is not the problem; his critics love monopolies, especially failed government monopolies.
Being a capitalist is not the problem; his critics love capitalistic black empowerment and entrepreneurship policies. Racism is not the problem; his critics make racist assumptions about him. Looting is not the problem; his critics want the government to steal or "expropriate" wealth without compensation. "State capture" is not the problem; his critics do not object to other people influencing the government.
What does that leave? What makes him nefarious? Being white? Since we have no race classification law, there is no way of knowing what his "race" is, yet his racist accusers presume race and racism.
Struggle veteran Temba Nolutshungu equates calling someone a racist (without proof) with a medieval curse. "One of the most evil things you can do is accuse people of racism, when you know that they can't defend themselves, that you need no evidence, and that proving innocence is impossible."
He adds that "it is like accusing someone unjustly of being a paedophile or rapist" and laments that "victims are effectively muzzled; they can't defend themselves". Calling someone a racist "is a weapon to silence them and deflect attention from your own problems".
Anti-Rupert slander, according to the Sowetan, "deflects attention from the Guptas". It is a "presidential defence that … not only the Guptas (influence) state appointments and policy".
President Jacob Zuma's son Edward laid "corruption charges" against Rupert for doing something perfectly normal — giving advice, in this case allegedly advising against Des van Rooyen being minister of finance. With three fingers pointing back at the accuser, Edward called Rupert "an arrogant white racist who has been looting unabated".
African National Congress Youth League KwaZulu-Natal provincial secretary Thanduxolo Sabelo called Rupert a "racist imperialist who wants to continue looting".
According to Black First Land First, Rupert "directly benefited from apartheid criminal activities including theft … from the Reserve Bank (and) dispossession of black people".
What former deputy president Kgalema Motlanthe finds "disheartening" about such racial hostility is the "debilitating effect (on) building a nation united in diversity".
Rupert might be muzzled, but I am not. Unlike his vacuous accusers, I have evidence. I spent many hours with his father, Anton, during the darkest days of the apartheid "crime against humanity". There was never a hint of racism.
Not only did the Ruperts build a global empire of which every South African should be proud, but they resolutely opposed apartheid and condemned racism. Far from "looting", they made most of their money abroad, much of which they repatriated to SA.
Johann is known for expressing his views forcefully, even undiplomatically — he calls his accusers "conspiracy-believing lunatics" — yet no one can cite a racist undertone in anything he says or does. Rupert Senior famously promoted black empowerment because "you cannot sleep when your neighbour is hungry". The Ruperts launched Business Partners (then the Small Business Development Corporation), which created 800,000 jobs, mainly for black people.
Recently, Johann donated millions to the Khaya Lam Project to secure property titles for black people, and echoed his father by saying that people are "amenable (to) nonracialism … when their stomachs are full".
• Louw is executive director of the Free Market Foundation. This article first appeared in Business Day. Photo Sunday Times.