Gordhan's budget was a bid to save SA from credit junkyard
---
Finance minister Pravin Gordhan's budget was aimed not so much at trade unions or the party faithful, but at the ratings agencies, writes Tony Leon in Business Day. History teaches us that a country which loses its credit rating is indeed headed for the junkyard.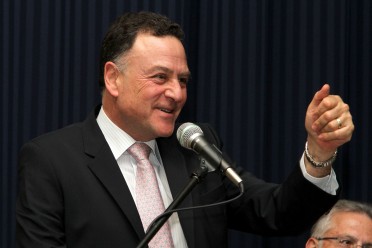 The thinking behind Finance Minister Pravin Gordhan's budget speech must have been partly inspired by the story of Goldilocks and the three bears. The fable of getting things "just right", and not too extreme at either end certainly sat front and centre of last Wednesday's effort: avoid scaring the markets with swingeing tax hikes was one concern. Not start a fight with the mighty trade unions and so introduce privatisation of a sort by hidden hand was another. Apply a dash of optimism, or hopeful thinking, on the growth rate was a third.
But the real audience the finance minister had in mind was revealed on Thursday morning in the front page coverage. It was both striking and apt that Business Day reserved initial comments on Gordhan's effort for neither an economist, nor a politician. Instead, the top of the fold honour was given to a rating agency executive, Moody's senior vice-president Kristen Lindow. Her equivocal judgment — good on taxes and culling public service numbers and less good on deficit-reduction measures — meant the credit watchdog was keeping all options open.
The dire financial position in which SA finds itself might mean Gordhan's Goldilocks porridge would have been better served in the more benign years of past budgets. It is too soon to tell. But there is great continuity and provenance in being spooked by the likes of Moody's.
James Carville, political strategist to former US president Bill Clinton, offered an acute observation on the limits of even the most powerful political office relative to the might of outside forces. "When I come back, I want to come back as the bond market because then you can intimidate everyone," the unorthodox Carville observed in 1993.
Twenty years later, in September 2013, economics writer John Kay explored this phenomenon anew in the Financial Times. Writing of past electoral contests in Britain and France, he found the terror of sovereign credit ratings to be as alive then in London and Paris as it had once been in Washington, DC. "There is little doubt," he wrote, "of the reality of such intimidation."
The British Conservative Party, in its 2010 election manifesto, listed a series of "economic benchmarks" for the country. Top of the list was its "guarantee to safeguard" the country's credit rating. In 2011, Kay reported, across in France, the president, Nicolas Sarkozy, told his aides "If France loses its triple A rating, I'm dead". A few days later, France lost that coveted status, and true to his prediction, a few months later, Sarkozy lost the presidency.
I have no insight into Gordhan's wishes or otherwise for his reincarnation. But watching his performance in the budget speech brought to mind Roy Jenkins's observation of French titan and former president Charles de Gaulle. "He had to play a poor hand from a weak seat… but he became as big as he wanted to be."
Gordhan is a no-frills type politician and, doubtless, lacks De Gaulle's sense of manifest destiny. But he loomed very large this week indeed. He must hope that his confident attempts at right-sizing the national books and some specific commitments will save the country from the credit junkyard.
He, alongside his political boss, President Jacob Zuma, have also underlined the intimidatory shock and awe prospects of the credit rating agencies' looming axes, and for the bond markets they police. Of course, comparisons between SA in 2016 and Britain in 2010, for example, do us no favours. The AAA-rated UK recorded government interest costs at about 2% of gross domestic product (GDP). Here at home, for the next financial year, the equivalent figure has soared to 3.21%. That's a minimum of R142.6bn in current rand, likely to increase due to the decrease in the nominal GDP denominator, currency weakness, and an increase in the long-term interest rate post Nenegate.
Our overall debt level has risen quickly into the stratosphere: at the dawn of the Zuma presidency in 2008/9 it was R5226bn; towards the end of his term of office in 2015/16, it will likely have ballooned 239% to R1.8-trillion. That's according to a calculation by Democratic Alliance finance spokesman David Maynier. He believes Gordhan's caution on Wednesday makes a downgrade inevitable. And of course, that debt requires a lot of costs to service it — estimated to be R474bn in the next three years, double the annual amount budgeted, for example, for education.
In Britain, and in most other developed economies, governments will be able to borrow at a rate of close to zero for decades to come. Kay could confidently conclude, five years ago, that, "The detached observer would conclude that the UK government failing to pay its sterling obligations is a risk commensurable with the prospect of a meteorite falling on one's head." Perhaps Britain's exit from the eurozone in June, unlikely but possible, would be the equivalent of such meteorite head-butting today. An early warning of the perils of unpredictable politics upending even the most stable of economies arrived in London last week: the Brexit possibility saw the pound sink to its lowest level in seven years.
SA represents an extreme case, where bad politics determine economic outcomes and the outlook for a country with its back against the wall. By contrast, the US shrugs off its corroded and dysfunctional political system. While its stagnating growth and rising inequality levels point to future dangers, it maintains unemployment at less than 5%. Perhaps a president Donald Trump could blow up the system with mass deportations and a trade war against China, but that remains improbable. SA, whose economy is about 3% the size of the US, enjoys no such leeway.
Last Wednesday, Gordhan tried very hard to remake the economic weather here. He did so despite having to serve a president who twists in the wind with every populist gust and each dubious friend he enriches. He half-backs Gordhan and then weasels back to his disastrous choice of Desmond van Rooyen. All this in the midst of economic meltdown.
The post-budget disclosures of the irretrievable breakdown of relations between Gordhan and South African Revenue Service (SARS) boss Tom Moyane is another clarion call for the president to back his indispensable finance minister, not his political crony. Let's see how this one plays out.
For all the success achieved by Trevor Manuel in the much easier political and economic tailwinds a decade ago, he had the full-throttled support of his president, Thabo Mbeki. The Presidency, the Treasury and SARS were one, notwithstanding the egos and personalities at the helm of each.
If children's stories like that of Goldilocks hold little appeal to our local power elite, they might prefer to dip into the Bible and reread Matthew 12:25. Its ancient wisdom reminds us anew that "the house divided against itself shall not stand".

* Tony Leon is former head of the Democratic Alliance.