California court opens door to wrongful foreclosure suits
---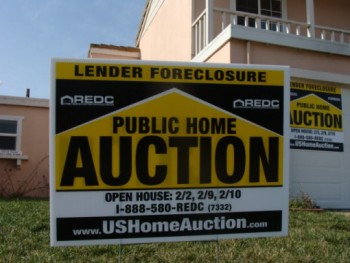 A recent decision by a California court opens the door for homeowners who were wrongfully dispossessed of their homes to pursue legal action against banks, even if they were in default, according to the LA Times.

During the bust that followed last decade's housing boom, hundreds of thousands of Californians lost their homes to foreclosure. It was a process later found to be rife with problems, such as overwhelmed bank employees who sometimes didn't even read the foreclosure documents in front of them.
But challenging foreclosures on the basis of paperwork problems proved to be mostly futile, given California courts had ruled that borrowers who weren't paying their mortgages didn't suffer financial harm.
Now, a recent decision by the California Supreme Court will allow some of those former homeowners to pursue lawsuits and possibly win damages for wrongful foreclosure even if they were in default.
"They opened the courthouse doors," said Katherine Porter, a law professor at UC Irvine and a former monitor for a national settlement over foreclosure abuses.
During the foreclosure crisis, tales of "robo-signing" emerged when employees of mortgage firms signed off on foreclosure documents even though they had no authority to do so. Troubled borrowers were often bounced around to various employees who gave different answers.
And borrowers were often confused over who actually owned their loan, given shoddy paperwork that transferred mortgages from original lenders into obscure securities sold to Wall Street investors.
"People did sloppy things," said Dan Schechter, a professor at Loyola Law School. "It was amateur hour."
The Feb. 18 2016 Supreme Court case did not involve problems with robo-signed documents, but it did address one aspect of the paperwork mess that emerged in the subsequent bust: whether uncertainty over the ownership of a borrower's mortgage note could be the basis for challenging a foreclosure.
Plaintiff Tsvetana Yvanova argued that a Morgan Stanley investment trust didn't actually own her loan and thus the trustee wrongfully foreclosed on her Woodland Hills house in 2012.
Yvanova had taken out her loan at the height of the housing boom in 2006 from New Century Mortgage Corp., an Irvine subprime lender that went bust a year later. The loan, she alleged, wasn't legally transferred, or assigned, to the Morgan Stanley trust until 2011.
She argued the trust was closed from accepting new loans at the time of the transfer, while attorneys for the trust said it did own the loan before the closure. They argued the 2011 transfer of title was a technical detail.
As they have done in similar cases, lower courts ruled Yvanova had no right to sue because she was in default and also had no involvement in the contract that transferred the title of the mortgage from the original lender to the trust.
But the Supreme Court disagreed.
"The borrower owes money not to the world at large but to a particular person or institution, and only the person or institution entitled to payment may enforce the debt by foreclosing on the security," wrote Associate Justice Kathryn M. Werdegar in the unanimous ruling.
Although the Supreme Court opened the courthouse doors, what success foreclosed homeowners will have once they get inside is an open question.
Legal experts said it's highly unlikely that former homeowners could unravel their foreclosures and win back their homes, given strong legal protections afforded to those who would currently hold title to the homes.
But Porter said that all the transferring of loans and securitization that took place during the housing boom added confusion for borrowers seeking to remedy their defaults. If a delinquent homeowner was denied relief from an entity that didn't legally own the loan, that could open the possibilities of monetary damages, she said.
California now joins other states where such challenges are allowed, including Ohio, Massachusetts and Texas, said Kent Qian, an attorney with the National Housing Law Project, who coauthored a brief supporting Yvanova's case.
But the Supreme Court left key questions unanswered that may blunt the case's impact.
The court didn't rule whether the paperwork problems Yvanova alleged were valid. It also didn't decide whether the problems were so egregious that the trust didn't actually own the loan — both questions of fact that a lower court, which could determine any damages, will decide.
Legal experts also said the number of Californians who could take advantage of the decision is unknown because courts have yet to set a statute of limitations for such cases. Schechter said it would likely be three to four years, but it's unclear when the clock on those limits would start running. That could be when the foreclosure occurred or when a borrower discovered an issue with the transfer of title.
A statute of limitations of four years might mean that the decision won't help most of the nearly 1 million California homeowners who were foreclosed upon from 2007 to 2012, according to real estate data provider CoreLogic.
Still, Porter estimated there may be tens of thousands of Californians who could conceivably argue for damages given inconsistencies in documents that transferred their loans.
Others are more skeptical.
George Lefcoe, a professor at the USC Gould School of Law, said it will be very difficult for borrowers to prove that the ownership of their loans was so muddled that the foreclosure process was fatally flawed.
And even if borrowers do win the argument, it's unclear what damages they may receive, if any.
"The impact of Yvanova remains to be seen," said Fredrick S. Levin, a partner in BuckleySandler, who represents financial institutions. "It depends on how the California trial courts answer the number of open questions that were not addressed."