The day Zuma handed over power to Gordhan
---
President Zuma's swagger is gone, replaced by a diminished man in trouble. This was evident during his State of the Nation address. As Allister Sparks points out in Business Day, Zuma has effectively handed over control of the country to his finance minister, Pravin Gordhan.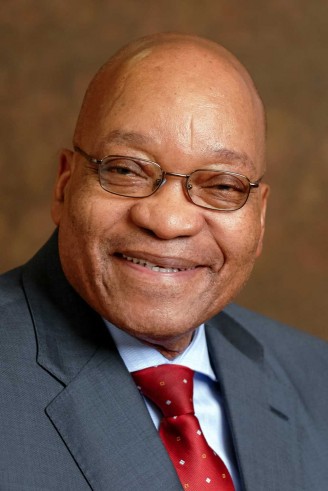 What a bizarre spectacle unfolded in Cape Town last Thursday. A combination of paranoid security that locked down the city centre with fences and barricades and traffic jams as military helicopters circled overhead; a parade of military pomp and splendour that included the Presidential Guard in their ridiculous Ruritanian uniforms inherited from the apartheid era; a convoy of 14 black Mercedes-Benzes escorting President Jacob Zuma in a white Popemobile to the doors of Parliament, to which he had come to be harassed by a bunch of raucous youths in red and have his political impotence exposed.
The state of the nation address has become something of a public spectacle in the democratic era, a display of pomp and circumstance modelled on British royalty. But this time it was more like a Roman circus, complete with clowns and a victim to be torn to shreds. It wasn't an edifying sight. I thought the Economic Freedom Fighters' (EFF's) campaign to disrupt the proceedings lacked the impact of their first disruption last year, which produced the call on Zuma to "Pay back the money" spent on Nkandla. What the EFF did not realise was that you cannot tell the same joke twice and still get a laugh.
This time there was no memorable moment in their repetitive exchanges with speaker Baleka Mbete, which largely bypassed Zuma. All it did was delay proceedings for a rowdy hour. The only direct shot at Zuma came from Congress of the People leader Mosiuoa Lekota. Referring to argument in the previous week's Constitutional Court hearing on the Nkandla case, Lekota contended that Zuma had forfeited the right to be heard as president because he had violated the Constitution (and thus his oath of office) in defying the public protector's finding that he should pay back some of the money spent on his Nkandla home. He was ordered out of the House and left with his three members.
Despite the noise and antics, the only feature of significance on this occasion was the sight of Zuma as a diminished man. He looked stiff and strained. The warm, we're-all-buddies-together smile, was gone. His attempts at that inane giggle came out more like a throat-clearing exercise. And the speech itself was an act of humiliation and capitulation as he conceded everything he had refused to face up to before, from being prepared to pay back some of the Nkandla money to trying to appease the business and investment community for the damage he had inflicted on them.
It was a major climb-down, but to me it lacked both specifics and a note of conviction, rather like an apology that rings hollow to a sceptical ear. He mentioned a few specific savings, such as abandoning lavish ministerial banquets, but the rest were vague generalisations. I doubt Zuma has really changed in any fundamental way. He's just trying to get off a hook.
Yet what he has done has been to open the door for Finance Minister Pravin Gordhan to make the changes that have to be made if we are to stand any chance of turning our economy around and avoiding those junk ratings everyone fears. Gordhan will have the opportunity to do that, to pack some real figures and targets on to Zuma's generalisations, when he delivers his budget speech next Wednesday.
In fact, that will be the real state of the nation address, telling us exactly what that state is and what must be done about it.
Indeed, in this moment of economic crisis, Zuma has in effect handed over the leadership of the country to Gordhan, who he humiliated only recently by removing him from the Treasury to a more minor ministerial post. If we get out of this hole Zuma has dug for us, it will be thanks to Gordhan. He is tough and capable. But if he succeeds, don't expect Zuma to reward or even thank him. Zuma doesn't admire competence. It shows him up.
Which brings one to the question of what caused Zuma's sudden volte-face. I reckon there were two things that happened in quick succession that caused him to panic. The first was when the economic consequences of his headstrong firing of Nhlanhla Nene as finance minister brought him into confrontation with the top six members of the African National Congress national executive committee, who warned that unless he reversed his decision immediately they would abandon him.
Incidentally, Zuma still has not given a reason for firing Nene — probably because it is too embarrassing to disclose. The EFF had announced they would make that their key point at the state of the nation address, but with all their points of order they never got around to it.
The second shock must have been when Zuma's advocate, Jeremy Gauntlett, gave him the fright of his life during a consultation before the Constitutional Court hearing on the Nkandla issue last week. One can only assume Gauntlett warned him that Public Protector Thuli Madonsela's findings were not just recommendations, as Zuma had argued for two years, but were bound to be acted upon because her role is entrenched in the Constitution. Zuma's brushing them aside could therefore open him up to an impeachment procedure.
Panic stations! Impeachment must be his worst nightmare. A president removed from office for violating the Constitution, which he has sworn to uphold, may not receive any benefits of that office, and may not serve in any public office. So bang would go his presidential pension, free cars, flights, guards, medical aid, Nkandla and all.
Yet I am surprised Zuma flinched at the prospect, for the likelihood of a successful impeachment action is slim. It requires a two-thirds majority in the National Assembly, and the notion of large numbers of ANC MPs turning against their president is remote. Or has Zuma been so unnerved by that confrontation with the top six that he no longer feels so sure about this?
What is certain is that he has been wounded and looks worried. But it would be a mistake to imagine he is finished. Zuma the survivor is too crafty to be written off just yet. Even at what must be the lowest point in his career he displayed his low cunning by suggesting that a great saving could be made by having one capital instead of two, which would mean moving Parliament from Cape Town to Pretoria.
It won't happen, of course. The Mandela administration spent two years looking into the feasibility of such a move, and rejected it because the billions needed to build a new Parliament and parliamentary village for 400 MPs and staffers in Pretoria when all these facilities already exist in Cape Town, would be a horrendous waste.
Zuma knows we are even less able to afford it now. But he knew, too, that his statement would make front-page headlines the morning after his bad day at the office — winning some votes for the ANC in the marginal Tshwane municipal election while sticking a finger in the eye of Democratic Alliance-controlled Cape Town.
• Sparks is a former editor of the Rand Daily Mail