Please call me case ends up in Concourt
---
Nkosana Makate has waged a 16 year battle to get what he argues is his rightful reward for inventing the Please Call Me service while an employee at Vodacom, which has a different view of how the servuce came about. Now the case is about to be decided by the Constitutional Court, according to the Saturday Star.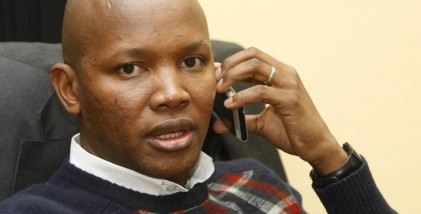 Long before WhatsApp and Facebook, there was Please Call Me. At a mere dial of a 10-digit cellphone number alongside the star and hashtag characters, one was able to communicate with one's loved ones.
A free message resulted in returned telephone calls.
Perhaps it was this initiative that helped ignite social media in South Africa.
Or, at least this is what it feels like for one South African who, out of his passion for software, took a giant leap and changed telecommunications in the country.
Described as a modern-day David facing a corporate Goliath, Nkosana Makate is set to stage his last legal battle with cellular giant Vodacom this year in a move that could see him win billions of rands.
The Constitutional Court next month will hand down its final ruling on the matter that has garnered wide public interest and cast a sharp spotlight on invention, intellectual property, preserving and protecting ideas – no matter how big or small.
It's been the longest and toughest 16-odd years of my life but I am finally here. No matter the outcome next month I will have fulfilled my hope of finding justice," Makate said this week.
The road has been a long one and not paved with good intentions for the father of three. It was in 2000 when Makate, a student at the time, mulled over the idea of communicating with his girlfriend.
He remembers it like yesterday. She had no money for constant phone calls and the communication barrier increased.
In search of a solution, Makate came up with the idea of sending a free message.
He approached Vodacom and they loved it. And a year later the Please Call Me facility hit the big time.


Please Call Me I love you, Please Call me I'm outside, Please Call Me I need help were among the phrases that soon surfaced.
For some, the presence of the service meant the difference between life and death where sending multiple messages was a sign for help or a request for immediate intervention.
But for Makate the gusto of hatching his great idea soon fizzled out when he sought compensation from Vodacom. The healthy relationship he had with the company changed.
Negotiations fell apart and Makate spiralled into depression. Finally, in 2008 he made a decision to pursue litigation and take Vodacom head-on.
"I loved Vodacom. I never saw myself being an individual against an entity. I'm not bitter. I think there are individuals who wronged me.
"I don't think it was the company. It never was. I never wanted to fight with Vodacom," he said.


More hurtful, Makete said, was the fallout that he had with the former Vodacom chief executive, Alan Knott-Craig.
He confided in Knott-Craig, only to come up against him in court about who had genuinely invented Please Call Me.
"Alan loved Please Call Me. He bought into the idea and embraced it so much that he made himself believe that it was his own idea.
"Instead of running with it in good faith and working with me, he chose to take it and run with it. That is what was wrong.
"To say I'm bitter with him now after all these years would be incorrect. What I am is disappointed," Makate said.
He can't help but remember the phrase which Knott-Craig used when he, Makate, discussed payment – a phrase that hurt him deeply.
"I remember Alan saying I was greedy and that I would not get a cent.
"In our country we can never divorce or escape the race issue. In this case race undoubtedly manifested itself.


"The fact that Alan was white and I was black, I believe, played a major role. I don't believe we would be here if Nkosana was a white boy who invented something amazing."
With firm and sound deliberation having taken place, Makate hopes the Concourt ruling will result in a sweet year for him.
"I truly hope the 16 years that have been invested in this journey will be sweet.
"I'm told that indications now are that Please Call Me messages have reached 700 000 messages sent out per month. It's a sign that we have grown," he says.
He is also of the view that the Please Call Me is a clear indicator of the inequality that still exists in the country in that there is still a wide gap between the rich and poor.
Who needs to use it, and why, is what matters.
But one of the major achievements is that the service is still free.
"When we embarked on this journey I told them that this needed to be free and should never change. It is the magic of it and what has kept this venture alive for so long."
The Prescription Act and the Ostensible Authority are the two issues that will stand out in the case.
"According to Judge Phillip Coppin in his last ruling section 11 (d) of the Prescription Act deals with debts and the obligation to negotiate the debts. We are seeking clarity at the ConCourt on this ruling.
After being turned down by many courts including the Supreme Court of Appeal (SCA), Makate believes the Concourt is the right court to deal with this issue.
"After the SCA, I remember getting a phone call from my lawyer saying our appeal had been turned down.
"I told my lawyer it was fine. We always knew that we had Concourt."
He said being a firm believer and keeping the faith has helped him pull through.
"There are guys who killed themselves. People die. This for me was a beast. I did nothing but to really walk in faith."
He also understands and appreciates that his case has, and could, effectively lead to amendments of some laws.
And with all the knowledge he has amassed throughout his legal battles, is a future in litigation on the cards?
"I've certainly become a quasi-lawyer. I've gained practical training through this whole process.
"What also helped is that I was never far removed from this case.
"I wasn't distant. I always wanted to be involved. I wanted the nitty-gritty details and how to deal with the challenges head-on.
"Because of this I'm most certainly looking at going into litigation finance. South Africa is ripe for that market.
"Part of my winnings from the court case will go towards litigation finance, establishing a business that will play a huge role…
"I've had young people coming to me and saying that they need help. They want to know how intellectual property works. The company will go a long way in assisting those who cannot afford to stand up against the big corporates," he said.
The next month will also see the launch of his second book, Please Call Me, which will detail the trials and tribulations of an ordinary man who defied the odds.
A movie and other projects are in the pipeline.
As Makate counts down the weeks to judgment day, one thing is clear – the legacy he wants to leave behind.
"If I should ever be remembered, I would like to be known as the man who remained true to his convictions and fought hard not only for himself but for others who couldn't," Makate said.