Nene fired - Zima's capture of state spending is now complete
---
President Zuma fired finance minister and the rand slipped past R15 to the US dollar. What else could possibly go wrong? All bets are off at this stage, but a yearend shock for the rand - as if R15 to the US dollar is not enough of a shock - is certainly now on the table. This article from Times Live explains what's going on behind the scenes.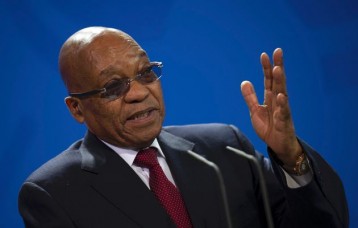 President Jacob Zuma has fired Finance Minister Nhlanhla Nene. The statement he issued was brief and gave no reason for the sudden move' which has sent shock-waves through South Africa's financial community.
The timing was cynical — just days after major rating agencies downgraded their view of South Africa's financial prospects to a hair's breadth above junk status. Make no mistake if this announcement had occurred before they had done this' they would have been even harsher.
The finance ministry and the treasury have stood head and shoulders above the rest of the public service as centres of technocratic excellence. You need a very competent bureaucracy to run the finances of a government as large as South Africa's' never mind one beset by the challenges of a developing country finding its way in a dog-eat-dog world.
For twenty-one years' the ministers and functionaries in this institution have had the final say on what can or cannot be done within the country's fiscal constraints.
Until now' presidents have borne criticism from the finance ministry with good humour because they have known that if there is one thing a politician cannot do' it is to wish into existence money where there is none.
Until now. In Zuma' we have a president who simply doesn't give a damn. He wants to spend and the finance ministry must find ways to do so.
Nene's first confrontation with Zuma was over the ridiculous nuclear build programme' a project so murky in its scope that nobody actually knows how much it will cost. Officials in the finance ministry have not exactly been excited by the prospect of finding the money (some say north of R1-trillion) and it has barely been mentioned by Nene in his public speeches.
But Zuma has steamed ahead' announcing to the public that it is going ahead even though it hasn't been costed.
The second confrontation was a bridge too far for Zuma. He appointed a good friend' Dudu Myeni' to head up SAA. During her tenure it has limped from one loss to another and is about to hit the fiscus for a couple of billion to bale it out of its current difficulties.
Officials who question her odd management practices have been fired' one after the other.
On top of this' she wants to cancel an arrangement reached with Airbus over the purchase of aircraft and introduce a 'middle man' to renegotiate it despite the fact that it has been made plain to her that this will cost the company hundreds of millions of rands.
Nene' who has been overseeing SAA' said enough was enough.
The result? Zuma has come down on her side by firing Nene.
What all this points to is the beginning of the end of the treasury holding the line on spending.
Zuma has appointed an ANC back-bencher' David van Rooyen' as his new finance minister. A political junior who has no cabinet experience' Van Rooyen has no doubt been chosen because he is simply in no position to resist Zuma's many plans for what is left of South Africa's treasury.
Expect him to sign off on the nuclear deal' to back SAA with money taken from somewhere else — textbooks perhaps?
As of this evening' Zuma is totally unchecked when it comes to government spending. What could possibly go wrong?