O'Sullivan targets Police Commissioner Piyega after office raid
---
Celebrity investigator Paul O'Sullivan has promised to bring down police commissioner Riah Piyega after his offices were raided yesterday morning by about 20 police officers and his cell phones and computers were seized. The State has agreed to return ther seized items today, while O'Sullivan is seeking to set aside the search warrant.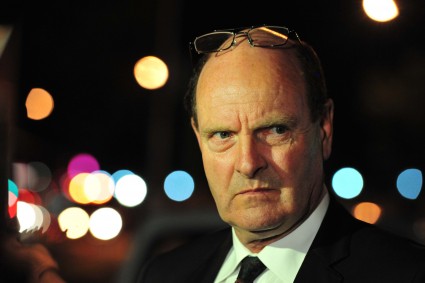 Celebrity investigator Paul O'Sullivan's office was raided yesterday by upwards of 20 police brandishing a search and seizure warrant and made off with computers and cell phones.
The warrant did not specify the nature of the police investigation, but police officers said it was related to accusations O'Sullivan had made against SAA chairperson Dudu Myeni, alleging she had improperly enriched herself through illegal deals involving an SAA tender and the Gauteng e-tolls contract. O'Sullivan produced what later turned out to be fake foreign bank account details in support of the allegations. He later apologised for the harm caused, and offered Myeni R50,000 in settlement.
O'Sullivan says the real reason for the police raid has to do with his investigation of Police Commissioner Riah Piyega, who he has accused of corruption.
By 4:00pm O'Sullivan's attorney Darryl Furman was in the Johannesburg High Court seeking to overturn the search and seizure warrant which had been issued earlier that day by a magistrate in Randburg.
"The terms of the search warrant are vague and overbroad," said Furman. "It is well known that Paul O'Sullivan is involved in several investigations involving police corruption and we believe this warrant has everything to do with frustrating these investigations."
By 7:00pm the State advocate and O'Sullivan's legal counsel, huddled together in the Joburg High Court, had agreed to a consent order which would allow the police to take images of the seized phone records computers, under supervision, and to then have them sealed and placed under the care of the Court Registrar for a period of seven days. In the meantime O'Sullivan intends to bring an application seeking to overturn the search warrant.
O'Sullivan believes Piyega was behind the search warrant, and promises to redouble his efforts to have her removed from her position in light of the police raid: "She is attempting to find out what evidence I have on her and she will find out soon enough. But she is not entitled to all my private correspondence, bearing in mind that I have had five attempts on my life over the last year.
"Piyega's days as police commissioner are over."
O'Sullivan says the attempts to kill him relate to his investigation into Czech gangster Radovan Krejcir, now awaiting trial for torture, drug smuggling and murder. Krejcir was in court earlier this month along with eight co-accused in relation to last year's failed assassination attempt of Colonel Nkosana "Killer" Ximba' a senior police officer investigating Krejcir' and O'Sullivan.
"Given the multiple attempts on my life, I do not want my and my family's private travel details leaking out," he said. "There are people who would love to get their hands on this information."
O'Sullivan famously took on the late former police commissioner Jackie Selebi, who he says was responsible for his firing as head of security at the Airports Company in 2000. It took a decade, but he eventually got his man. Selebi was found guilty of corruption in 2010 and sentenced to 15 years behind bars, though he died late last year. Selebi was found to have received bribes of R1,2 million from crime boss Glen Agliotti.
A BBC film crew doing a documentary on O'Sullivan managed to capture the police raid before being told to turn off the camera on the grounds that they were interfering in police matters.
O'Sullivan has bumped heads with several senior police figures over the years, including suspended Hawks boss Anwa Dramat, and Robert McBride, the suspended director of the Independent Police Investigative Directorate (Ipid). O'Sullivan has since come out in defence of the two suspended police bosses.
Based on his track record in bringing down Selebi, O'Sullivan's threats to end the career of Piyega cannot be dismissed as fantasy.
While this is the first time O'Sullivan's offices have been raided by the police, he is no stranger to the courts. Earlier this month he was attending a hearing involving alleged gangster Radovan Krejcir, who he helped lock up.
This is what he wrote to her in an email in February:
Dear General Phiyega,

Despite multiple communications to you over the last few months, requesting you to intervene in the disgraceful corrupt state of the Police under your command, you have done nothing, other than to complain to me about using your private e-mail address and arrogantly complaining about my tone with you. What you have completely failed to see, is that dirty cops on your payroll are assisting with my planned murder, not your murder mine, so any tone I might take with you, is a tone of anguish, because of your complete and utter failure to carry out your constitutional mandate, thereby leaving me to take the law into my own hands. In short, I'm now taking the gloves off because I see you as part of the problem, and no longer part of the solution. I think the five months you have had to get your act together, since I have raised these issues, is plenty of time and this is my last communication to you, as I am now going to expose you for what you are or what you have become.

Whilst you are dilly-dallying around, dirty cops, people in your employ, are conspiring with criminals to have me murdered. Other dirty police in your employ have been handing my cellular phone records to criminals and yet others have given undertakings to criminals that they will get me arrested on trumped up charges, in order to protect their criminal paymasters.

During the same period you have interfered in the investigations into the theft of funds from the Bosele Provident Funds, despite ample evidence of massive theft, fraud and corruption by politically connected 'cadres'. How can you explain the lack of progress on the investigation. You are NOT supposed to interfere in such investigations, which goes to show that you are politically corrupt and are therefore unfit to hold office.

Furthermore, during your time in office, crime levels have increased like never before. I believe this is because you are too busy in the creation of a politically corrupt and back-biting service, which completely lacks credible leadership. Where Generals are rewarded for spying on generals and heads are shuffled without regard for their constitutional rights.

You have created a climate, where people like Moonoo have busied themselves with turf wars against colleagues in the Hawks, for no other reason than he himself has questionable conduct to explain. You and Moonoo protecting South Africa, is like leaving the mice to guard the cheese.

The end result is the inevitable collapse of law and order in this country.

In short, you both need to be removed from office in the best interests of South Africa.
Piyega's response was, according to O'Sullivan, in the form of an unlawful search warrant execution with much fanfare by about 20 police officers. The same officers seen rummaging through O'Sullivan's computers yesterday were later seen at court where they were handed the order informing them that they were to return his phones and computers.
If Piyega was behind the raid, she appears to have lost Round One to O'Sullivan. It remains to be seen whether she will survive the next few months now that she has O'Sullivan's full attention.
According to City Press, Piyega is already "fighting for her life" over the damning Marikana Commission of Inquiry report which implicates her and several other police bosses in the deaths of 34 striking miners in August 2012.
"City Press has learnt that Farlam's report recommends that other senior police officers should face the music too, including North West provincial commissioner Lieutenant General Zukiswa Mbombo, her deputy in charge of operations, Major General William Mpembe, and his fellow deputy commissioner, Major General Ganasen Naidoo."