What's the story behind Hawks chief Anwa Dramat's suspension?
---
What's behind the Police Minister's suspension of Hawks chief Anwa Dramat? Government claims it has to do with the illegal rendition of four Zimbabweans, two of whom subsequently died in terrible circumstances. Dramat and the Democratic Alliance it was because he was investigating high profile corruption. Maybe there is more to this story than meets the eye.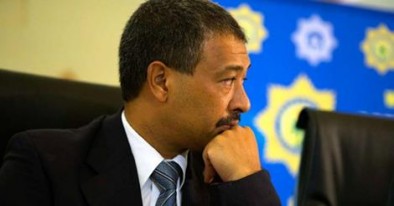 The proximate cause of Hawks chief Anwa Dramat's suspension by Police Minister Nkosinathi Nhleko? Dramat's decision to illegally rendition four Zimbabweans to their home country, where two of them subsequently died. DA leader Helen Zille intimated in a letter last week that the real reason for the suspension was something more sinister: Dramat was investigating high level corruption and was becoming an inconvenience to those with something to hide. Dramat himself has argued that the accusations of illegal renditions is just cover for his investigations into high level corruption.

The Helen Suzman Foundation challenged the suspension this week in the North Gauteng High Court, citing a Constitutional Court ruling in November last week prohibiting such a unilateral suspension. The North Gauteng High Court ruled that the police could not unilaterally suspend the Hawks boss. The ANC stood behind the Police Minister's decision to suspend Dramat on full pay, but refused to reinstate him.

Democracy watchers in SA see a replay of the Scorpions demise in 2009. The Scorpions had a conviction rate of between 82% and 94%, and had secured 617 convictions in 2006, just before it was disbanded. It was replaced by the Hawks, which has been unable to match this work rate. Since inception, the Hawks have been tainted by suspicions of political interference. Where the Scortpions were seen as fearless in pursuing corrupt senior figures, the Hawks appear to have been less enthusiastic in chasing down top political figures suspected of involvement in corrupt activities.

SAPA reports that in November last year, in a separate case dealing with the Hawks's independence from the national executive, the Constitutional Court deleted a section of legislation dealing with the process through which the head of the Hawks could be suspended.
Criticising the "untrammelled power" given to the police minister, instead the court ruled that the police minister could only suspend the head once a parliamentary committee had conducted an investigation - an action that was not taken in the case of Dramat.
The Scorpions had been far too effective in chasing down corruption for some in power. It will be remembered that its arms deal investigation resulted in the conviction of Zuma's former financial adviser, Schabir Schaik, on fraud and corruption charges.It also put ANC big-wig Tony Yengeni behind bars for accepting a hefty discount on a luxury vehicle as a pay-off linked to the arms deal. The Scorpions were far too successful for their own good.

This brings us back to Dramat's suspension. In 2011, the Constitutional Court ruled that sections of the Acts that disbanded the Scorpions and created the Hawks were inconsistent with the Constitution. It gave Parliament 18 months to rectify the legislation.
Let's face this one fact: anyone heading up a police investigations unit is prone to undue influence. Case in point is the late SA Police Commissioner Jackie Selebi who was convicted in 2010 of having a corrupt relationship with convicted drug dealer Glenn Agliotti. Selebi's conviction pointed to the type of influence to which senior police officials are exposed. The wife of former head of police intelligence, General Joey Mabasa, ran a gold exchange business in Bedfordview, Johannesburg, with the wife of jailed Czech gang leader, Radovan Krejcir. When the heat got too much, Mabasa was let go with a R3 million golden handshake. President Jacob Zuma has filled the country's top security posts with pals, which no doubt helps to keep the attention off his past dubious dealings (though it did not help him much over the Nkandla scandal, involving some R230 million in public money going to his private estate). There is an awful lot to hide for some in the top echelons of government, even if one discounts the infamous arms deal.

So what's Dramat's story? Is it really about the illegal rendition of four Zimbabweans, or the high profile cases he was investigating? We have no reason to doubt his integrity (we note his daughter works for Africa's largest law firm, ENS, which has been involved in several controversial cases). Was he starting to close in some influential and corrupt officials, or did he avoid investigating someone he should have? Or is it really about the renditioned Zimbabweans?

Mail & Guardian gives a clue as to what may be the real motivation (adding that Dramat fears for his life if he returns to work):

In his December 24 letter to Police Minister Nkosinathi Nhleko following his purported suspension, Dramat wrote: "No doubt you are aware that I have recently called for certain case dockets involving very influential persons to be brought or alternatively centralised under one investigating arm and this has clearly caused massive resentment towards me."


New claims have emerged suggesting the controversial security upgrade at President Jacob Zuma's Nkandla homestead was at the apex of investigations Dramat perceived as highly sensitive.


AmaBhungane has been told by a source familiar with the matter that in December 2014 Dramat called for the Nkandla dockets – currently under the control of the divisional commissioner for detective services Vinesh Moonoo – to be transferred to the Hawks.


The South African Police Service has never denied this allegation, merely stating that national commissioner Riah Phiyega and Dramat never discussed the Nkandla investigation.


A Constitutional Court ruling two weeks earlier made it clear that Dramat alone has the authority to decide which cases the Hawks should take on.


The source said that following his suspension Dramat told colleagues that his first notice of the intention to suspend him arrived barely two days after he asked for the transfer of the Nkandla dockets.

In any event, Dramat has won the latest round in this legal battle which will no doubt go on a while longer, as this story from Business Day makes clear:


Parliament's police committee decided unanimously on Friday to ask guidance from Speaker of the National Assembly Baleka Mbete as to whether it was the right committee to consider a request by Police Minister Nkosinathi Nhleko for an investigation into the removal of Lt-Gen Dramat.


Lt-Gen Dramat was suspended in December by Mr Nhleko over an allegation that he was involved in unlawful renditions. But Lt-Gen Dramat has disputed these reasons, calling them a smokescreen, and saying that there was resentment against him because of some of the high-profile investigations he had been overseeing.


The Helen Suzman Foundation's counsel, David Unterhalter SC, said there were "exceptional circumstances" in the case that warranted an order allowing Lt-Gen Dramat to return to work. He added that the minister had not made any argument about why his return would be harmful.


But counsel for the minister, William Mokhari SC, said the earlier court order did not refer to the re-instatement of Lt-Gen Dramat, it had only declared that the suspension was unlawful. The court could not be asked to enforce something it had not earlier ordered, argued Mr Mokhari.


He said the foundation had to "live with the consequences" of the order it had sought originally.

Winning the legal battle is one thing, but Dramat may as well chalk this up to a moral victory. He is unlikely ever to serve in government again. The damage he has inflicted on the ruling party at this stage is unlikely to be forgiven. The government's security portfolio is again in a shambles and the message is clear: the fight against corruption is confined to those who don't weild any real power. Keep your nose out of our affairs.