Court asked to force political parties to identify sources of funds
---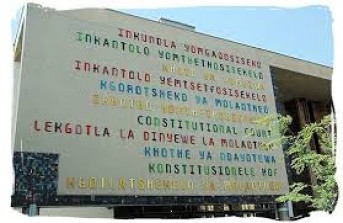 The Constitutional Court is being asked today to compel Parliament to pass legislation forcing political parties to disclose their sources of funding. The case is being brought by My Vote Counts which argues that the Constitution guarantees the public's right to information needed to exercise its rights.

The Promotion of Access to Information Act (PAIA), which is supposed to ensure that any member of the public can access private or public information to which they have a right, will be a central issue before the Constitutional Court on Tuesday, reports Mail & Guardian.
The case could see political parties being forced by law to publicly disclose their funding the sources of their funding.
The court will hear an application by My Vote Counts (MVC) asking the court to order Parliament to pass legislation that would force political parties to disclose who gives them money.
No guarantee

The organisation argues in its papers that the public cannot fully exercise their right to vote without knowing who the private funders of political parties are. It argues that the Constitution, in Section 32(2), gives members of the public the right to any information they need to exercise their rights, including the right to vote.
The Act was enacted to give effect to this section, but the MVC argues that it is not sufficient and that it does not guarantee the public access to private funding information.
"The prospect of a political party being beholden or grateful to its donors, especially substantial donors, creates considerable scope for corruption, if indeed that party is elected into positions of public power.
"For this reason, secret funding of political parties creates the clear and compelling risk that elected public officials may extend undue and undetected favouritism towards those that fund their political progress. In this way, the secret funding of political parties threatens to encourage or at least to conceal corruption, and thus to retard the realisation of fundamental rights," the organisation states.
Calumny against an unidentified victim

This argument is described by the speaker of Parliament, Baleka Mbete, the first respondent, as "mournful platitudes", which are "nothing more than a conspiratorial refrain". She says it "borders on calumny against an as yet unidentified victim".
Mbete says that even if this contention is correct it is "null and void" because the legislation the MVC wants is covered by the Act, the only legislation enacted to fulfil the requirements of Section 32(2).
Mbete argues that, if the MVC feels that the Act does not deal satisfactorily with the disclosure of political party funding, it must first go to the high court to have the Act declared unconstitutional.
MVC says the Act only gives the public access to information that is contained in records. A citizen must apply for a record that exists to obtain information, but private financial donations to political parties might not necessarily be recorded and for this reason the legislation is inadequate.

Read more.