DA calls for referendum on e-tolls
---
Has the ANC in Gauteng fudged the e-tolls investigation it completed last year? Judging by its newly announced campaign to bring in a "hybrid" form of tolling, the answer is yes. The DA has now called for a referendum into the future of the blighted e-tolls system.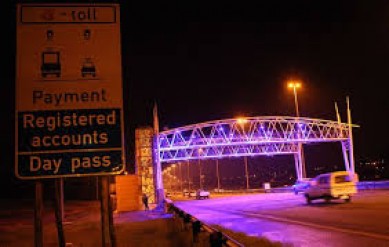 The Democratic Alliance (DA) in Gauteng on Tuesday scoffed at a recommendation by Gauteng Premier David Makhura's e-toll advisory panel that a "hybrid model" be adopted on freeways, according to Business Day.
Describing this suggestion as a stealth tactic aimed at keeping the reviled system, and accusing Mr Makhura of backtracking from his promise to "stand by the people of Gauteng" on e-tolls, the party called on the premier to announce a referendum on e-tolls at his state of the province address next month.
While the panel is viewed as a response to declining support in Gauteng during last year's national elections, the African National Congress (ANC) in the province would no doubt reject the calls for a referendum, as this was an election campaign pledge and rallying point for DA parliamentary leader Mmusi Maimane, who was a former candidate for the position of Gauteng premier.
Opposition to the system is seen as part of growing frustration among Gauteng residents who had to contend with its introduction on the back of a billing crisis in Johannesburg and an increasing reliance of the province on private companies to provide services such as security, health and education.
Opposition parties and even ANC ally the Congress of South African Trade Unions have latched onto the issue and have called for the outright scrapping of the e-toll payment system, despite the implications of this on the fiscus, due to the debt incurred by the South African National Roads Agency.
DA Gauteng leader John Moodey told reporters at the Gauteng legislature on Tuesday that the party was disappointed that the panel, announced by Mr Makhura during his first state of the province address late last year, did not suggest a ring-fenced fuel levy to replace the electronic tolling system.
He said the premier's ongoing consultation with national government and Gauteng municipalities, and his call for Gauteng residents to pay tolls in the meantime, were "delaying tactics".
DA member of provincial legislature Mike Moriarty said that if Mr Makhura wanted to ignore the fuel levy as the best alternative, he should rather announce a referendum on e-tolls.
"If the premier wants to save the situation, he can do no better than to get the will of the people on e-tolls. He can do no better than getting a referendum," he said.
In a statement released on Tuesday, the Opposition to Urban Tolling Alliance said that it was puzzled that the advisory panel "ignored" the "overwhelmingly favoured" fuel levy as a substitute for the user-pay system.