Corruption index puts SA in some pretty dodgy company
---
SA ranks 67th out of 144 countries in terms of corruption, putting us in some pretty dodgy company. Is there evidence of "corruption fatigue" setting in, to the point where people do not pay much attention to it anymore? Corruption Watch looks at the latest findings.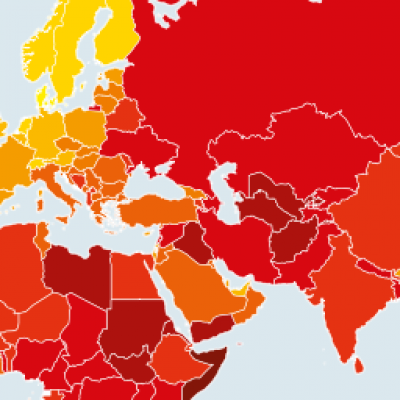 Transparency International's (TI) 20th Corruption Perceptions Index (CPI) has been released. The annual index ranks countries or territories by their perceived levels of public sector corruption. The lower the score, which falls between 100 and 0, the more corrupt the country is perceived to be.

Out of 175 countries scrutinised, South Africa managed to jump five places in the rankings, from 72 to joint 67. Its score went up by two, from 42 to 44. While this is ostensibly an improvement, the reality is that it is still very average. Also, there were slightly fewer countries in the survey this year.

The global average score, as it was in 2013, is 43. Because South Africa's score is less than 50 the country is perceived to be corrupt.

Corruption Watch executive director, David Lewis, commented: "Some will take small comfort from the fact that our score and our position on the index has not deteriorated further. This would be a serious error. Not far below us on the index are countries where corruption is endemic, where little can be done to turn around corruption. Some of our key institutions already exhibit many of the characteristics of endemic corruption."

As examples, Lewis added, one only has to think of South Africa's criminal justice institutions, or those leading public sector and private sector individuals who enjoy a high level of impunity.

"The continuing Nkandla fiasco [is] the clearest example of impunity enjoyed by the politically powerful. Indeed, given the growing controversy surrounding Nkandla and given the contempt displayed by the political and public sector leadership for a resolute anti-corruption fighter like the Public Protector, had the survey been conducted today, we may well have landed up with a significantly lower score."

The African situation

In the sub-Saharan African context Botswana was the top-ranked country at 31, with a score of 63. It was followed by Cape Verde at 42 and a score of 57, and Seychelles at 43 with a score of 55.

Then came Mauritius (47, 54), Lesotho (55, 49), Namibia (55, 49), Rwanda (55, 49), Ghana (61, 48), and then South Africa.

This puts it in ninth place on the African list, one up from last year's 10
th
. See the bottom of the page for the full African rankings.
There is no region or country on the index that is untouched by corruption, though. "Corruption is a problem for all countries," says TI. "A poor score is likely a sign of widespread bribery, lack of punishment for corruption and public institutions that don't respond to citizens' needs."

Perceptions of corruption is just one way of assessing the problem

The CPI is compiled from the results of 12 surveys and assessments that feature expert evaluations and the views of analysts and businesspeople, gathered in the past 24 months. The surveys are collected by a variety of reputable institutions which specialise in scrutinising governance and business climate. It offers a yearly snapshot of the relative degree of corruption by ranking countries from all over the globe.

The CPI is based on perceptions, explains TI, because there is no sound and meaningful way to establish absolute levels of corruption. Much of the illegal practice takes place in secret and while much of it is exposed, there is a lot that never comes to light.

According to TI, "Capturing perceptions of corruption of those in a position to offer assessments of public sector corruption is the most reliable method of comparing relative corruption levels across countries."

For a country to feature on the CPI, it must be ranked in at least three of the index's data sources. "If a country is not featured in the ranking, then this is solely because of insufficient survey information and not an indication that corruption does not exist in the country," says TI.

This year 175 countries and territories are included in the index, compared to 177 last year. Brunei, Equatorial Guinea and Saint Lucia were on the 2013 CPI but are not included in 2014. Samoa is included in 2014 but was not part of the 2013 CPI.

Relative to last year's results, the nations that showed the greatest improvement in 2014 are Afghanistan, Côte d´Ivoire, Egypt, Jordan, Mali, Saint Vincent and the Grenadines, and Swaziland. The countries that declined the most are Angola, China, Malawi, Rwanda, and Turkey.

As the CPI is based solely on perceptions of corruption in the public sector, TI offers a range of other complementary tools which provide alternative views on corruption. They include the Bribe Payers Index, the Global Corruption Barometer, the Global Corruption Report, the National Integrity System assessments, and the Transparency in Corporate Reporting study.