Hofmeyr takes puppet master to court in Twitter war
---
Two entertainers - Steve Hofmeyr and puppet master Chester Missing - will battle it out in court this week over accusations of racism. This is thought to be the first time a puppet has been cited in court papers, according to Business Day.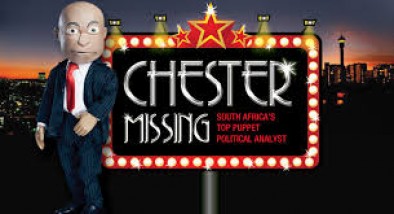 Puppet Chester Missing — through his satirical ventriloquist Conrad Koch — and Afrikaans musician Steve Hofmeyr will be doing battle in court this week following a war of words on social media site Twitter in which Chester denounced Mr Hofmeyr as a racist.
Not only is it the first time in the history of SA that a puppet has been cited in court papers, but it is also the first time a celebrity Twitter war (a "twar") has found its way into court. It is also the first time allegations of cyber-harassment have gone to court under the recently enacted Protection from Harassment Act.
Like the coming litigation between Woolworths and BDS — Boycott, Divest and Sanctions Movement — over Woolworths' continued purchase of Israeli goods, the case reflects the growing effect of civic action against corporations via social media.
Both Chester and Mr Hofmeyr are popular personalities on Twitter, with more than 100,000 followers, and are known for their strongly held views. Chester's tweets poke fun at and ridicule politicians across the spectrum. Mr Hofmeyr's twitter biography refers to himself as "an activist", and his twitter timeline is dominated by murder counts of white people and anti-affirmative action statements.
The two have clashed on Twitter before but this time Mr Hofmeyr raised the puppet's ire by saying, "Blacks were the architects of Apartheid". Chester hit back, calling on followers to denounce Mr Hofmeyr as a bigot and a racist, and questioning retailer Pick n Pay and car company Land Rover about their sponsorship of the "Afrikaans-is-Groot" concerts — at which Mr Hofmeyr was due to perform.
Mr Hofmeyr's friend, activist Dan Roodt, then went to court and obtained an interim protection order against Mr Koch — "trading as" the puppet. The order forbids Mr Koch from harassing or contacting Mr Hofmeyr or contacting any sponsor or business associate or referring to Mr Hofmeyr as a racist. On Thursday, the Randburg Magistrates Court will hear arguments on making the order permanent.
In his statement, Mr Roodt, on behalf of Mr Hofmeyr, said Mr Koch had used Twitter in an "intensely personal and obsessive campaign" against Mr Hofmeyr and was inciting ethnic hatred against him, Afrikaans and Afrikaners.
"Because of Koch's incitement, Steve Hofmeyr has already received 50 death threats."
Mr Roodt added that pressure from Mr Koch had led to one of Mr Hofmeyr's sponsors withdrawing the bakkie it had sponsored him with.
Mr Koch was threatening and intimidating the Afrikaans-is-Groot concert's sponsors, he said, and if the concert were to be cancelled, all the musicians would suffer. In fact, the sponsors did not pull out of the concert but did distance themselves from Mr Hofmeyr's statements.
In an answering affidavit, Mr Koch said the court case was nothing more than a "crude attempt to censor me" for contradicting Mr Hofmeyr's racist views, something he had a duty to do. Mr Koch said that under the Harassment Act only unreasonable conduct can amount to harassment.
"It is simply unacceptable and impermissible for Mr Hofmeyr to use social media platforms to espouse his racist views and then, when others seek to use the same platforms to hold him to account, to contend that the act entitled him to prevent them from doing so."

View at source.