Eskom moves to prevent jail time for executives
---
Westinghouse is asking the North Gauteng High Court to jail two Eskom executives for failure to hand over documents relating to a R4,3 billion tneder at the Koeberg nuclear power station, according to Business Day. Eskom is fighting back, claiming this is a "gross abuse of the court process."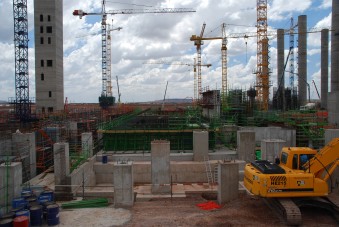 Eskom is challenging charges that its executives are in contempt of court and should go to jail for failing to deliver documents related to a R4.3bn tender to replace six steam generators at Koeberg nuclear power station.
In answering affidavits Business Day has seen, the power utility says accusations that it willfully failed to comply with a court order to hand over the documents are "frivolous in the extreme and … a gross abuse of court process".
These arguments are set to be tested in court on Wednesday after Westinghouse Electric SA filed a contempt of court application at the High Court in Johannesburg last week. The company alleges Eskom failed to comply with the court order.
Westinghouse maintains that the tendering process that ultimately resulted in the Koeberg contract going to French company Areva in August was flawed. It won a September court battle to gain access to documentation related to Eskom's decision-making within five days.
The documents the court ruled should be provided to Westinghouse include minutes of meetings and electronic communication between Eskom and Areva related to the tender process. Only confidential or commercially sensitive information is not be handed over.
But the court further ruled that should Westinghouse contest the classification of any piece of information as commercially sensitive, it would be sent to an independent arbitrator.
Westinghouse says it has experienced wilful noncompliance with the order and has asked for relief in the form of 30-day prison terms for Eskom executives Matshela Koko and Suzanne Daniels.
The power utility makes counteraccusations in its answering affidavit. It argues that Westinghouse misinterpreted the September court order that it should hand over documents relating to its decision making.
It accuses Westinghouse of pursuing "frivolous and vexatious" litigation and of having "neglected and failed to take some time to not only peruse but to also familiarise themselves with the applicable rules and policies related to the procurement environment applicable to (Eskom)".
Eskom will argue that it provided more documents to Westinghouse than the September court order envisaged. This was despite time pressures that may have resulted in errors such as duplications.
The power utility further maintains that Westinghouse is misinterpreting the scope of the original order as handed down by South Gauteng High Court Judge Roland Sutherland.
The applicant's call for original documents as laid down in its founding affidavit "constitutes new demands which the applicant seeks to opportunistically introduce into the wording of the court order", Eskom's responding affidavit reads. "This in itself constitutes abuse of court process and could not form the basis for contempt of court proceedings."

View at source.